Georgia Gov Owes Position to Donald Trump, 'Would Be Nice if He Reciprocated in Some Way,' Says Lara Trump
Lara Trump, Donald Trump's daughter-in-law, and former campaign adviser, joined the president in pressuring Georgia Governor Brian Kemp to pursue another ballot audit that includes a review of signature matching procedures initially used to verify absentee votes on Sunday.
She addressed the rising tension between the president and Kemp during an interview with Fox News' Jeanine Pirro.
"Governor Kemp owes his position as governor, quite frankly, to Donald Trump," said Lara, referencing Trump's endorsement during Kemp's 2018 gubernatorial campaign.
"So, it would be nice if he, you know, reciprocated in some way," she continued Sunday. "Not just to make sure that this goes the way that we know it went for the president, but for the American people. I mean, he owes it to all of us to do the right thing here and make sure that we are calling out all this fraud. That this election is a legitimate election."
The president made similar suggestions about his influence over Kemp's 2018 win against Democratic challenger Stacey Abrams during a Fox News interview last week, while criticizing the governor's response to his campaign's unsubstantiated claims of voter fraud and misconduct manipulating results of the election.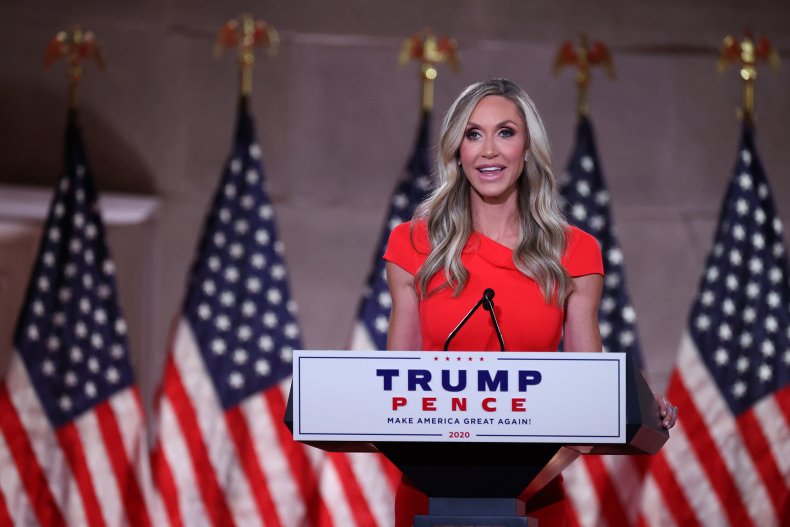 Lara Trump went on to echo the claims of the president's campaign that "we've seen so much outrageous voter fraud, especially in the state of Georgia," despite an absence of evidence. She furthered discounted accusations targeting election workers in Fulton County, referencing surveillance that Trump supporters claimed was proof of fraudulent ballot counting. Georgia election officials examined the footage and later said all observed procedures were standard.
Her comments trailed a reported phone call between Trump and Kemp, followed by a Twitter exchange, one day earlier.
Trump—who previously requested that Kemp override Secretary of State Brad Raffensperger's authority and force an audit involving signature verification—most recently asked that he call a special session and convince Georgia legislators to follow through with his demands. State law prohibits Kemp from overriding Raffensperger's decisions regarding election matters, and the governor also noted that he did advocate for a signature audit several times.
"As I told the president this morning, I've publicly called for a signature audit three times (11/20, 11/24, 12/3) to restore confidence in our election process and to ensure that only legal votes are counted in Georgia," Kemp tweeted. In his response, Trump pushed for the governor to order a special legislative session.
Even after Georgia conducted three statewide vote counts to audit ballots cast in November's presidential race, Trump has continued to insist that results—which showed President-elect Joe Biden won a majority of votes—were illegitimate. Backed by campaign officials, he called for an audit that repeated the signature verification process election workers carried out twice before permanently separating absentee ballots from their respective envelopes after Election Day.
Determining which presidential candidate each absentee voter supported would be impossible even if election workers were to pursue a signature audit, since Georgia law protects ballot secrecy. Raffensperger additionally noted that a signature-match audit would be unnecessary, since the state strengthened its initial verification criteria and worker training this year.
Newsweek reached out to Kemp's office for comment, but did not receive a reply in time for publication.