Georgia Governor Allows Local Mask Mandates for the First Time, Says They Must Be Balanced With 'Personal Freedoms'
After months of continued resistance, Georgia Governor Brian Kemp is permitting local officials to effect face mask requirements regardless of state protocols. The governor's decision followed surging cases of the novel coronavirus in Georgia throughout the summer, and walked back previous policies that prevented regional authorities from imposing COVID-19 regulations stricter than his.
Kemp announced broader permissions for municipal face mask orders on Saturday. They are among the terms included in his latest executive order, which provides statewide guidelines meant to reduce coronavirus transmission risks. It extended a ban on large public gatherings and reinforced virus mitigation protocols for businesses.
Wearing face masks in public settings—a practice the World Health Organization (WHO) and Centers for Disease Control and Prevention (CDC) uphold as a helpful barrier against COVID-19 spread—remains encouraged, rather than mandated, at the state level in Georgia.
However, Saturday's order gives all local governments the authority to implement mask requirements as a prerequisite for entry onto public properties. It expands permissions for areas where the incidence of COVID-19 meets a certain threshold. Governments in those municipalities can enforce mask requirements for local businesses with owners' consent, according to the order.
Kemp, a Republican, emphasized the order's consideration of individual "freedoms in a statement issued alongside it on Saturday.
"This order also protects Georgia businesses from government overreach by restricting the application and enforcement of local masking requirements to public property," Kemp's statement read. "While I support local control, it must be properly balanced with property rights and personal freedoms."
Georgia's latest executive order came two days after Kemp withdrew a lawsuit previously filed against the city of Atlanta, in response to Mayor Keisha Lance-Bottoms' local reopening guidelines that included business restrictions and a mask mandate for residents.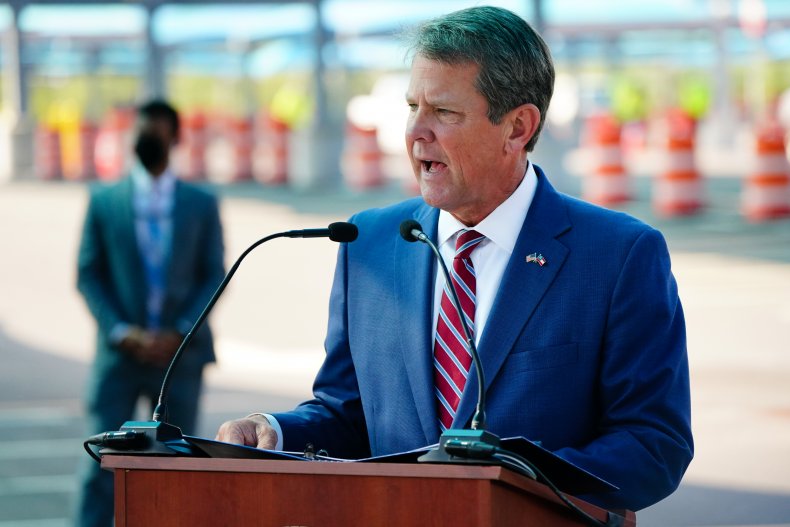 Fulton County, where Atlanta is located, has confirmed the state's highest concentration of COVID-19 cases throughout the duration of the pandemic. Cases confirmed inside the county rose considerably since the beginning of June, as statewide diagnoses spiked.
More than 235,000 people have tested positive for COVID-19 across Georgia as of Saturday, according to the state's Department of Health. Although its outbreak trajectory began to curve downward after July, the health department's data shows Georgia's 7-day moving average diagnosis count is at least four times higher than it was prior to the state's initial reopening in late April.
Newsweek reached out to Kemp's office for additional comments, but did not receive a reply in time for publication.