Georgia Governor Brian Kemp Preparing to Sign Order Restricting School Mask Mandates
Republican Georgia Governor Brian Kemp announced during a Fox News appearance on Wednesday that he is preparing to sign an executive order that bans public schools from mandating students, staffers and teachers wear masks.
"We've certainly seen our share of pandemic politics in Georgia," Kemp said.
Kemp defended his decision to lift the mask mandate by saying that teachers are eligible for the vaccine and mask mandates have not prevented people from forgoing masks regardless.
"We're not going to have a mask mandate for our kids. Our teachers have had the ability to get vaccinated. It certainly doesn't keep anyone from wearing a mask," he remarked.
Kemp's announcement drew criticism from some Democrats and school officials who worried about a new wave of outbreaks when children return to classes in the fall, the Atlanta Journal-Constitution reported.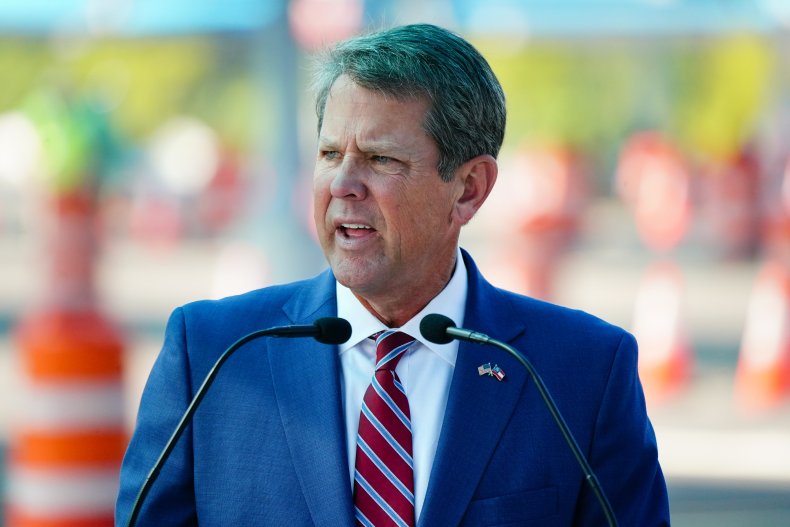 A study by the Centers for Disease Control and Prevention (CDC) found that from December to January, the cumulative number of cases over a seven-day period in Cobb County, Georgia, increased almost 300 percent from 194 to 704 cases.
Children under the age of 12 aren't eligible for vaccines yet, and only a small number of Georgia teenagers have received the vaccine. Overall, only 30 percent of Georgia's population has been fully vaccinated, according to the USAFacts website.
Georgia Board of Education superintendent Richard Woods voiced his agreement with Kemp's decision in an email to Newsweek.
"Given the availability of vaccines and the sharp drop in COVID cases, I agree with Governor Kemp that it's time for our schools to return to normalcy," Woods said.
The new executive order comes after Kemp signed an order on Tuesday banning the state government from requiring proof of vaccination. The order includes public schools and universities, which cannot require students or staff to be vaccinated, the Atlanta Journal-Constitution reported.
"While I continue to urge all Georgians to get vaccinated so we continue our momentum of putting the Covid-19 pandemic in the rearview, vaccination is a personal decision between each citizen and a medical professional—not the state government," Kemp said in a statement.
Earlier in the pandemic, Kemp ruled against schools having mask mandates, saying he preferred to leave the decision to local school districts.
"Like most things in education, I'm a firm believer that the local governments know their schools better than the state government does," Kemp said at the opening of a corona testing site at the Hartsfield-Jackson International Airport in August last year.
Many of Georgia's public school systems initially required students wear masks for in-person learning, but dozens have begun lifting the requirement since January, the Atlanta Journal-Constitution reported.
"This is nothing more than a political stunt at a time when Georgians deserve real leadership to help us emerge from the pandemic," Jason Esteves, chair of the Atlanta Public Schools board, told the newspaper.