Georgia Governor Brian Kemp leads his Democratic rival Stacey Abrams by only a slim margin after President Donald Trump broke with the Republican leader, prompting a split in the state party.
A new poll from BUSR and the University of Las Vegas found that 44 percent of Georgia voters would back Kemp in a hypothetical runoff against Abrams, who ran for governor in 2018 and is tipped to run again in 2022.
The Republican incumbent's lead is just 4 percentage points—the same figure as the poll's margin of error—meaning there is a decent chance he could be overtaken by Abrams, who has been credited with helping the Democrats to flip Georgia in the presidential election and in this week's Senate runoffs.
However, Kemp does not appear to be at much risk of losing the Republican primary, at least for now.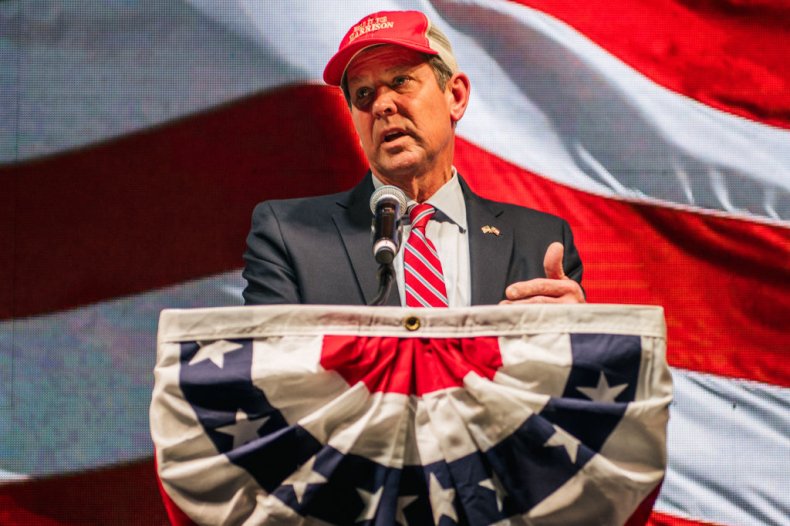 The BUSR/UNLV poll found the governor led former Rep. Doug Collins by 19 percentage points in a head-to-head survey of GOP voters in the state. He was also 25 points clear of the ex-football player Herschel Walker and 46 points ahead of Rep. Marjorie Greene among Georgia Republicans.
All the potential GOP gubernatorial candidates were slightly ahead of or level with Abrams in hypothetical head-to-heads, with Greene faring worst as she was found to be tied with the Democrat at 42 percent.
Asked how they felt about Gov. Kemp's performance so far, 42 percent said they either strongly or "somewhat" approved of his record in office, while 43 percent said they disapproved. A further 15 percent said they were unsure, or neither approved nor disapproved.
By comparison, just over half (51 percent) approved of President Trump's record in the White House, while 44 percent disapproved. The poll was carried out before the Capitol riots on Wednesday.
University of Las Vegas and BUSR pollsters surveyed 550 likely voters in Georgia on December 30, 2020, and January 3. The poll's overall margin of error stands at 4 percentage points. There is a 7-point margin of error in the GOP primary votes.
Gov. Kemp has drawn the ire of President Trump in recent months after refusing to support his baseless claims of widespread electoral fraud. "I'm ashamed that I endorsed him," Trump said of Kemp in November.
The president also retweeted a post in December arguing that the Georgia governor and the secretary of state Brad Raffensperger should be jailed for their supposed roles in the 2020 election.