Georgia Governor Could Be Vulnerable to Trump-Backed Challenger, Poll Shows
Former President Donald Trump may be gearing up to influence a primary challenge against Georgia Governor Brian Kemp, whom he's targeted heavily for failing to overturn the 2020 presidential election's results.
Trump has vowed to use primary endorsements against Republicans who have challenged his role as the head of the GOP and don't properly espouse his America First policy stances. Kemp has been at the top of his criticism list since the November election, and a recent poll commissioned by the Save America PAC found Trump endorsing a primary challenger could hurt Kemp's chances at reelection.
A survey from Trump pollster Tony Fabrizio, first reported by Politico, surveyed 500 likely Republican primary voters. In a hypothetical matchup between Kemp and former Senator David Perdue, who has not announced his candidacy, Kemp beats Purdue by about 6 points.
However, when survey participants were asked about Trump hypothetically endorsing Perdue, their votes changed. Perdue went from trailing Kemp to leading the governor by 15 points.
Trump lost the 2020 election by 74 electoral votes, so even if Kemp had overturned the Georgia results in his favor, it wouldn't have been enough to give Trump a second term. That's done little to temper the former president's ire at the Republican governor, though, and Trump has blamed him for our "country going to hell" because of President Joe Biden.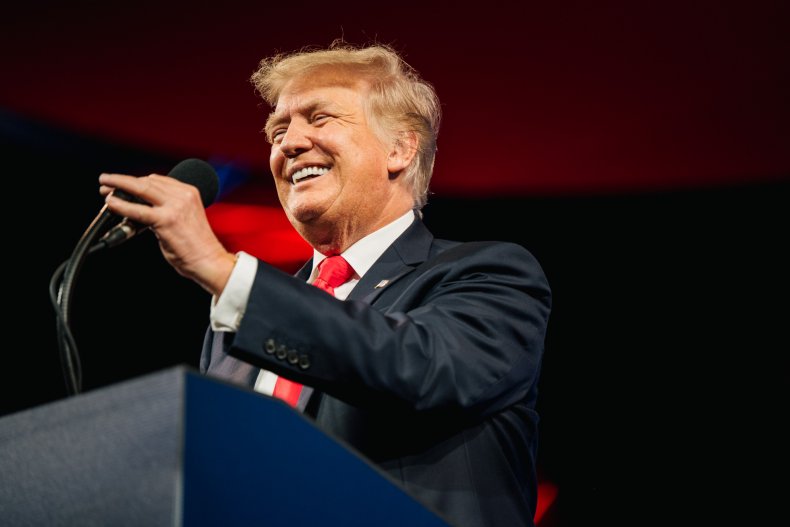 Kemp has held firm in defending his decision not to interfere with the 2020 election, although he recently signed into law a Republican-backed voting bill. The law limits counties to one ballot drop box per 100,000 active registered voters, and drop boxes must be placed inside early-voting sites or at election offices. They may be used only during early-voting hours, not the 24 hours a day that voters had in the 2020 election. Also, voters must provide identification when requesting an absentee ballot.
But it wasn't enough to appease Trump, who criticized the law for not going far enough. He called it a "watered-down version" of election reforms and said it should have been passed before the presidential election.
Trump lost Georgia by less than a percentage point, indicating that he held a pretty firm command over the GOP in the state. Among those Fabrizio polled, 93 percent approved of the job Trump did as president, so Kemp's being on the wrong side of Trump's base may not bode well for him in a primary.
Trump's favorite for a Georgia Senate seat would also benefit from his endorsement, according to the poll. Former NFL player and staunch Trump ally Herschel Walker is eying a bid for Senator Raphael Warnock's seat. Warnock beat former Senator Kelly Loeffler in a special election runoff in January and is up for reelection in 2022.
Walker, according to the poll, leads the field of hypothetical GOP candidates with 54 percent support, enough to avert a runoff. With Trump's endorsement, that number rose by 13 points to 67 percent.
In several tests of Trump's hold on the GOP after leaving office, Trump-endorsed candidates have won one primary and one special election. One candidate lost a special election.