Georgia Governor Demands 'Complete Explanation' for Voting Discrepancies After Audit
Republican Georgia Governor Brian Kemp said the official certification of President-elect Joe Biden as the winner of the state's 16 Electoral College votes on Friday "paves" the way for President Donald Trump "to pursue other legal options in a separate recount."
Kemp made the remarks during a Friday press conference shortly after the office of Georgia Secretary of State Brad Raffensperger, also a Republican, announced that the election had been officially certified in Biden's favor following a full audit.
Kemp said that a court ruling "now requires the governor's office to formalize the certification" while emphasizing that the audit's discovery of thousands of uncounted votes, which did not change the election outcome, had been "simply unacceptable."
"The secretary of state oversaw a complete audit, which revealed significant errors made in several counties, including Floyd, Fayette, Douglas and Walton," Kemp said. "It is important for Georgians to know that the vast majority of local election workers did their job well under unprecedented circumstances."
"However, it's quite honestly hard to believe that during the audit thousands of uncounted ballots were found weeks after a razor thin outcome in a presidential election," he continued.
Kemp expressed concerns that "lost memory cards or stacks of uncounted ballots" could be found in the crucial U.S. Senate runoff elections that are set to take place in the state on January 5 and demanded a "complete explanation" of any discrepancies.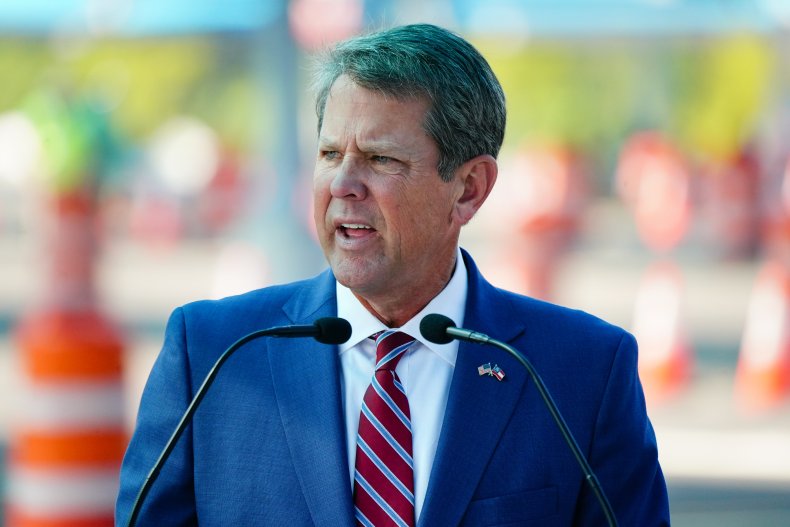 In the presidential election audit, votes that had been uncounted due to human error were found in the low thousands for both candidates, but Biden still won the state by more than 12,000 votes in the final tally.
Kemp also said he had heard from state residents who are "extremely concerned" about signature matching issues on absentee ballots, echoing recent rhetoric from Trump and his campaign.
The president has falsely claimed that a legal settlement in Georgia over absentee ballot signature verification, known as a consent decree, meant that signatures on absentee ballots could not be verified and suspect ballots were being counted.
However, legal experts have disputed the president's claim and Raffensperger announced on Wednesday that the number of absentee ballots rejected for signature matching issues in 2020 had increased 350 percent over those recorded in the 2018 election, while the rejection rate had remained the same in both elections.
The president has the option of requesting a further recount after certification, which would be done by machine, but it is not clear what other legal options would be available in the wake of Biden being declared the official winner.
Although Trump continues to claim without evidence that fraudulent votes were counted, the audit did not find any and Raffensperger has defended the results of the election despite the president's protests.
"I'm a passionate conservative and, as I've said before, I'm a proud Trump supporter," Raffensperger said during a Friday morning news conference. "Like other Republicans, I'm disappointed that our candidate didn't win Georgia's Electoral College votes... Numbers don't lie. As secretary of state, I believe that the numbers that we have presented today are correct."
"The numbers reflect the verdict of the people," he added. "Not a decision by the secretary of state's office, or of courts, or of either campaigns."
With legal challenges so far failing to succeed, Trump's strategy may now center on convincing Republican state legislatures to ignore the will of voters and appoint their own slate of Electoral College electors in his favor.
Republican leaders from Michigan, where Biden's win is expected to be certified on Monday, were flown out to the White House for a meeting with the president on Friday.
Newsweek reached out to the Trump campaign for comment.