Georgia Governor Is More Popular after Signing Controversial Election Law
Georgia Governor Brian Kemp's approval rating has risen among Republican voters in the state after signing a controversial new voting law that restricts the use of absentee ballots.
A new Morning Consult poll found that Kemp's popularity among local GOP voters rose 12 points from 62 percent on March 25, the date the Georgia governor signed the bill, to 74 percent on April 6.
His approval rating among all voters in the state has also risen from 52 percent before he signed the Georgia election law to 55 percent after the bill was green lit.
The new Georgia voting law tightens restrictions on absentee ballot voting; makes it illegal for election officials to mail out absentee ballots to everyone on the voter roll; and threatens a misdemeanor charge against those who hand out water and food at the polls.
It also gifts the Republican-controlled state legislature greater control over the Georgia Election Board.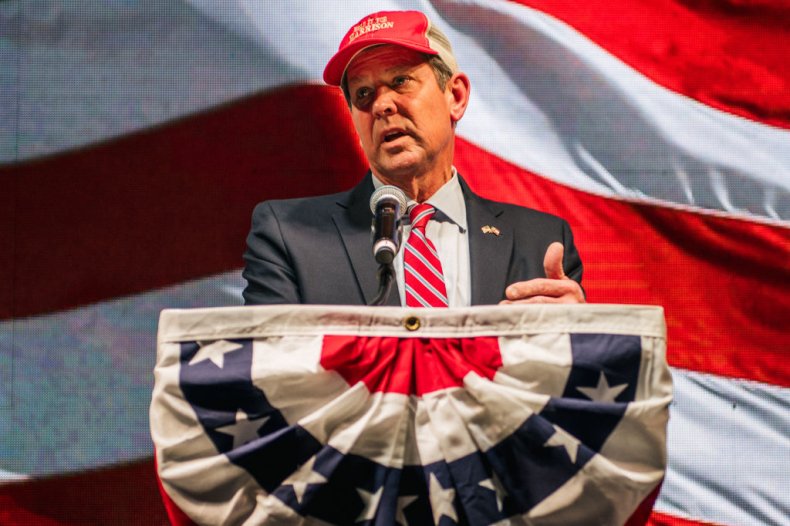 The new voting rules have sparked division in the state, with several corporations coming out against the measures with the support of President Joe Biden, who likened the rules to Jim Crow-era discrimination. Speaking at the White House on Tuesday, the president said: "It is reassuring to see that for-profit operations and businesses are speaking up about how these new Jim Crow laws are just antithetical to who we are."
Delta Airlines, Major League Baseball and Coca-Cola are among the well-known corporations who have spoken out against the voting measures—much to the irritation of some Republican lawmakers.
"Over the last week, we have engaged in thoughtful conversations with clubs, former and current players, the Players Association, and The Players Alliance, among others, to listen to their views," MLB commissioner Rob Manfred said in a statement on the law. "I have decided that the best way to demonstrate our values as a sport is by relocating this year's All-Star Game and MLB Draft."
The MLB had planned to host its Midsummer Classic in the state before the law was signed onto the state statute books.
Former President Donald Trump last week called for boycotts of the firms who had spoken out against Georgia's new voting laws as he complained about "Radical Left Democrats" doing the same in the name of "WOKE CANCEL CULTURE."
In a statement about the companies opposed to the state's new voting rules, Trump said: "Don't go back to their products until they relent. We can play the game better than them."
Republican Senate minority leader Mitch McConnell said it was "simply not true" to call the new voting law racist or a return to Jim Crow-era restrictions on minority communities.
He also urged corporations to "stay out of politics," causing some to remind the Kentucky senator that he had backed the Citizens United ruling that gave corporations greater power as political donors.