Georgia Governor Race: Hillary Clinton Says If It Were a 'Fair Election,' Stacey Abrams Would Have Already Won
As Georgia's gubernatorial race between Democrat Stacey Abrams and Republican Brian Kemp remained uncalled, Hillary Clinton said that if the Democrat had had a "fair election," she would have already been declared the winner.
"If she had a fair election, she already would have won," Clinton said while addressing an event at the LBJ School of Public Affairs in Texas on Tuesday. Clinton was at the school to receive the inaugural In the Arena Award, according to the Austin American-Statesman.
Abrams, who'd gained the support of high-profile Democrats and celebrities like former President Barack Obama and legendary talk show host Oprah Winfrey, was currently losing to her Republican opponent in the race for governor. The latest numbers showed Kemp ahead by nearly 59,000 votes.
Kemp, who received the endorsement of President Donald Trump, had already resigned from his former position as Georgia's secretary of state and declared victory. He called Abrams's refusal to concede a "disgrace," though the Democrat said she would not give up until "every vote is counted."
Abrams and her campaign hope for a runoff election next month, which would be mandated if Kemp's lead dipped below 50 percent. As of Wednesday morning, the Republican candidate was at 50.3 percent.
Some of the developments in the race over recent days might help Abrams cut into Kemp's lead.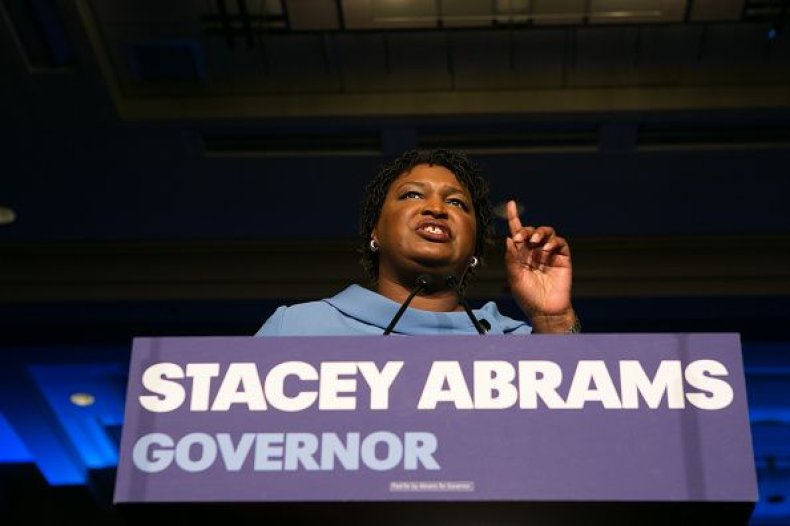 A federal judge ruled on Tuesday that Gwinnett County, the second-most populous county in Georgia, had violated the Civil Right Act by rejecting hundreds of absentee ballots. Election supervisors had rejected the ballots because they contained incorrect or missing information on the voter's year of birth.
But the judge, Leigh Martin May, ruled that some 300 ballots be counted and tallied in the midterm election results. She wrote in a 17-page order that while her decision came as there were "many hotly contested and highly publicized elections issues across the state" this "small portion of the outstanding absentee ballots" must be counted.
Another federal judge earlier this week also ordered a delay in certifying Georgia's election results. The judge wrote that there were "repeated inaccuracies" in the state's voter registration system that caused "qualified voters to lose their vote." As a result, the judge ordered election officials to preserve and count all provisional ballots.
In a news conference shortly after the rulings had been released, Abrams's campaign team members told the crowd that they were "proud" to be "making progress in voting rights in Georgia by winning these lawsuits."