Georgia Governor Slams 'C-List Celebrities' Threatening To Boycott State Due To Anti-Abortion Law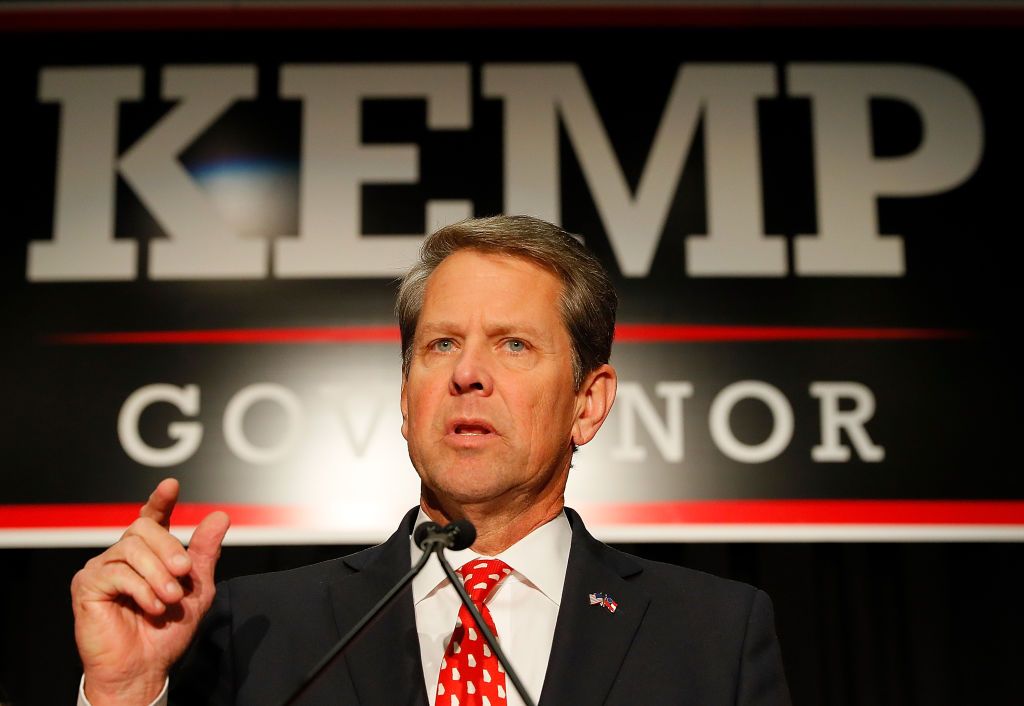 Georgia governor Brian Kemp dismissed calls for a boycott of the state on Saturday following the passage of a law that outlaws abortion once a fetal heartbeat can be detected.
Kemp signed Georgia's heartbeat bill into law on May 7, prompting many celebrities to rail against the measure on social media and in interviews.
Actress Alyssa Milano told BuzzFeed News that she would leave the Netflix show Insatiable if the production chooses to continue filming in Georgia.
"I have to be there for another month but you can be sure I will fight tooth and nail to move Insatiable to a state that will protect our rights. And if it doesn't move to another state, I will not be able to return to the show if we are blessed with a third season. This is my leverage. I will use it for the betterment of society and our great country," Milano told BuzzFeed via email.
Milano was one of over 50 actors who signed a letter addressed to Kemp and Georgia Speaker of the House David Ralston. Others who signed their names to the letter include Jessica Chastain, Amy Schumer, Brie Larsen, Mark Ruffalo, Alec Baldwin and Don Cheadle.
"As actors, our work often brings us to Georgia. We've always found your state to be populated with friendly and caring people. We've found the hotels in which we stay and the restaurants in which we dine while filming there to be comfortable and of a high quality. We've been glad to bring billions of dollars in revenue to support Georgia's schools, parks and communities," the letter says in part. "But we cannot in good conscience continue to recommend our industry remains in Georgia if H.B. 481 becomes law."
Speaking Saturday at the Georgia Republican convention, Kemp shrugged off threats of boycotts and other protests, saying, "I understand that some folks don't like this new law. I'm fine with that. We're elected to do what's right – and standing up for precious life is always the right thing to do."
"We are the party of freedom and opportunity. We value and protect innocent life — even though that makes C-list celebrities squawk," he said according to the Atlanta Journal-Constitution.
Georgia's film and television industry, often referred to as "the Hollywood of the South," produced a record 455 projects in the 2018 fiscal year, generating $9.5 billion for the state. The industry provided 92,100 jobs and nearly $4.6 billion in wages. More than 300 businesses have opened or moved to the state since 2013 to support the entertainment industry, a press release from the governor's office said.
Productions that have filmed in Georgia include AMC's The Walking Dead and many of the movies in the Marvel franchise, including Avengers: Endgame, which has grossed over $741 million in the United States alone.
While boycott calls continue, former Georgia gubernatorial candidate Stacey Abrams — who narrowly lost to Kemp in the November 2018 election — urged Hollywood to remain in the state and help fight the abortion ban and other policies being implemented by the state's legislators.
"Georgia is the only state that is such a deep part of the film industry that also has the type of draconian leadership that would seek to strip a woman's autonomy in this way," Abrams told the Los Angeles Times. "That puts us in a unique position to fight back — not only against the legislation here but the legislation around the country — and to fund the defeat of these politicians and their horrible behavior by using the resources available through the entertainment industry."
Georgia is just one of several states, including Alabama, Kentucky, Missouri and Mississippi, that have passed abortion laws this year that some have called restrictive. Under the Georgia law, women can receive an abortion so long as a heartbeat cannot be detected by a physician. A fetus' heartbeat can be detected as early as six weeks in some instances, and some critics have slammed the law because some women might not know they are pregnant until the six-week mark has passed.
In Georgia, fetuses conceived via rape or incest can be aborted up to 20 weeks, though the woman must file a police report. Fetuses that are considered "medically futile," meaning there is no chance of sustaining life after birth, are also covered under the Georgia bill.
The bill is currently slated to go into effect on January 1, 2020.