Is Georgia's 'Heartbeat' Abortion Bill Legal? Controversial Law Bans Abortions Before Many Women Know They're Pregnant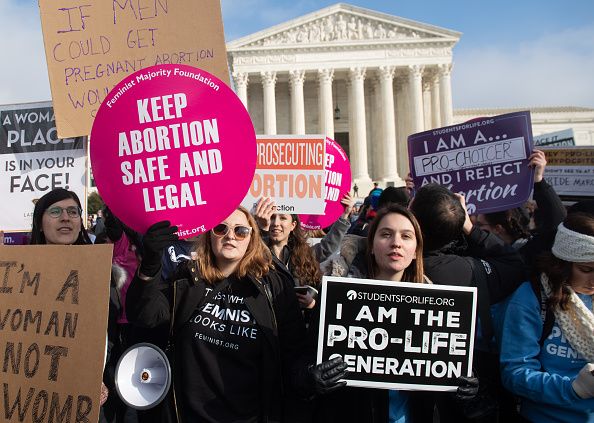 Georgia Governor Brian Kemp just signed one of the most restrictive anti-abortion laws in the country, banning the procedure after a fetal heartbeat is detected. But the move is already facing legal challenges as advocacy groups argue that the legislation is unconstitutional.
The state's Living Infants Fairness and Equality (LIFE) Act, also known as the "Heartbeat Bill," was passed on party lines by Georgia lawmakers in late March and was signed by newly elected Republican Governor Kemp on Tuesday.
The law prohibits abortion after the detection of a fetal heartbeat, which can happen as early as six weeks into pregnancy—before many women are even aware they are pregnant. Before the LIFE Act was signed on Tuesday, women in Georgia could seek an abortion during the first 20 weeks of a pregnancy.
The measure does makes exceptions in the case of rape and incest, but only if the woman files a police report before seeking an abortion. Exceptions are also made if the mother's life is at risk and when a fetus is determined not to be viable due to serious medical issues.
Multiple pro-choice advocacy groups are already gearing up to challenge the law in court. Planned Parenthood, the American Civil Liberties Union and the Center for Reproductive Rights say that they will be suing the state of Georgia over the LIFE Act.
"This bill is part of an orchestrated national agenda to push abortion care out of reach and we won't stand for it. Governor Kemp, we will see you in court," Talcott Camp, deputy director of the ACLU Reproductive Freedom Project, said in a statement after Kemp signed the bill into law.
Elisabeth Smith, a chief counsel at the Center for Reproductive Rights, also released a statement in which she argued that the anti-abortion law is "baffingly unconstitutional."
"Bans like this have always been blocked by courts. We will be suing Georgia to make sure this law has the same fate," Smith added.
At least 15 states have introduced similar legislation this year but only Kentucky, Mississippi and Ohio have been able to sign their bills into law. But none of those laws have been successfully enacted and court challenges are ongoing, with two bills in Kentucky suspended indefinitely by U.S. District Judge David Hale.
In March, the courts struck down a North Carolina law that banned abortion after 20 weeks of pregnancy. The judge in the case, U.S. District Judge William Osteen Jr., wrote in his opinion that a state is "never allowed to prohibit any swath of pre-viability abortions outright."
Advocacy groups argue that Republican-led state legislatures move forward with this kind of legislation in the hopes of getting it in front of the Supreme Court, where they can challenge the landmark abortion case Roe v. Wade.
Stanford Law professor Michelle Mello, an expert in health research and policy, told Newsweek on Tuesday that an abortion ban as early in a pregnancy as Georgia's does not comply with legal cases that have established "balancing the rights of pregnant women and those of the fetus."
"No informed legislature could pass such a law with any objective in mind other than challenging those precedents," Mello said.
Donald Trump's successful nomination of Justices Neil Gorsuch and Brett Kavanaugh gave the high court it's first conservative majority in decades, putting the future of the 1973 abortion case in question. State-led attempts to ban abortion in the early stages of pregnancy have surged under President Trump and his administration.
Throughout Kavanaugh's confirmation process, legal experts debated the future of Roe v. Wade and lawmakers grilled the judge on his views toward the decision. Kavanaugh repeatedly denied to give his personal view on abortion but said during his confirmation hearing that he believed Roe v. Wade to be "settled law."
Georgia Governor Kemp recognized that the LIFE Act is likely to be challenged in court while he signed it on Tuesday.
"But our job is to do what is right, not what is easy," Kemp said. "We will not back down. We will always continue to fight for life."