Georgia High School With Viral Hallway Photo Reopens Again After 35 Students, Teachers Catch COVID
North Paulding High School students and staff are set to return to campus part-time next week after the school closed due to an outbreak of coronavirus.
One of the first schools in the nation to reopen during the pandemic, the school drew national attention after a photo depicting a crowded hallway of students with few wearing face masks went viral. Shortly after, a half dozen students and three school employees tested positive for COVID-19.
The Georgia high school was shut down Monday and Tuesday to be cleaned and disinfected and initially planned to reopen Wednesday, but the closure was extended until the rest of the week.
As of Wednesday, the school has reported at least 35 confirmed cases among the student population of 2,000, according to the Paulding County School District.
Paulding County's school system is not requiring students and staff to wear face coverings, but are supplying teachers with masks.
A document signed by Superintendent Brian Otott and Principal Gabe Carmona says that students are expected to return to campus next week on alternating days. Students will be divided into two groups based on where their last name falls in the alphabet.
The school is hopeful that reducing the number of students by half will lessen hallway congestion and "will help mitigate other challenges we have identified" in the school's initial opening August 3.
Students will attend online classes on the days they are not on campus.
"Obviously, the rate of COVID-19 spread is a concern that will require us to adapt our plan for in-person instruction to protect the health and safety of our students and staff," school officials wrote to parents on Wednesday.
"Before the school year began, we shared that this would be a school year unlike any other, and that there would be challenges ahead that would require us to adjust, adapt, and be flexible," officials continued. "We knew that would be especially true at NPHS, the largest high school in Paulding County with more than 2,000 students and staff on campus at any given time."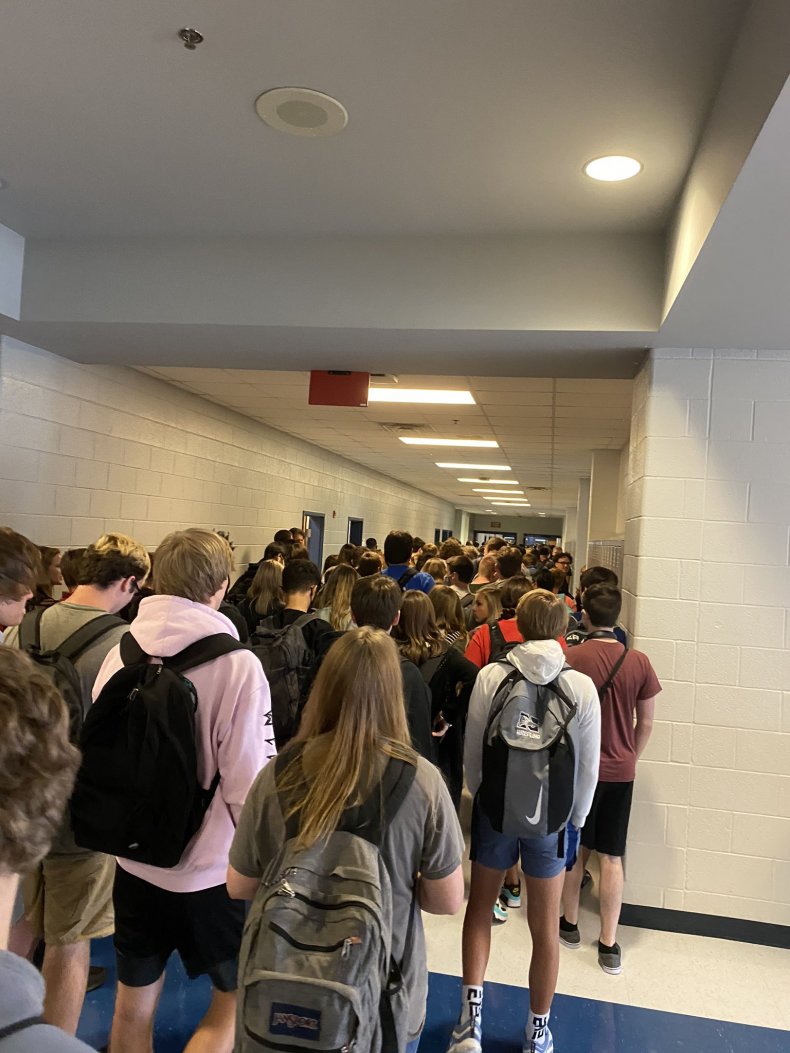 Parents and teachers from the community expressed concerns at a Paulding County School Board meeting on Tuesday night.
Some argued the district was not doing enough to protect its students and staff while others said parents had the choice to opt for online learning before classes began. Two-thirds of parents chose for their children to attend in-person instruction.
The school district suspended two students last week, including 15-year-old Hannah Watters who admitted to posting the photo online. After many criticized the school for attempting to silence the students over safety issues at North Paulding High School, their suspensions were lifted on Friday.
"I'd like to say that this is some good and necessary trouble, so I don't regret posting this because it needed to be said," Watters told CNN.
Newsweek reached out to North Paulding High School for comment but did not hear back before publication.