Georgia ICUs Near Capacity, Only 1 Bed Available in Two Hospital Regions
As coronavirus cases in Georgia climb past 170,800, intensive care unit (ICU) beds across the state are approaching full capacity. ICU (beds at 10 of the state's 14 hospital regions are reported to be more than 85 percent full, according to the latest report Tuesday from the Georgia Emergency Management Agency and Homeland Security.
Two hospital regions each have only one ICU bed (noted as "Critical Care" beds in the report) remaining, while five regions have less than 10 ICU beds available. ICU beds in six regions are reported to be more than 90 percent full, according to the report Tuesday.
Across the state, ICU beds are more than 87.5 percent full, with 2,588 of the state's 2,957 total ICU beds reported to be in use, according to the report.
Among the hospitals approaching full capacity is Grady Memorial Hospital in Atlanta, the state capital.
The number of COVID-19 patients at the hospital, which was reported to have 20 virus patients a month ago, has more than quadrupled this month, according to the chief medical officer for Grady Memorial Hospital, Dr. Robert Jansen, Atlanta's WSB-TV reported.
"We are running in the 90s, which is the highest we've had," Jansen WSB-TV. The previous high was 75 total COVID-19 patients, according to Jansen.
The hospital was reported to have seen a spike in hospital admissions among COVID-19 patients aged in their 60s and 70s. "They are the ones who are at a higher risk of not doing well or dying so that's very concerning to me," Jansen said.
The state is said to be launching a coordinating center based at Grady Memorial Hospital within the next week, Cody Hall, the press secretary for Georgia Gov. Brian Kemp, told The Atlanta Journal-Constitution on Tuesday.
The state has budgeted $1.2 million for the new center, which aims to monitor patient capacity and divert patients accordingly when hospitals become overrun, according to Hall.
A temporary hospital for non-critical COVID-19 patients will also be set up at the Georgia World Congress Center, while an additional facility to manage patient overflow was also said to be in the pipeline in Milledgeville, The Atlanta Journal-Constitution reported.
Piedmont Healthcare was also reported to have been contracted by the state to secure 62 overflow beds at the Buckhead campus' main hospital. The first of those beds opened Tuesday, The Atlanta Journal-Constitution reported.
Sixty extra beds were also due to be opened at Piedmont Atlanta Hospital on Tuesday, a spokesperson for the governor's office told The Atlanta Journal-Constitution.
Newsweek has contacted the governor's office for further comment.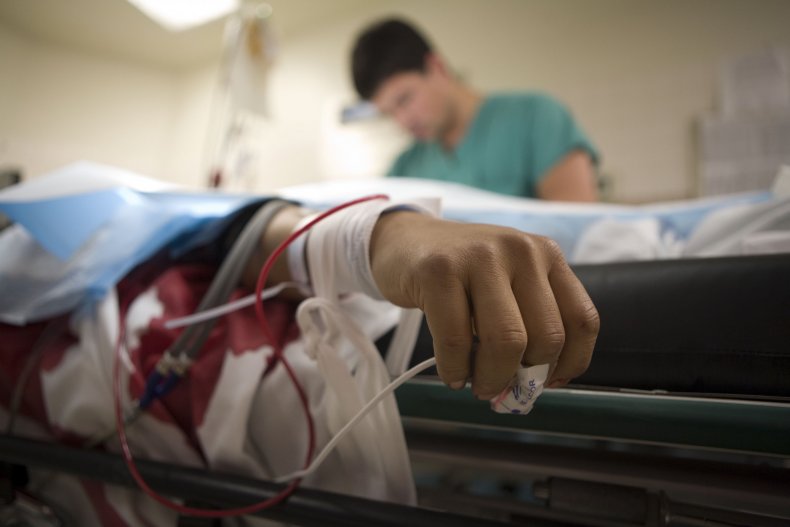 New cases continue to emerge across Georgia, which has seen 26,064 total new infections in the past week from July 22 to 28, a rise from the 25,025 total new cases reported a week earlier, according to data compiled by Worldometer.
The seven-day rolling average of daily new cases has been mostly increasing on a sharper incline from around June 21. The seven-day average of daily new deaths has also been mostly increasing from around July 4 and saw a steep incline from around July 21, according to Worldometer.
Over 16.7 million people across the globe have been infected since the virus was first reported in Wuhan, China, including over 4.3 million in the U.S. More than 9.7 million globally have reportedly recovered from infection, while over 6613,00 have died, as of Wednesday, according to the latest figures from Johns Hopkins University.
The graphic below, provided by Statista, illustrates U.S. states with more than 100 COVID-19 cases per 100,000 people in the past week.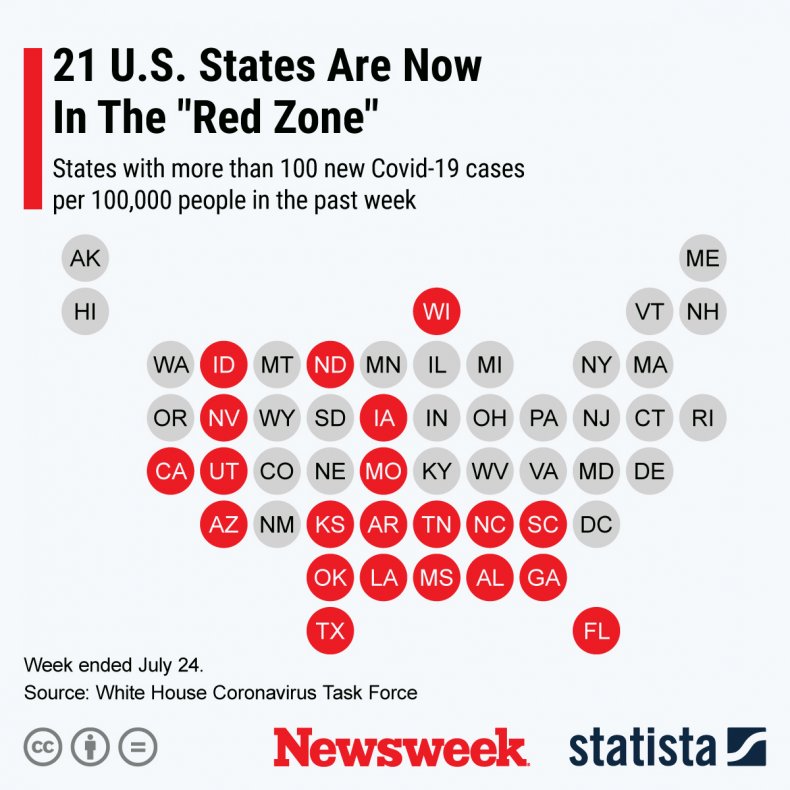 The graphic below, provided by Statista, illustrates the spread of COVID-19 cases in the U.S.