Georgia Inmate Escaped From Custody During Transport, Police Search Ongoing
A Georgia inmate escaped from custody on Friday while being transported to a new prison from Fresno, California.
The escaped inmate was identified as Devonte Detuan Ross, according to a press release from the Clayton County Sheriff's Office in Georgia. Fresno investigators said he got away after he was transported by plane from California to Georgia, WXIA-TV in Atlanta reported.
Ross was being transported to the state prison by a private transport agency, according to police. During his transport, the agency's personnel stopped at a QuikTrip gas station to get him something to eat, which is when he escaped from their custody.
Police said that Ross was being transported to the state prison to serve time on charges of burglary, trafficking narcotics and a probation violation.
Police described Ross as a 5-foot Black man "weighing approximately 135 pounds with tattoos all over his face and neck." According to police, Ross is still cuffed in the front of his body with waist chains "if he has not found a way to release them." Ross was last seen wearing a black hoodie, black pants and black shoes with orange stripes.
"Ross is very familiar with this area and may have friends in this area. Sheriff Victor Hill is issuing a warning that anyone aiding Ross will go to prison with him," the Clayton County Sheriff's Office said in the release.
"Any escapee regardless of charges should be considered potentially dangerous. If spotted do not approach and dial 911 immediately. Everyone who lives and work in this area should keep their doors locked and stay vigilant," the release said.
Newsweek was directed to the release by the sheriff's office after reaching out for comment.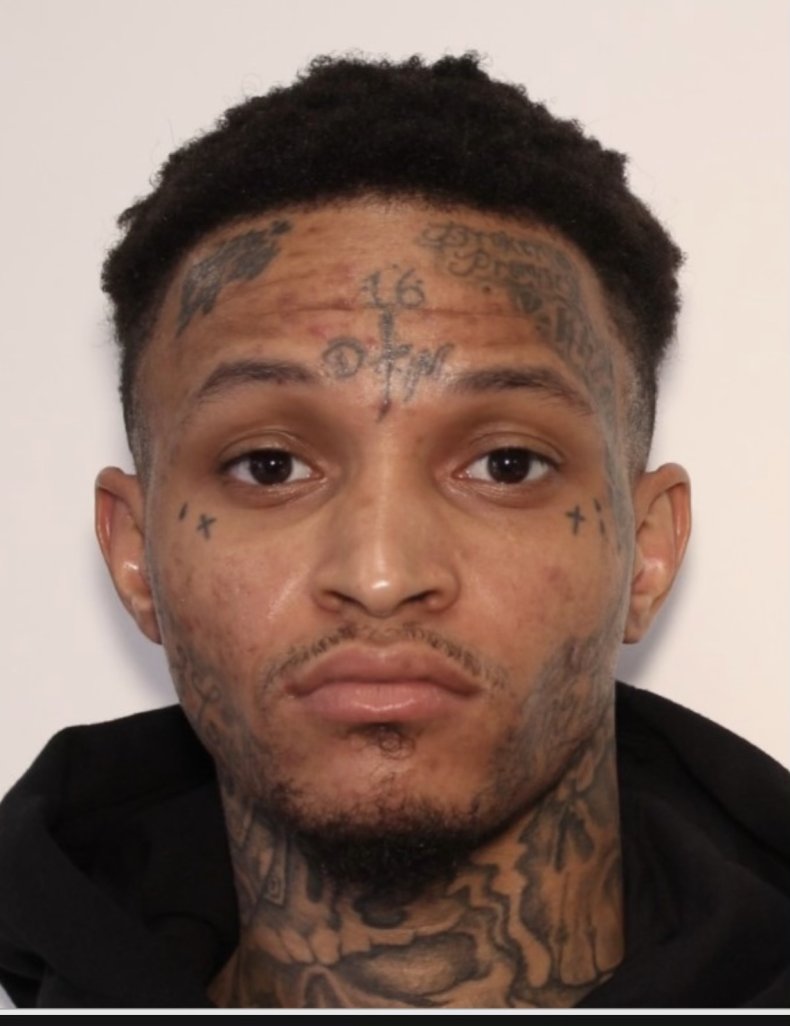 The inmate's escape prompted the Clayton County Public School District to place five schools on a "soft lockdown" as police continued their search.
"Clayton County Public Schools' leadership is aware of investigative activity by the Clayton County Sheriff's Department. Due to this activity, schools in that immediate area have been placed on a soft lockdown for arriving students and staff until further notice," the Clayton County School District wrote in a statement.
The affected schools are North Clayton High School, North Clayton Middle School, Northcutt Elementary School, Oliver Elementary School and West Clayton Elementary School.
Police dogs were seen searching the Atlanta area near North Clayton High School on Friday morning, according to The Atlanta Journal-Constitution. The dogs led officers to a park near the Leeds apartments on Riverdale Road and to the River Station shopping center on West Fayetteville Road.
Ross's escape from custody comes just a day after police found 20-year-old Arizona murder suspect J'Saan Carlos Strover hiding in the woods near the Hartsfield-Jackson Atlanta International Airport. Strover was on the run for approximately 16 hours but was apprehended by Fulton County Sheriff's Office personnel at around 1:34 a.m.
Strover was being transported back to Arizona by deputies with the Maricopa County Sheriff's Office when he escaped. Strover was wanted by the sheriff's office on murder and aggravated assault charges for a double shooting in Phoenix that left one man dead in February.