Georgia Judge Could Be Removed from Office for Assaulting Shackled Inmate Who Cursed at Him
A Georgia judge is facing ethics charges filed on Friday for allegedly assaulting a shackled inmate who he says cursed at him, and could be removed from his position.
Charges against the judge, Chief Magistrate Cary Hays III, who was sworn into office in January 2017, were filed last week by the investigative panel of the Georgia Judicial Qualifications Commission. The official charges claim that after Hays presided over the unnamed victim's first appearance hearing on December 18, he followed the inmate, who was shackled both at the hands and feet, into the hall. He then grabbed him and shoved him into a wall.
"I did not injure the guy in any way," Hays told The Atlanta Journal-Constitution on Monday. "The inmate continued to curse me over and over and over and over again," the judge said. "At some point, I'd just heard enough of it."
The complaint says that after the judge set the bail amount, the inmate started hurling curses at Hays. The judge and inmate argued briefly before the inmate was led out of the courtroom. But as he was led out of the door, he turned and cursed at the judge again. Hays then followed the man out into the hall, where he grabbed him by the shoulder and pushed his back against a wall while the man was bound by handcuffs and leg shackles.
Hays acknowledged that series of events to a Judicial Qualifications Commission investigator. And official documents also say that the entire incident was captured on video by a security camera.
The complaint states that before Hays assaulted the inmate, the man "never physically threatened the judge or tried to escape."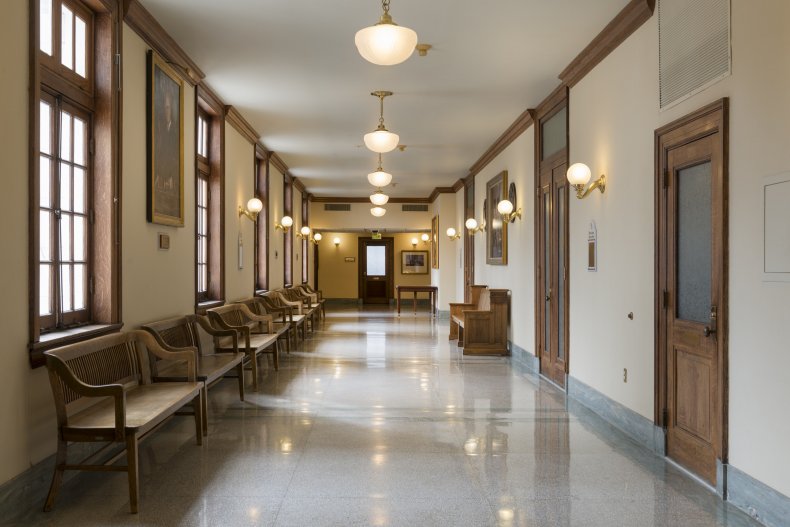 Hays was apparently aware during the incident that security cameras were installed and would be capturing video. However, he was not aware that the cameras would not be recording audio. "I only wish the commission could have heard it," Hays said, referring to the heated verbal exchange between himself and the inmate. "I think they would have viewed this differently."
The charges against Hays include misconduct and violating the state's judicial code. Additionally, the Georgia Bureau of Investigation has an open and ongoing criminal investigation against Hays, according to the complaint.
A hearing panel from the Georgia Judicial Qualifications Commission is set to review the case and consider what punishment to propose to the Georgia Supreme Court. For the formal charges filed against him, Hays faces either a reprimand or removal from his position.
Newsweek has reached out to the Crawford County Court Magistrate's office for comment and will update this story with any response.