Marjorie Taylor Greene Spars With Georgia Election Official Blaming Her for Senate Losses
Georgia GOP Congresswoman Marjorie Taylor Greene blamed Republican losses in the state's runoff races on an election official Sunday.
"Morons like you are responsible for losing Georgia's 2 Republican Senate seats," tweeted Greene in response to Gabriel Sterling, the chief operating officer for Georgia's secretary of state.
"You ran a November 3rd election that was stolen because you idiots at the SOS mailed out millions of absentee ballots to anyone and everyone while Georgia was an open state," claimed Greene, who has been associated with QAnon conspiracy theories during her congressional campaign "Then you counted ballots on Dominion voting machines (paid for by Georgia taxpayers) that can be hacked because they are hooked up to the internet."
Twitter has since labeled Greene's tweet as "disputed."
Greene's tweet was in response to Sterling's statement that Republican voter turnout dropped in the area of Georgia that Greene represents. Sterling also referenced President Donald Trump and Republican Doug Collins, who was running for a Georgia Senate seat at the time.
"The drop off in GOP turnout from November to January was driven by Trump and most prominently in areas represented by Doug Collins and Marjorie Taylor Greene," said Sterling in a Saturday tweet.
"These folks cost the GOP two senate seats and control of the Senate. Giving Biden and Democrats a free hand," Sterling added.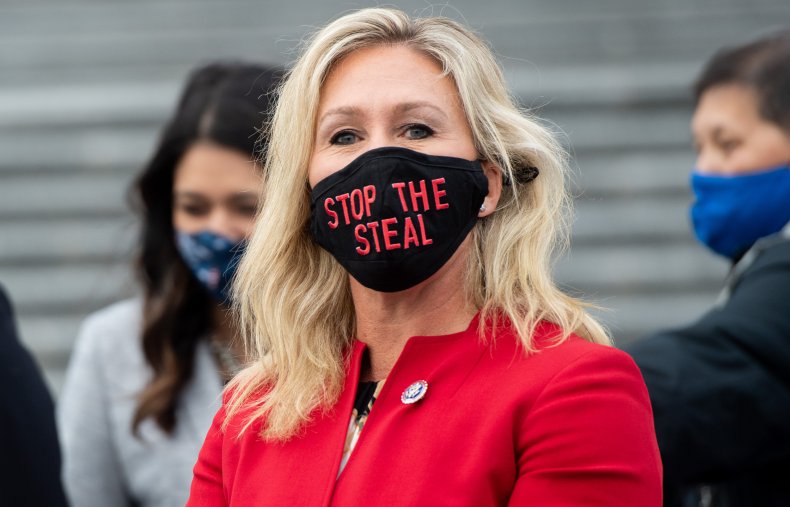 According to a report from The Washington Post, Republican voter turnout decreased more than Democratic turnout from November to January in most areas of Georgia. The most significant drop was in the Northern regions of the state where nearly 75,000 fewer Republicans turned out to vote in January.
Jon Ossoff and Reverend Raphael Warnock won their runoff races, becoming the first Democrats elected to represent Georgia in the Senate since 2000, and giving their party a slim majority lead in the upper chamber. Ossoff and Warnock both won with margins outside of Georgia's recount threshold, and incumbent Senate Republicans David Perdue and Kelly Loeffler have since conceded the race. Ossoff and Warnock's wins came two months after President-elect Joe Biden won the state, making him the first Democrat to win in Georgia during a presidential election since 1992.
Despite the difference in the turnout rate, Greene claimed the fault lied with the secretary of state's office while alleging election fraud claims that have been regarded as baseless.
"It was you all who refused to listen to Georgia voters/taxpayers, didn't change a damn thing to Georgia's easily stolen elections, and then handed off out 2 Republican senators Kelly Loeffler and David Perdue to the slaughter," Greene tweeted.
The Georgia congresswoman continued: "You all did nothing to restore voter confidence for Georgia Republican voters after November 3rd going into January 5th senate runoffs, and then you have the audacity to blame me when the most conservative voters in the state flip you all the bird and tragically stay home?"
Newsweek reached out to Greene and Georgia's secretary of state office, but didn't hear back in time for publication.