Georgia State Rep. Ginny Ehrhart announced her sponsorship of the "Vulnerable Child Protection Act" on Wednesday, to be placed for legislative vote in 2020. The bill would make it illegal to "radically change" the gender of a child through surgery or drugs. But critics say that such surgeries aren't happening in Georgia—let alone America, according to The Marietta Daily Journal and Project Q Atlanta.
Ehrhart's bill would block drugs and surgeries used by transitioning adolescents and teenagers to confirm their genders. These include sterilization, mastectomy, vasectomy, castration and other forms of surgery, as well as any medication that causes infertility and any hormone or puberty blockers, including estrogen or testosterone.
The law also blocks the "removal of any non-diseased body parts of a minor child."
"The Vulnerable Child Protection Act is not an attempt to infringe on the rights of adults to make lifestyle choices for themselves... this is about children who are being abused by adults. We are talking about children who have not reached the legal age of consent, and yet are being subjected to life-altering, irreversible surgeries and drug treatments that render them sterile and permanently disfigured," Ehrhard said in a press release. "The psychological damage this does to innocent children must come to an end."
Ehrhart—citing eighteen months of research—claims such intervention is reaching "epidemic" levels and claims she has met several Georgian families who attempted to surgically or hormonally changed their children's gender.
"Sex reassignment surgery in children does occur, I've spoken with families that have walked this path. Some are willing to come and testify before House committees and some are not, but they are nonetheless a valuable resource," Ehrhart said.
While Ehrhart admitted that there are no reputable studies on the long-term effects of puberty blockers or gender changes in children, at least two pediatricians have publicly backed Ehrhart's bill.
"This bill is of the utmost importance because it will put a stop to the process of trying to convert a child's physical appearance to that of the opposite sex, resulting in irreversible, medically harmful changes," Dr. Quentin Van Meter said in a press release. "There is no valid scientific long-term evidence that this is either safe or effective, while there is ample evidence that it is harmful."
Another, Quentin Van Meter, of Van Meter Pediatric Endocrinology, referred to such treatments as being "medical experimentation based on wishful social theory."
"These children are suffering from a psychological condition without biologic basis," he said. "Using the bludgeon of threatened suicide as justification is first of all cruel, and secondly, not supported by valid published studies."
Not all experts agree with Ehrhart's analysis of the situation, however.
"There's not a doctor in this country that's ever done surgery on a child to change their gender in the ways described," Chanel Haley, gender inclusion manager for Georgia Equality said in reference to Ehrhart's news release. "Doctors do not allow children under the age of 18 to have gender change operations or procedures, it's against the national and global standards that all doctors have to follow," Haley continued, quoting standards set in place by AMA guidelines.
"Everybody goes by these rules, it's how it's always been...This whole thing is just a waste of time and it's not only an attack on the transgender community, it's an attack on Atlanta because there is a large LGBTQ community here," Haley continued.
"And if you're so concerned with LGBTQ children's well-being, then maybe you should keep them from being placed in foster care situations that are abusive," Haley added. "LGBTQ kids are being denied homes or told to change their behaviors or identities in order to be placed."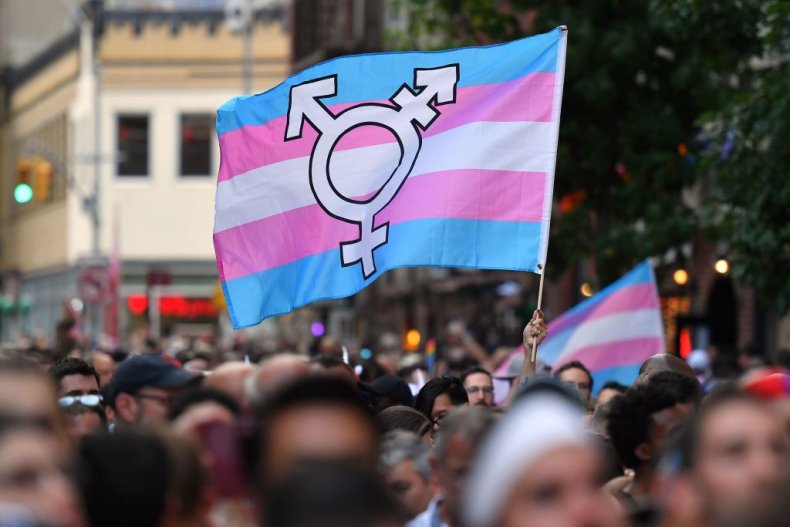 "Giving children completely reversible puberty blockers to help assuage anxiety and trauma is not a crisis," said Democrat Jen Slipakoff, mother of a transgender daughter and Ehrhart's political opponent in last year's election. "The fear with this law is there will be an uptick in suicide among trans and non-binary youth, an increase in depression reported among trans youth and a dangerous precedent set for the government and its role in the lives of a child's most private part of life."
"It's also incredibly ill-informed. It concerns me that Mrs. Ehrhart doesn't have a grasp on some of the most basic treatments involved in the transition process yet feels qualified to write legislation making it illegal. For example, children are not being castrated—that's simply not a thing that is even happening."
Other politicians also disagree. State Representative Matthew Wilson told Project Q that Ehrhart is "using fear-based tropes and misinformation to score cheap political points."
"It's shameful and discriminatory," he told Project Q. "Being trans, or gay, or bisexual, is not a 'lifestyle choice,' it's how God made us."
The 2020 legislative season begins in January.