Georgia Lawmakers Throw Punches Over Russian-Inspired 'Foreign Agent' Law
Georgian legislation claimed by critics to replicate Russian laws that limit free speech and independent media led to a parliamentary brawl on Monday.
Punches were briefly thrown inside the parliament building in the capital of Tbilisi, Reuters reported, after the chairman of the chamber's legal affairs committee appeared to hit the leader of the United National Movement opposition party—the latter of whom opposes the bill.
What Is The 'Foreign Agent' Law?
The "foreign agent" law, as it has become known and is being pushed through parliament, was introduced February 20 and would make all non-governmental organizations (NGOs) and media outlets that receive more than 20 percent of their funding from abroad register as "agents of foreign influence."
They would be legally obligated to report their revenue to the justice ministry, in a way that manners a similar Russian law enacted in July 2012. Those that wouldn't face hefty fines of up to 25,000 laris ($9,400 USD).
Who Is Against The Bill?
"The Russian legislation that now is proposed in parliament is against Georgia's national interests, against our European aspirations," said Irakli Pavlenishvili, a civil rights activist and opposition politician, according to Reuters. "The whole international community and Georgian community is agreed on this topic".
Givi Mikanadze, a Georgian Dream lawmaker, said the issue revolves around "transparency" and how "Georgian society absolutely deserves to know which organizations are being financed, from which sources."
Over 60 civil society organizations and media outlets said last month they would not comply if the bill becomes law, Reuters reported.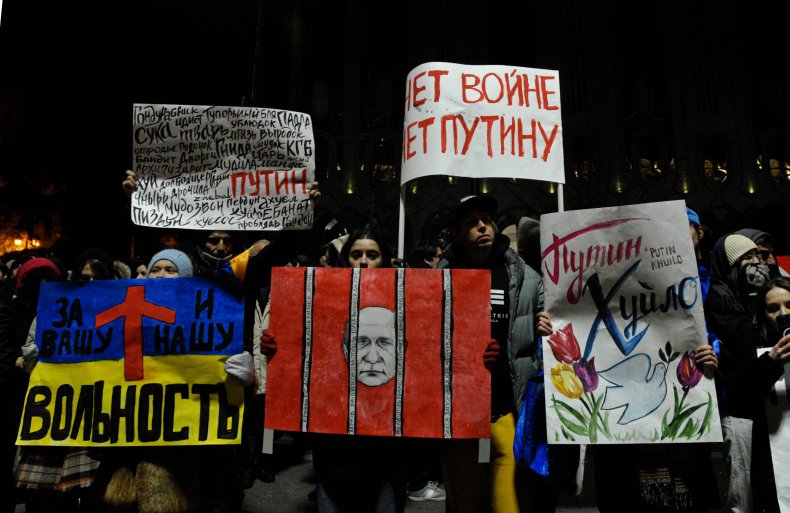 Georgian President Salome Zourabichvili said in a statement upon the February 20 bill drafting that it brings the country "closer to the flawed Russian model and not to the European model," Radio Free Europe reported.
She has threatened to veto the bill, though her veto can be overruled by parliament.
Georgian news organization Civil.ge reported February 27 that a more severe version of the legislation was introduced, which could extend "foreign agent" registration requirements from organizations to individuals. It could also lead to harsher legal outcomes, either by way of heftier fines or even up to five years in prison.
"Long abused by the government, the law was instrumental in causing self-censorship and a mass exodus of domestic and international outlets from Russia, as well as forcing the remaining independent media organizations underground," the International Press Institute opined on the Russian law's 10th anniversary.
The state-owned Russian Public Opinion Research Center released poll results in June 2022 showing that about 61 percent of average Russian citizens expressed negative connotations with the term "foreign agent," with words and phrases like "spy" and "traitor of Russia" drawing association.
What The U.S. Has Said
Elected members of the United States' Commission on Security and Cooperation in Europe, also known as the U.S. Helsinki Commission, have described the bill as furthering the "attack on our strategic partnership and the Georgian people's Western choice."
"It would demonstrate the present government's increasing embrace of Russia—the same country that occupies 20 percent of Georgian territory, kidnaps its citizens, disregards its sovereignty, and wages a genocidal war against Ukraine," a statement released on Monday reads.
U.S. State Department spokesperson Ned Price stated that "anyone voting for this draft legislation would be responsible for potentially jeopardizing Georgia's Euro-Atlantic future."
"A law like this is not consistent with the aspirations that the Georgian people have expressed over the course of decades now, the future they have set out for themselves, and the future that we, as the United States, are determined to continue to be a partner to help them achieve," said Price, adding that the United Nations and European Union share the same sentiment.
Human Rights
Shalva Papuashvili, chairman of the Georgian parliament, wrote to a human rights organization March 2 that "discussions will be inclusive in view to find the best version to provide the freedom of the active civil society of Georgia, so the legitimate objectives of transparency, accountability and security."
He said one draft is a facsimile of the U.S. Foreign Agents Registration Act (FARA), while another draft is a less restrictive "liberal version" of FARA.
"There has been a lot of propaganda about this law," Price told reporters March 2. "You mentioned one of these untruths: the idea that this law was based on our Foreign Agents Registration Act, or FARA. Our Foreign Agents Registration Act requires people who are agents of foreign governments to register as such. Our law does not affect NGO operations or funding sources."
Civil Rights Defenders, an independent human rights organization, said if passed the law could allow Georgian government to crack down on political dissent by limiting media. It has urged parliamentary members "to respect the freedom of association and expression in the country and not adopt the proposed legislation."
Mikhail Troitskiy, professor of practice at the University of Wisconsin-Madison, formerly worked at the MacArthur Foundation in Russia for almost six years "until the Kremlin's restrictive measures on NGOs kicked in and made philanthropy in Russia almost impossible."
"Any restrictions on international funding of NGO work is a sign of political regime vulnerability," Troitskiy told Newsweek. "The Georgian government is apparently concerned with the support their NGOs may be receiving from the West, not China or Russia. A sizable chunk of the Georgian population does not support the Georgian Dream."
The bill was reportedly submitted to parliament by People's Power, an anti-Western offshoot of the incumbent Georgian Dream that formed in August 2022.
"Opposition in Georgia is pro-NATO and pro-EU, so branding pro-Western NGOs as 'foreign agents' may have the unexpected effect of validating their work by the Georgian government," Troitskiy added. "Even in Russia the 'foreign agent' labels have failed to 'dehumanize' their bearers, and it will be more so in Georgia."
Newsweek reached out to the Georgian government for comment.