Georgia Lieutenant Governor Says He Supports State Hate Crime Law Following Ahmaud Arbery Shooting
Georgia Lieutenant Governor Geoff Duncan said he supports the state's proposed hate crime bill on Friday. However, he said revisions need to be made to the current legislation that is up for consideration.
"This is an important piece of legislation to get right," Duncan said. "It is time to make it clear that Georgians will not stand for hate and violence. As we work through this legislation, we want to make sure that victims of hate crimes have certain tools at their disposal. Victims of bias-motivated violence should have recourse in civil court — I want to ensure that victims have a remedy for the rights they hold as Georgians."
Duncan's statement follows the February shooting death of Georgia man Ahmaud Arbery, an unarmed black jogger who was shot multiple times and killed by a white father and his son.
A viral video of Arbery's killing incited a national call for action for an investigation in early May. Public outcry, as well as messages of demanding justice from multiple public figures, condemned the fact that no arrests had been made at the time of the video's release two months after the incident.
In the aftermath of Arbery's death, the United States Department of Justice announced there would be an official federal investigation into the incident as a hate crime.
In a statement made by the Georgia Bureau of Investigation (GBI), Gregory McMichael and Travis McMichael, the two suspects in the shooting, "were both charged with murder and aggravated assault. The McMichaels were then taken into custody and will be booked into the Glynn County Jail."
Georgia is one of four states that does not have a hate crime law, which means the murder of Arbery could be prosecuted as a federal hate crime.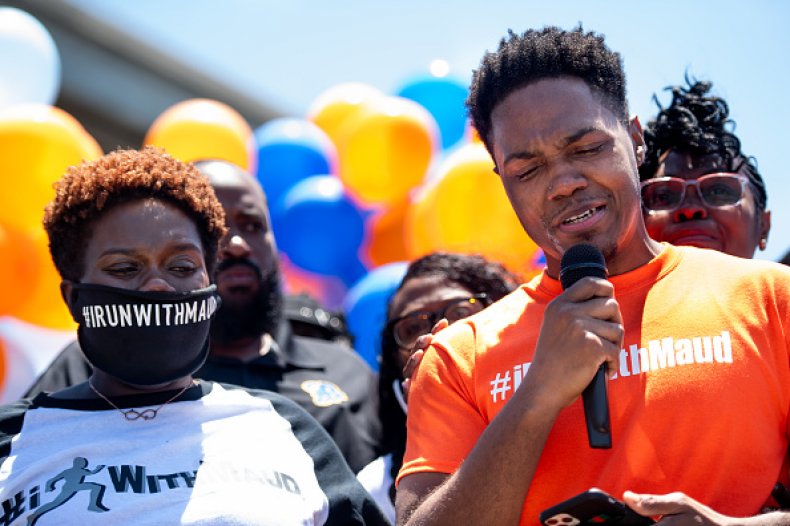 House Bill 426, the current legislation Duncan is referring to, would give sentencing guidelines for those convicted for targeting others based on race, color, religion, national origin, sexual orientation, gender, mental disability or physical disability.
"In our communities, state and local law enforcement officials need to have the proper training at their disposal in order to correctly identify, investigate, and prosecute hate crimes. As we work through the legislation with the Senate Judiciary Committee, these are some of the specific details we will look to address," Duncan added in the statement.
Georgia Representative Gloria Frazier called on Duncan and Georgia Senator Jesse Stone last month to allow the HB 426 to come to the floor for a vote, and to rename it the Ahmaud Arbery Hate Crime Bill.
Newsweek reached out to Duncan and Arbery's family attorney for comment. This story will be updated with any response.