Georgia Man Breaks Into Garage, Gets Trapped Under Pile of Tires, Calls Cops for Help: Police
A Georgia man and suspected burglar was left deflated after calling 911 for assistance, having become stuck under a pile of tires at a Bartow County store that police believe he broke into.
According to Channel 2 Action News, the suspect, Nathaniel King, 30, ended up trapped in the Cartersville shop, Salgado Tire, on January 5, 2020, after breaking and entering the shop through the rear door. A "towering rack of tires" then fell on top of him.
"As the suspect made entry, as he came inside the business, the tires fell on top of him trapping him inside," says Micheal Bettikofer, with the Cartersville Police Department, to Channel 2 Action News.
With no other option, the suspect called 911 for assistance. A transcript of the call, sourced from Channel 2 Action News, runs as follows:
Operator: "Bartow County 911. What's the address of your emergency?"
Suspect: "I'm in Cartersville ... Cartersville, Georgia."
Operator: "Where are you at? Hello?"
Suspect: "Help me!"
Operator: "OK, where are you, sir?"
Suspect: "I'm in a tire shop in Cartersville."
Operator: "OK, can you tell exactly what is wrong?"
Operator: "Sir can you hear me?"
Suspect: "I think the tire rack is going to kill me."
A police officer then arrived at the scene to see the suspect trapped under the tires.
Speaking to the outlet, Bettikofer said: "He observed the suspect underneath the tires yelling for help. The officer was eventually able to make entry to that business and get the tires off him and get him out."
The suspect told the officer that he was being chased and gained entry into the business to get away, but was not able to provide evidence that a chase occurred.
The police report on the event says that the shop owner, Mr. Napoleon Salgado, stated that the shop team locks the doors at the end of every day and that they put tires in front of the rear door for "extra security." Further, Mr. Salgado told police that "no one should be in the building".
According to county crime statistics for 2017, 219 burglaries took place in Bartow County. The information, gained from the Georgia Bureau of Investigation, shows that the majority of these crimes took place in January of that year, with the decline in the following months and a pick up again in April.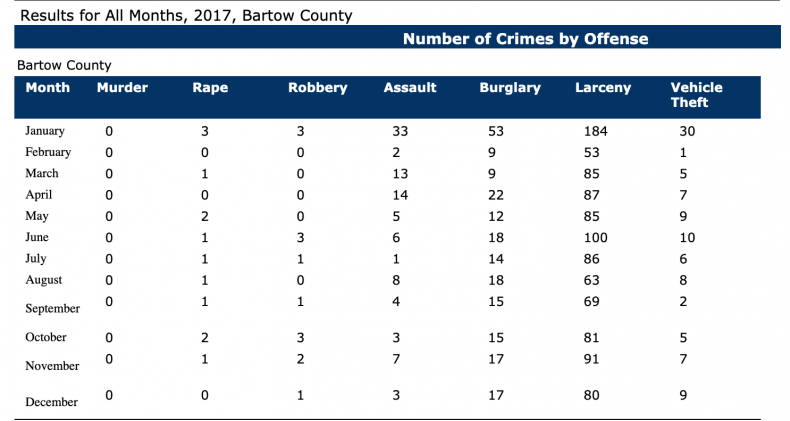 Despite the considerable weight of the tires, the suspect was unhurt, and was detained in the county jail. According to the police report provided to Newsweek by the Cartersville Police Department, King was charged with criminal trespass and damage to property.
This article was updated to include the name of the shop, information from the shop owner and the charges against the suspect.