Georgia mom Courtney Ann Taylor has gone viral after railing against a mask mandate at her child's school earlier this month, arguing that the rule forced kids to carry an unfair burden.
In a clip of a Gwinnett County Public Schools meeting last week, Taylor complained that children were still unable to play with each other on the playground as they normally would, and said her six-year-old daughter did not like wearing her mask.
A video of her speech was posted on social media on Thursday and has since gone viral, with one copy being viewed more than 1.7 million times.
Speaking at the public school meeting, Taylor said: "This is not March 2020 anymore. We have three vaccines, every adult in Georgia who wants that vaccine is eligible to get it right now, and every one of us knows that young children are not affected by this virus.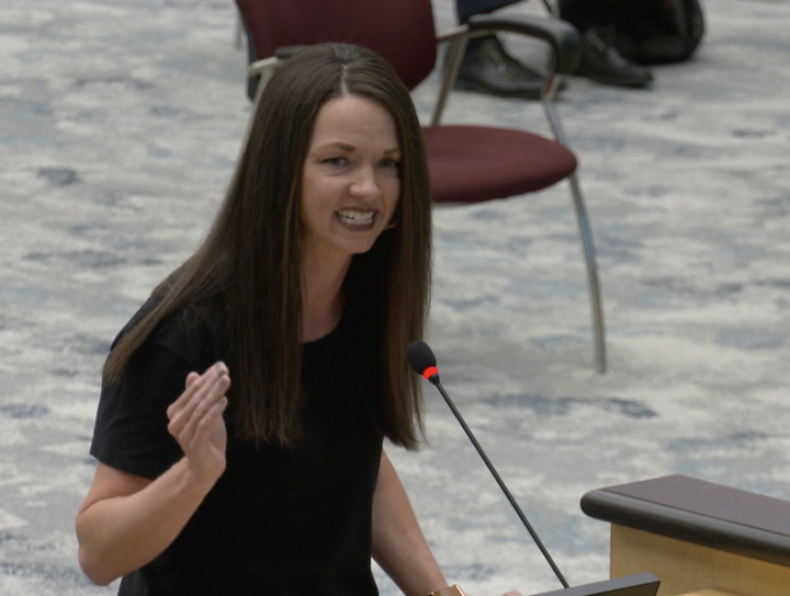 "They're not, and that's a blessing. But as adults, what have we done with that blessing? We've shoved it to the side and said we don't care, you're still going to wear a mask on your face every day, five and six year olds.
"You still can't play together on the playground like normal children, seven and eight year olds. We don't care. We're still going to force you to carry a burden that was never yours to carry. Shame on us."
She later called for the school board to remove the mask mandate for children. Her remarks were met with applause from others in the room.
"This has to stop. Defend our children," she said. "My six-year-old can't come up here and say this. It has to stop, take these off of our children."
In an interview with Fox News on Thursday night, Taylor said she had been waiting "month after month" for the mask mandate to end, and said the reaction to her remarks had been "overwhelming."
A Gwinnett County School District spokesperson confirmed that a mask mandate was in place, and had been in effect since August last year. "We are following the guidelines of the CDC and other health professionals," they added.
The spokesperson also stressed the importance of staff and student safety amid the ongoing pandemic.
Centers for Disease Control and Prevention (CDC) guidelines says children two years of age and older should wear a mask where possible to help prevent the spread of COVID-19 in the wider community.
"Help your child (if two years of age or older) wear a mask correctly when in public and when around people they don't live with," the guidelines read. "CDC recognizes that wearing masks may not be possible in every situation or for some people."