Georgia on My Mind | Opinion
With global attention focused on President Joe Biden's European tour de force, including the much-anticipated Biden-Putin Geneva summit, other less prominent but still vitally important Transatlantic security issues have taken a back seat. In a frantic week of G7 and NATO summits, there were many competing players, issues and interests. While the powerful grab headlines, it's important not to ignore a key U.S. strategic ally in the Caucasus region—Georgia.
Former U.S. ambassador to Russia Michael McFaul recently reminded us that at the last Biden-Putin meeting, a decade ago in Moscow, the two leaders engaged in a sharp exchange over Russia's occupation of Georgian territory. The more recent Russian aggression in Ukraine should be a reminder to all that the Kremlin ordered the 2008 invasion in Georgia as a response to NATO's signal in favor of accession. Today, Russian soldiers still occupy 20 percent of Georgia's territory. Using #NeverForget on Twitter, Ambassador McFaul reaffirmed the need for Georgia's illegal occupation to feature on the Geneva agenda.
U.S. policymakers must also focus on broader issues when considering Washington's strategic partnership with Tbilisi. Georgia serves as an example of how a former Soviet state can make significant democratic strides and continue to fight for its sovereignty, in spite of ongoing Russian aggression. There are at least three reasons why the Biden administration should elevate the U.S. strategic partnership with Georgia.
First, Georgia has contributed to regional peace and security. At the end of 2020, one of the Black Sea region's frozen conflicts reignited. The Moscow-brokered outcome of the second Nagorno-Karabakh war between Armenia and Azerbaijan meant for Georgia yet another threatening Russian troop deployment to its south. The agreement saw Russian military presence deployed to Nagorno-Karabakh, additionally to Russia's military presence into the two occupied territories of South Ossetia and Abkhazia. While Georgia continues to be squeezed, Russia is pushing for a new regional cooperation format between Armenia, Azerbaijan, Georgia, Iran, Russia and Turkey. This platform purposefully excludes the United States and the West.
Yet Georgia managed to play an important role in the first confidence-building measures of the Nagorno-Karabakh conflict.Tbilisi's efforts were recently rewarded, with Azerbaijan releasing 15 detained Armenians in exchange for Armenia's map of 97,000 anti-tank and anti-personnel mines. Tbilisi's mediation, supported by the U.S. Department of State, was applauded by Secretary of State Antony Blinken. Georgia's contribution to peace in Nagorno-Karabakh demonstrates its vital role as a staunch U.S. ally promoting peace and security in Europe's east.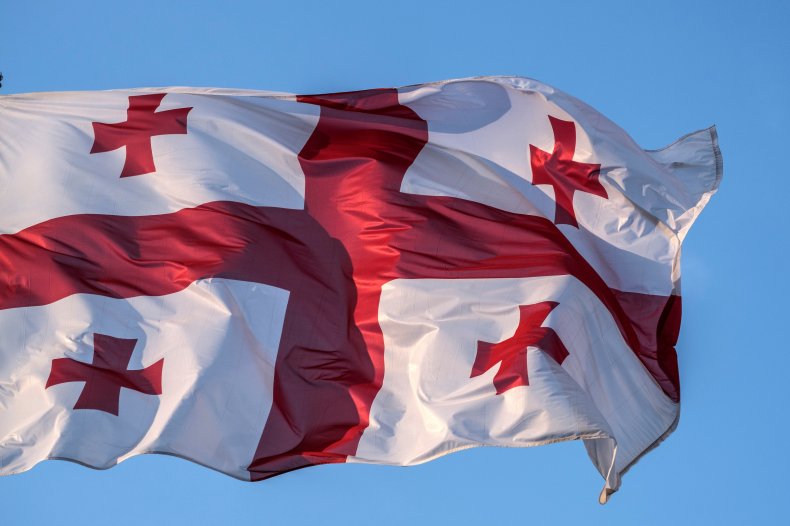 Second, when America calls on her allies for military support, Georgia is the first to respond. Georgian troops joined U.S.-led operations in Afghanistan and Iraq without caveats, offering some of the highest per capita contributions among coalition forces. Tbilisi reassigned its troops from Iraq when Russia invaded Georgia and occupied its territory, but Georgia's commitment in Afghanistan remains steadfast to this day. Georgia has for decades been fighting off Russian hybrid aggression while reforming its armed forces, preparing for the day the country is finally welcomed into NATO. Despite sacrifices in conflicts both at home and abroad, public and bipartisan political support for Georgia's NATO integration remains staggeringly high.
Finally, there is wisdom and opportunity in the role Georgia plays and can play as a bridge to Russia and Turkey. Georgia's foreign policy aspirations remain clear: join NATO and the European Union as a stable and prosperous democracy embedded in the West. But Tbilisi knows not to pick fights with its powerful neighbors. Georgia has managed to maintain a relatively stable relationship with Russia, despite the ongoing threats and occupation. Georgia has also managed to build a fruitful, strategic partnership with Turkey. Tbilisi's role as a bridge between the U.S. and these two powers is important in stabilizing the Black Sea region.
As Biden concludes his European tour, a trip he will hope can help consolidate America's democratic alliances, Georgia should feature more prominently on Washington's international agenda. If Georgia is to continue to defend itself while strengthening democratic institutions, it requires greater political, military and economic support from Western partners. It is in America's interest to step up.
General Philip Breedlove is a retired General of the United States Air Force and former SACEUR, Commander of U.S. European Command.
Dr. Iulia Joja is a senior fellow with Middle East Institute's Frontier Europe Initiative in Washington, D.C.
The views expressed in this article are the writers' own.