Georgia NAACP President Resigns From State's Election Task Force: 'It's a Farce'
The president of the NAACP in Georgia said Wednesday he was resigning from a bipartisan election task force formed by GOP Secretary of State Brad Raffensperger, after calling the process "a farce."
The Reverend James Woodall said that he participated in weekly meetings with fellow community leaders, election experts and politicians to improve voting policies throughout the state but ultimately concluded the task force was "all for show," The Atlanta Journal-Constitution reported.
Woodall said that he had been frustrated with the committee for a while but decided to resign after he accused Raffensperger of attempting to disenfranchise thousands of eligible Georgia voters to benefit the Republican Party.
On Monday, Raffensperger criticized a judge's ruling that rejected challenges from state Republicans brought against more than 4,000 voters to remove them from the rolls ahead of the January 5 Senate runoff races. Raffensperger called the ruling a "direct attack on the rule of law in Georgia."
In response, Woodall said that the Republican secretary of state was "trying to play both sides" and sent Raffensperger an email with his resignation.
"I cannot in good faith continue to work with your office in a nonpartisan fashion if you publicly commit to disenfranchising thousands of eligible voters on a purely partisan basis and continue to use your office as a way to push conspiracy theories that place Georgia residents in harm's way," Woodall told Raffensperger, according to the email.
"Your latest actions are troubling to say the least and put the work of the Task Force in jeopardy, as the spirit in which we were convened has seemingly disappeared due to political pressure," Woodall added.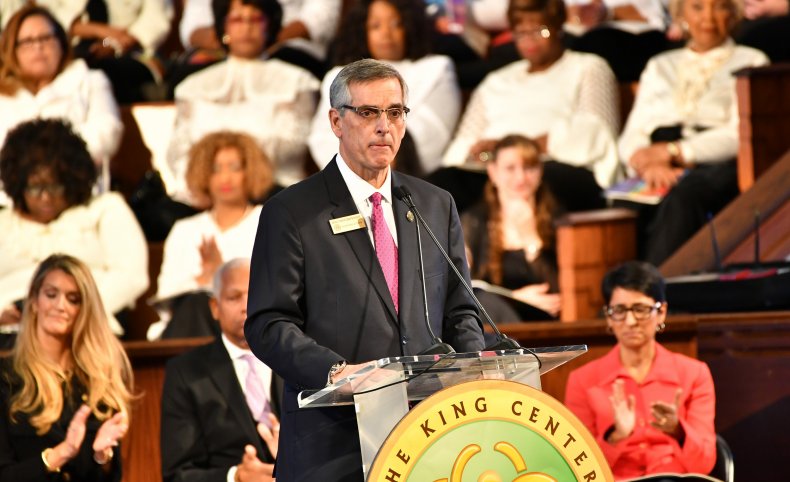 Although Raffensperger has played a significant role in refuting President Donald Trump's unsubstantiated claims of voter fraud throughout Georgia, he has been criticized by Democrats for a series of investigations he launched against left-leaning voter groups, as well as frequent attacks against voting rights advocate Stacey Abrams.
"The Secretary of State has doubled down on using his office to endorse campaigns of disinformation, amplify efforts of partisan attacks while publicly degrading the authenticity of our elections since the very beginning," the Georgia NAACP said in a statement Wednesday.
The election task force was formed in October by Raffensperger with the goal of "improving the integrity of our elections and increasing voter confidence in their outcomes."
But Woodall said Raffensperger's latest actions were a direct attack on that mission.
"The latest attempt to disenfranchise eligible Georgia voters flies in the face of the integrity of safe, secure and accessible elections," Woodall told the Journal-Constitution. "And that's why I can no longer participate in such a farce."
Woodall added that the Georgia NAACP is predicting more partisan disputes and election misinformation regarding the high-stakes Senate runoff races on January 5.
"The Georgia NAACP is concerned that that come Jan. 5 and beyond, we'll see voter suppression in Georgia that's worse than anything we've ever seen," he said.
The runoff races between GOP Senators Kelly Loeffler and David Perdue against Democrats Raphael Warnock and Jon Ossoff will determine which party controls the U.S. Senate.
Newsweek reached out to Raffensperger's office for additional comment but did not hear back in time for publication.