Georgia Newspaper Rebukes Loeffler, Perdue Over 'Assault' on Electoral System
The Atlanta Journal-Constitution hit out at Georgia Senators Kelly Loeffler and David Perdue on Wednesday as it accused the Republicans of assaulting the state's electoral system ahead of runoff races for their crucial seats in the upper chamber.
The Journal-Constitution op-ed said the senators had "offered no specifics" when they called on Georgia's Republican secretary of state Brad Raffensperger to resign over supposed "failures".
The newspaper also said the remarks from Loeffler and Perdue should be "unacceptable" to Georgians and argued that their behavior and comments had been "reckless" and "dangerous" in the run-up to their Senate contests.
"Reckless barely begins to touch on what Perdue and Loeffler have done. Without presenting reasons, they have assaulted Georgia's election system," the editorial read. "That is dangerous behavior in this tense moment, both for this state and for the nation that is watching this risky sideshow."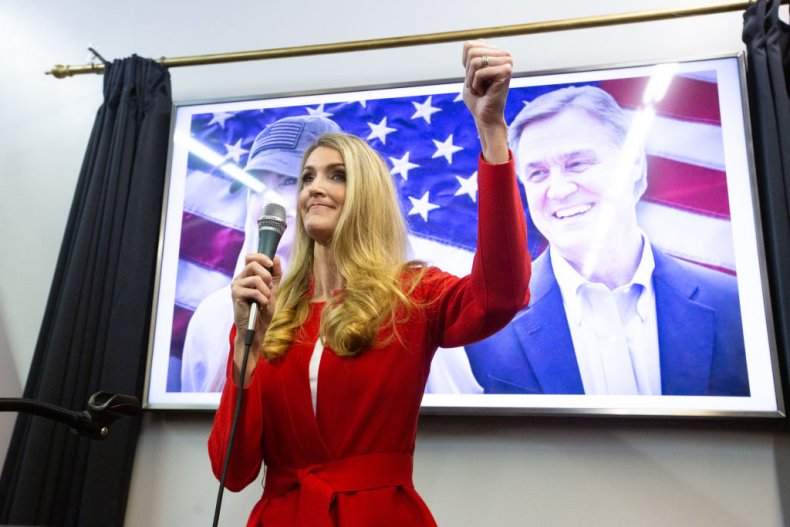 The Journal-Constitution added that it had seen "no evidence" that Georgia or Raffensperger had failed to deliver "honest" elections in 2020.
"We realize Perdue and Loeffler now find themselves beginning the next, sure-to-be-brutal rounds of political battles that will continue until January's runoff election. Given that Georgia is now a state in play, it is to be expected that both Democratic and Republican candidates will be much more aggressive in their bids for office," the newspaper said.
"Even so, there must be standards of ethical behavior that dictate lines of appropriateness—and those lines should not be breached."
Newsweek has contacted the Loeffler and Perdue campaigns for comment.
The Republican senators released a joint statement Monday calling on Raffensperger to step down, arguing that he had "failed to deliver honest and transparent elections".
"There have been too many failures in Georgia elections this year and the most recent election has shined a national light on the problems," the lawmakers said. "While blame certainly lies elsewhere as well, the buck ultimately stops with the secretary of state. The mismanagement and lack of transparency from the secretary of state is unacceptable."
Perdue and Loeffler added that the Republican had "failed the people of Georgia."
Raffensperger refused to resign, saying it was "not going to happen" until Georgians voted him out of office. He also called the complaints raised by the senators "laughable" as he defended the state's electoral system.