Georgia to Offer Moderna, Johnson & Johnson COVID Vaccine Booster Starting Tuesday
Georgia is set to roll out Moderna and Johnson & Johnson COVID vaccine boosters on Tuesday for eligible individuals.
The state's Department of Public Health said in a statement on Friday that the authorized boosters will be offered pending guidance from the Centers for Disease Control and Prevention (CDC).
On Wednesday, the Food and Drug Administration (FDA) authorized the Moderna and Johnson & Johnson COVID vaccine boosters.
People who received both doses of the Moderna vaccine or the single Johnson & Johnson dose can choose which vaccine they would like to receive as a booster dose.
"Some people may have a preference for the vaccine type that they originally received and others, may prefer to get a different booster. CDC's recommendations now allow for this type of mix and match dosing for booster shots," the department's statement read.
People whose ages are above 18 are eligible for the booster shot.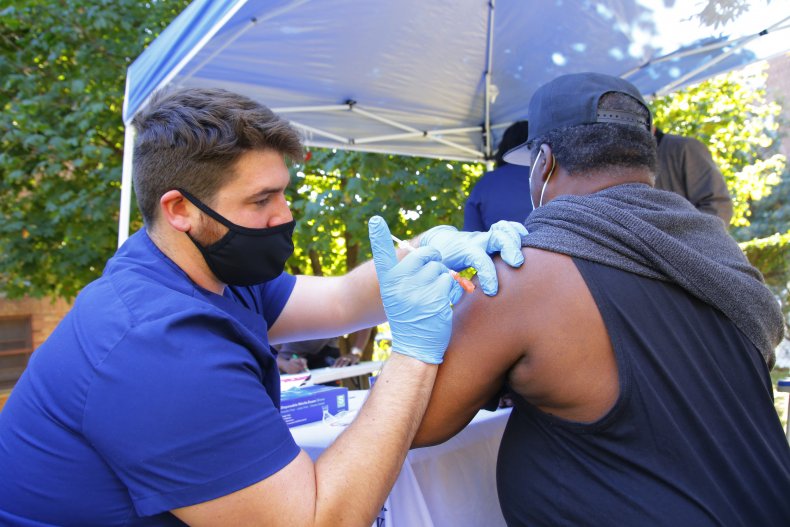 Individuals eligible for booster shots include those who are 65 years of age and older, those who live in long-term care facilities, people with underlying medical conditions. People who work and live in high-risk settings are also eligible for the booster shot.
Fully vaccinated people can take the booster six months or more after their initial two-dose of Pfizer or Moderna shots.
"For people who received the J&J COVID vaccine, booster shots are also recommended for those who are 18 and older and who were vaccinated two or more months ago," the state health department added.
According to the state health department, over 50 percent of people in Georgia are currently unvaccinated.
Last month, the Food and Drug Administration authorized the Pfizer/BioNTech COVID vaccine booster nationwide for certain groups of people who are at risk of being severely ill from the virus.
"This pandemic is dynamic and evolving, with new data about vaccine safety and effectiveness becoming available every day," acting FDA Commissioner Dr. Janet Woodcock said in a statement in September.
"As we learn more about the safety and effectiveness of COVID-19 vaccines, including the use of a booster dose, we will continue to evaluate the rapidly changing science and keep the public informed," Woodcock added.
A number of clinical trials were carried out to test the efficacy of the COVID vaccine boosters. The studies conducted by the FDA found that the 149 participants who received the Moderna booster showed a boost in antibody response 29 days after taking the shot. Additionally, all 39 participants who received the Johnson & Johnson booster showed similar results.