Georgia Official Says Police Should 'Shoot to Kill' George Floyd Protesters If 'They Continue to Destroy'
A country official in Georgia has come under fire after suggesting on Facebook that people should "shoot to kill" George Floyd demonstrators who turn to vandalism and destruction.
"It's now time to SHOOT to KILL them if they continue to destroy," Joe Allen, the Macon-Bibb County commissioner, wrote in a comment on a Facebook live video posted by Fox 6 Milwaukee this week.
Allen initially defended the remark before later issuing an apology.
"Don't be a coward now!! Own what you said!" a Twitter user identifying herself as Angie Wilson posted on Wednesday.
Allen replied: "I'm not that. I said it. And I replied to you why. And I stand by that. If my family or myself were confronted. And if it's my family or myself or even you. Saving lives are my business."
Some Twitter users called on Allen to resign. However, he later issued a statement to CBS/CW affiliate 13 WMAZ apologizing for his original remark.
"I regret my choice of words in the online comments and what it means to people. It was a poor choice, and I'm sincerely sorry for these hurtful comments. We should be working to help all people and making sure we are together," Allen said.
Shan Towns from the Office of Public Affairs Department for Macon-Bibb County, told Newsweek that Mayor Robert Reichert was not happy about Allen's comment.
"The mayor is disappointed. However, he does not have the authority to terminate or force the resignation of an elected official," Towns said.
In an interview with 13 WMAZ, Allen insisted his remarks weren't "about race or anything like that," but rather referring to looters. "Looters going in and taking stuff and beating people and hurting people, beating people and I just got, you know, to the point, my gosh ... and I said it. I did say it. I should not have said that."
A former firefighter, Allen announced last year that he did not plan to seek re-election as county commissioner, according to Macon's The Telegraph newspaper. He was first elected to his post back in 1998.
While Allen's remarks have drawn controversy and criticism, they echoed similar remarks voiced by President Donald Trump. The president last week controversially tweeted "when the looting starts, the shooting starts." In an extraordinary move, Twitter put a warning on the tweet, pointing out that it violated its policies against glorifying violence.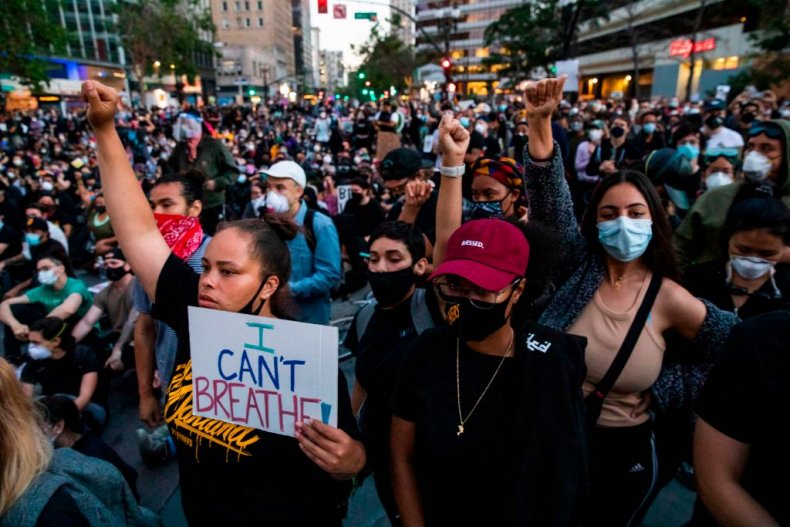 In leaked audio from a call with governors, Trump also urged the state leaders to crackdown hard on demonstrators. "You've got to arrest people, you have to track people, you have to put them in jail for 10 years and you'll never see this stuff again," the president said.
Demonstrations have spread across the country since the May 25 death of George Floyd, a black man, in police custody in Minneapolis. A video of Floyd's detention went viral online, showing white police officer Derek Chauvin kneeling for nearly nine minutes on Floyd's neck. Floyd can be heard repeatedly saying "I can't breathe," as onlookers urge the officer to stop.
Chauvin and three other officers involved with the arrest were fired and charged over Floyd's death. But protests have persisted across the country, as activists have pointed to what many see as systemic racism in policing nationwide. While some individuals have turned to vandalism and looting, some police have also responded to peaceful demonstrators with violence.
This article has been updated with comment from Macon-Bibb County.
Correction 6/8/20, 6:35 a.m. ET: This article was updated to correctly quote Trump's tweet as "when the looting starts, the shooting starts."