Georgia Officials Arrest Man Who Allegedly Made Terroristic Threats Against Ahmaud Arbery Shooting Protesters
The Georgia Bureau of Investigation (GBI) have arrested a 20-year-old man and charged him with making terroristic threats to protesters of Ahmaud Arbery's deadly shooting.
Rashawn Smith was arrested in Midway, Georgia on Sunday and charged with the Dissemination of Information Relating to Terroristic Acts. Smith has been booked into the Liberty County Sheriff's Office. The arrest came after the GBI were made aware of a Facebook post that "contained a threat to future protests related to Ahmaud Arbery," the GBI said in a news release.
Nelly Miles, GBI's public affairs director, told Newsweek that Smith had allegedly "created a Facebook User ID of an unwitting individual to post a hoax threat." The incident is part of an ongoing and active investigation.
Protests have erupted across the country after a recently-surfaced video of Arbery's deadly shooting went viral last week. The video showed the 25-year-old black man fall to the ground after a confrontation with two white men traveling in a truck. Arbery was unarmed and out for a jog in Georgia's Glynn County at the time of his death.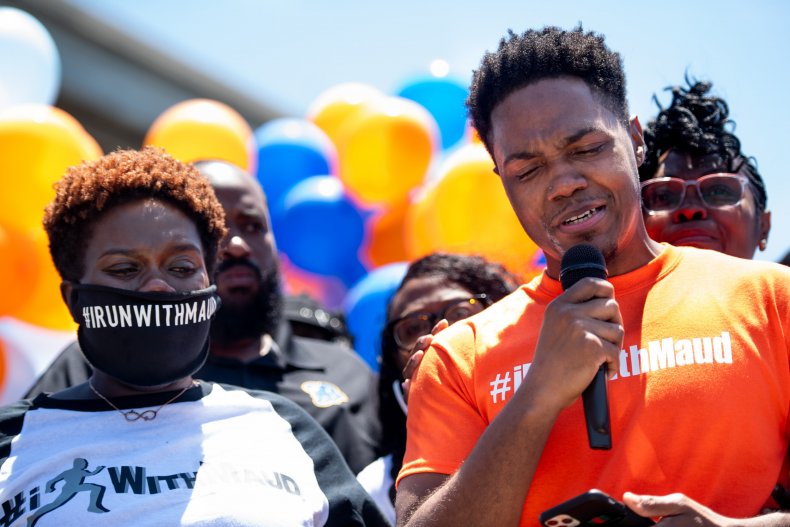 The GBI announced that former law enforcement official Gregory McMichaels, 64, and his 34-year-old son, Travis McMichaels, were arrested on Wednesday in connection with the fatal February 23 shooting. Both men were "charged with murder and aggravated assault. The McMichaels were then taken into custody and will be booked into the Glynn County Jail," according to the GBI.
Attorney Alan David Tucker of Brunswick, Georgia, said he released the video publicly because "people had the right to know." He did not reveal how he came to be in possession of the footage.
"There had been very little information provided by the police department or the district attorney's office, but there was entirely too much speculation, rumor, false narratives, and outright lies surrounding this event," Tucker told Georgia Public Radio.
"My sole purpose in releasing the video was absolute transparency because my community was being ripped apart by erroneous accusations and assumptions," he added.
As the GBI confirmed Smith's arrest on Sunday evening, Georgia Attorney General Chris Carr announced that his office has requested the U.S. Department of Justice to conduct an investigation into the handling of Arbery's case.
"We are committed to a complete and transparent review of how the Ahmaud Arbery case was handled from the outset," Carr said in a statement. "The family, the community and the state of Georgia deserve answers, and we will work with others in law enforcement at the state and federal level to find those answers."
Georgia Governor Brian Kemp expressed his support for the probe and praised Carr's request. "Thank you, [Carr]. This is another positive step to ensure truth and justice prevail," the governor tweeted.
Newsweek reached out to the the Glynn County Police Department for further information. This story will be updated with any response.