Georgia, Pennsylvania Races Tighten With Mood at Trump Headquarters Increasingly Grim
The mood at Trump headquarters grew increasingly grim on Wednesday as the presidential election in Georgia and Pennsylvania tightened.
At the end of Election Day, Trump was ahead by hundreds of thousands of votes in Georgia and Pennsylvania, two battleground states that would secure the president's reelection. Trump has no chance at winning the Electoral College and White House without Pennsylvania.
Trump and his campaign team were upbeat as they watched him win Florida from the East Room on Tuesday night, according to the New York Times. They thought the result foreshadowed a similar trajectory to 2016, when a Florida victory led to their defeat of then-Democratic Nominee Hillary Clinton. Those who were concerned with Trump's chances at re-election were suddenly energized at his prospects of another presidential win.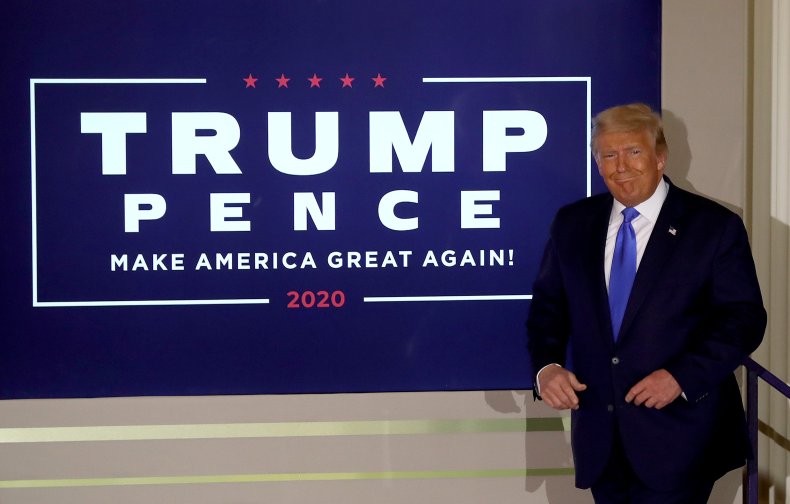 The mood shifted after around midnight, when Fox News called Arizona for Biden. After the call, margins in Pennsylvania and Georgia began closing in on Trump. Trump prematurely claimed victory at around 2:30 am ET in a televised address to the nation and then spent most of Wednesday morning watching Fox News report the incoming results and calling Republican governors.
With Michigan and Wisconsin being called for Biden, as the Georgia and Pennsylvania race tightened throughout the day, Trump did not appear in public on Wednesday. According to the Times, the president spent much of the morning continuing to make calls while sounding subdued. Meanwhile, his allies outside the White House had started their assessment in what went wrong in Arizona.
Currently, Trump is still ahead in Georgia but the race is tight. With 98 percent reporting, Biden is trailing the president by about 0.6 percent or just over 28,500 votes. Trump is further ahead in Pennsylvania by a smaller margin than last night. With 89 percent reporting, Trump leads his Democratic opponent by 2.6 percent—about 194,000 votes.
The Associated Press has already called Arizona for Biden but a recent data error in the state has given Trump new hope. As of Wednesday evening, Trump had obtained 214 Electoral College Votes compared to Biden's 264. Biden needs one more state to win and without Arizona, Trump must win four of the five remaining states—56 Electoral College votes—to secure a second term at the White House.
Trump is currently leading Biden in Georgia, Pennsylvania and North Carolina, three of the four states needed to win. Meanwhile, Biden is up by 0.6 percent in Nevada, the fourth state that Trump would need sans Arizona.
Newsweek reached out to the Trump campaign for comment.