Georgia Police Hold Memorial for Spilled Krispy Kreme Doughnuts
When the back of a Krispy Kreme delivery truck flew open and scattered confections along a Georgia road, the local police held a cheeky memorial for the fallen doughnuts.
Three officers with the Brookhaven Police Department responded to a call reporting a truck dropping crates from the back and showed up to Peachtree Road to document the carnage, which saw dozens of freshly-fried treats lying abandoned in the gutter and unable to be eaten. They photographed the street and checked with the truck's driver to make sure everything was OK.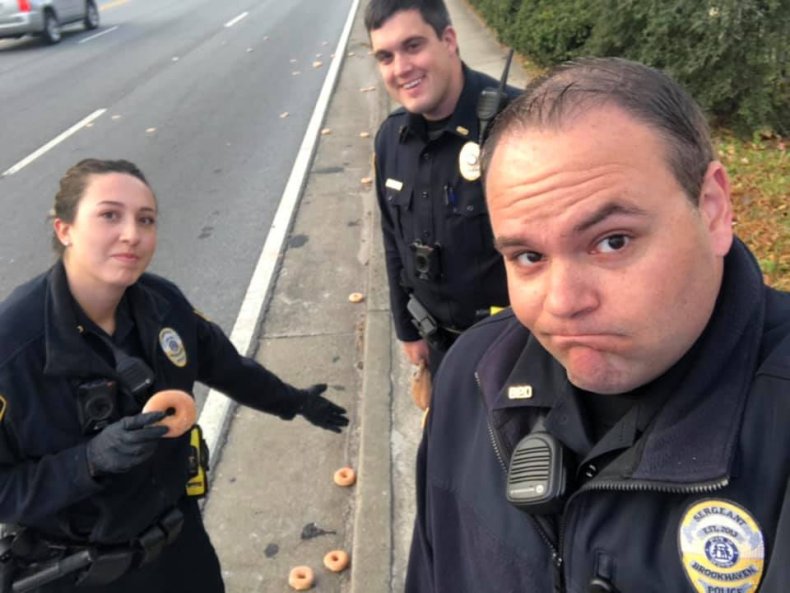 The department then posted an emoji-laden Facebook update about the tragic sight, writing "We found total carnage; donuts scattered along the curb and into gutter- THE GUTTER, people!!! The response time was stellar, but we couldn't beat the 5 second rule."
Later in the day, the nearby Gainesville Police Department sent the crew in Brookhaven a box of "sympathy donuts" to soothe their troubled emotions.
This wasn't the first doughnut-related tragedy to befall police officers in recent memory. On New Year's Eve 2018, a Krispy Kreme truck in Lexington, Kentucky caught fire on the Pink Pigeon Parkway. Officers received a call about the blaze and reported to the scene to find the vehicle completely engulfed in flames.
Authorities were able to douse the fire but none of the precious cargo could be saved. Several officers took pictures of themselves with the truck and posted the images on social media.
Police departments around the country reached out to the Lexington officers with messages of sympathy. The next day, Krispy Kreme contacted the department and offered to start the officers' 2019 off right.
With an escort of four police cruisers, lights flashing, a new Krispy Kreme truck drove to a police station and dropped off 20 dozen fresh, unburned glazed doughnuts to an appreciative group of officers.
The connection between police officers and doughnuts goes back to the 1940s, when patrolmen working the graveyard shift needed to fuel to stay awake. One of the few businesses open in the early morning hours in most cities, doughnut shops offered a well-lit, warm place for on-duty officers to fuel up and get caffeine to aid them in making it through the night.