As Georgia Reopens Friday, Atlanta Mayor Urges Residents to 'Just Stay Home'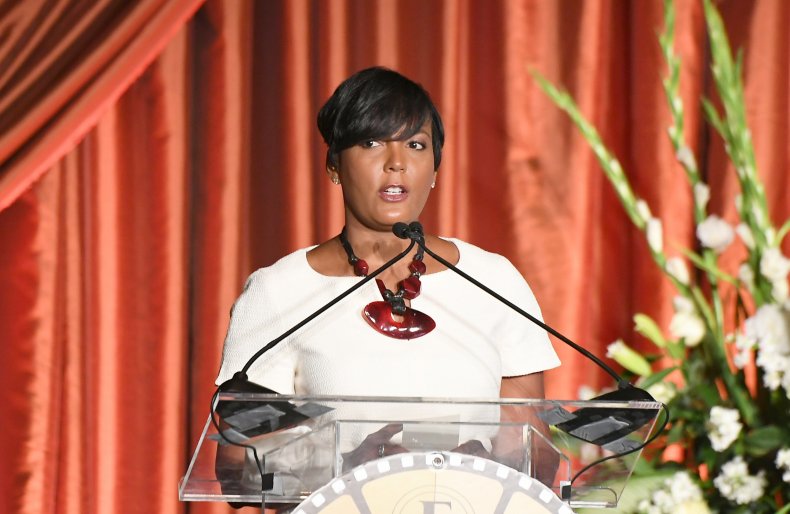 Atlanta Mayor Keisha Lance Bottoms urged residents to "just stay home" Friday as some Georgia businesses are reopening.
"Just stay home. Listen to the scientists. There is nothing essential about going to a bowling alley or getting a manicure in the middle of a pandemic," Bottoms said in an appearance on ABC's Good Morning America when host George Stephanopoulos asked her what message she wants to get to the people of Georgia.
"It is necessary that we continue to distance ourselves. To the extent that we've had any type of relief in this state it's because we have been aggressive, especially in the metro-Atlanta area, in socially distancing and asking people to stay home," Bottoms said.
Georgia Governor Brian Kemp announced Monday that the state would be allowing some businesses, including tattoo parlors, hair salons, and bowling alleys, to reopen.
"Informed by the Coronavirus Task Force and public health officials, opening up America again includes three phases to safely reopen and get folks back to work," Kemp said Monday, referencing the "Opening Up America Again" guidelines released by the White House.
The mayor said the data she has seen "shows our numbers are not going down."
"We are still having thousands upon thousands of people testing positive. Our death rate is continuing to go up and the way that it was explained to me by our public health officials is simply because we may have reached one peak doesn't mean that we won't reach another," Bottoms said.
Georgia has 21,883 confirmed cases of the novel coronavirus and 881 deaths as of 6 p.m. ET Thursday, according to the Georgia Department of Health.
Kemp sent out a series of tweets Thursday on his decision to reopen businesses. One tweet states that his decision was based on data and the recommendation of health officials: "Now, with favorable data and approval from state health officials, we are taking another measured step forward by opening shuttered businesses for limited operations. I know these hardworking Georgians will prioritize the safety of their employees and customers."
President Donald Trump has also spoken out against Kemp's decision to open up certain businesses, saying the governor is acting "too soon" and that "safety has to predominate."
"I told Governor Brian Kemp that I disagree strongly with his decision to open certain facilities which are in violation of the phase one guidelines...at the same time he must do what he thinks is right. I want him to do what he thinks is right, but I disagree with him on what he's doing," Trump said at the White House's Coronavirus Task Force press briefing Wednesday.