Georgia Republican Rep. Robert Dickey Says Party Feels 'Good' About New Voting Law
Watch the full interview on ASP.
Georgia Republican state Representative Robert Dickey said the party "feels good" about the state's new voting law, amid criticisms from Democrats and voting rights activists who view the bill as restrictive.
"We spent a lot of time looking at lots of areas. It really started more than two years ago, after the governor election. We just feel really strongly in the state that you've got to have integrity in the election process," Dickey said in a recent interview with the civic media organization, A Starting Point (ASP)
"We all feel good about it," he said, adding that while "we did not do a lot of things that people wanted us to do," he and other lawmakers "really focused on the security of that bill."
Georgia's new voting rights bill, SB202, was signed into law by Republican Governor Brian Kemp last month in response to unsubstantiated claims of voter fraud in the 2020 elections.
The new law limits the number of mail ballot drop boxes in the state; lessens the time residents have to request an absentee ballot; requires residents to provide a photo ID when casting their mail-in ballot; and makes it a misdemeanor to give "money or gifts," as well as "food and drink," to voters while waiting in line.
The law also allows for the Republican-controlled State Election Board to take over any county election boards that it considers problematic.
The bill has since been met with criticism from Democratic lawmakers and voting rights activists who believe it promotes voter suppression throughout the state. Earlier this week, hundreds of companies, including Amazon, Google, and BlackRock signed a statement opposing Georgia's new bill and similar voting legislation across the country.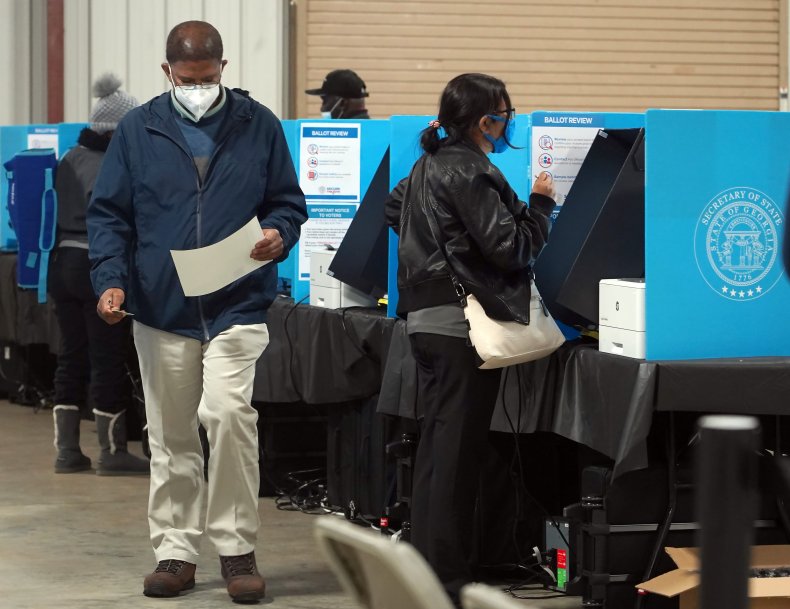 Speaking with ASP, Dickey said he believes that people lost confidence in the state's voting system due to the use of mail-in ballots during the 2020 election. Now, he says the new requirements—including tougher ID verification—are necessary to restore confidence in the process.
"When we tried to keep people from having to walk into the polls, and do the mail out ballots, that is where people lost confidence in the voting process. But we did put security into the mail-in voting I think. You have to have an ID to prove who you are.… We're asking for that in a mail-in ballot as well."
"If you do not have some sort of ID, people will never have confidence that their vote counts. People cannot go vote and not have confidence in the security," he added.
But Democratic state Representative Jasmine Clark told ASP that the new bill was "based on a reaction" that the previous election was falsely stolen due to voter fraud.
"It was a reaction to a lie that there was widespread voter fraud and that somehow we needed to change laws in order to fix this fraud. Well in Georgia, we probably had one of the most heavily scrutinized elections ever. If there was fraud, we definitely would have found it," she said.
"The only people who weren't confident in our election, were the people who believed the lie that there was widespread voter fraud," she added.
Clark, along with other Democratic lawmakers in Georgia and across the country, are instead calling for the passage of a nationalized voting law called the For the People Act, or H.R.1.
Lawmakers say this law will work to expand voting access, improve election integrity and security, revise rules for political spending, and set out provisions related to ethics for all three branches of the federal government.
"When you leave it up to the states, some states are going to do whatever they can to keep one party or another in power. Just as we needed the Voting Rights Act of 1965, I'm 100 percent of the mindset that we need the voting rights act of 2021," Clark told ASP.
Dickey, however, called the For the People Act a "terrible idea."
"Nowhere else in the world works better than our system here in the United States. And we've got to keep it that way. Our local systems know their voters, know their habits, and how to secure an election," he added.