Georgia Republicans Invoke Ilhan Omar Rumor in Support of Marjorie Taylor Greene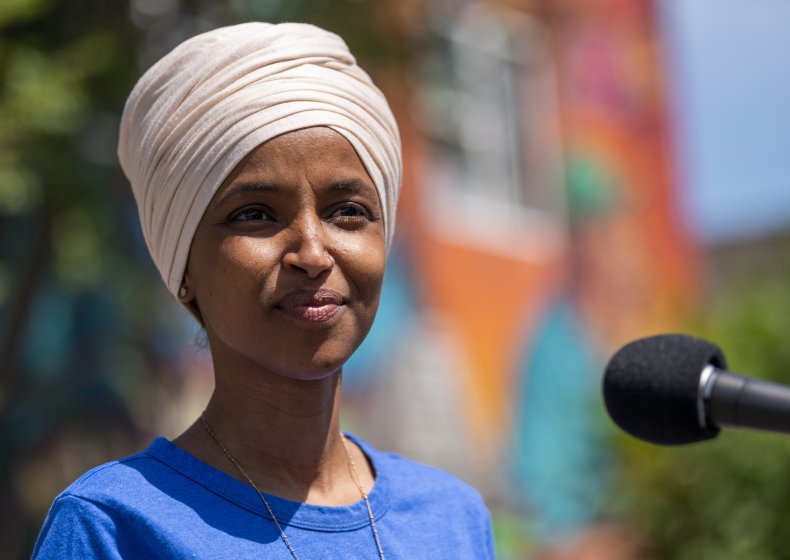 Republican officials in Georgia cited a dubious rumor concerning Rep. Ilhan Omar (D-Minn.) when leaping to the defense of Rep. Marjorie Taylor Greene (R-Ga.) on Tuesday.
Greene has been under increasing pressure due to past social media posts surfacing and revealing apparent approval of far-right conspiracy theories and extremist views that include support for assassinating prominent Democrats. A rising number of Republicans have joined Democrats in denouncing Greene as a proposal for her to be removed House committee assignments gains momentum and calls for her to resign or be removed from office continue.
However, GOP officials from Greene's home district have defended her and on Tuesday released a letter favorably comparing her to a number of Democrats. The letter resurrected a conspiracy theory that Omar's ex-husband Ahmed Nur Said Elmi is actually a brother she married to skirt immigration laws. No evidence to back up the rumor was presented. Omar vehemently denied the rumor when it emerged in 2016, issuing a statement stressing that "insinuations that Ahmed Nur Said Elmi is my brother are absurd and offensive."
"She [Greene] has broken no laws and done nothing illegal," the group of 16 Republican officials from Georgia's 14th Congressional District wrote in the letter, which Greene shared to Twitter. "Ilhan Omar can lie and marry her brother to circumvent our laws and not get in trouble ... The double standards are atrocious, and quite frankly, an embarrassment."
"We believe Marjorie Greene has been targeted because she is a conservative that represents conservatives like us and those across the district," the letter continued. "Her committee assignments should not be withheld from her. We have elected her to represent us and we would ask for full representation."
It is not clear whether the Democratic effort to remove Greene from her committee assignments has enough support to succeed. Most Republicans in the House have remained silent on Greene, although some key figures in the Senate including Minority Leader Mitch McConnell (R-Ky.) have spoken against her. An amendment of the resolution to remove Greene from the committees has been drafted by pro-Greene House Republicans to instead apply to Omar, according to a Tuesday report from Forbes.
A January 2020 report from The New York Post claimed that the FBI was "reviewing" the allegations that Elmi, a British citizen, is Omar's brother. There has been no indication that the purported review uncovered any evidence that would validate the rumor, but the claim has remained popular for some conservatives, especially those in far-right circles.
Former President Donald Trump, the key figure in the QAnon conspiracy theory that Greene was heavily associated with before entering politics, spoke forcefully against Omar multiple times during his presidency. At a rally held weeks before the 2020 election, Trump called on the Department of Justice to investigate the rumor about Omar's ex-husband.
"If you look at the House with Pelosi and these people, it's like they hate Israel and they believe in Omar, who came in here and married her brother or something, came in illegally," Trump said during the October 16 campaign event in Florida. "Come on Justice, let's go Justice, Department of Justice."
Newsweek reached out to Omar's office for comment.