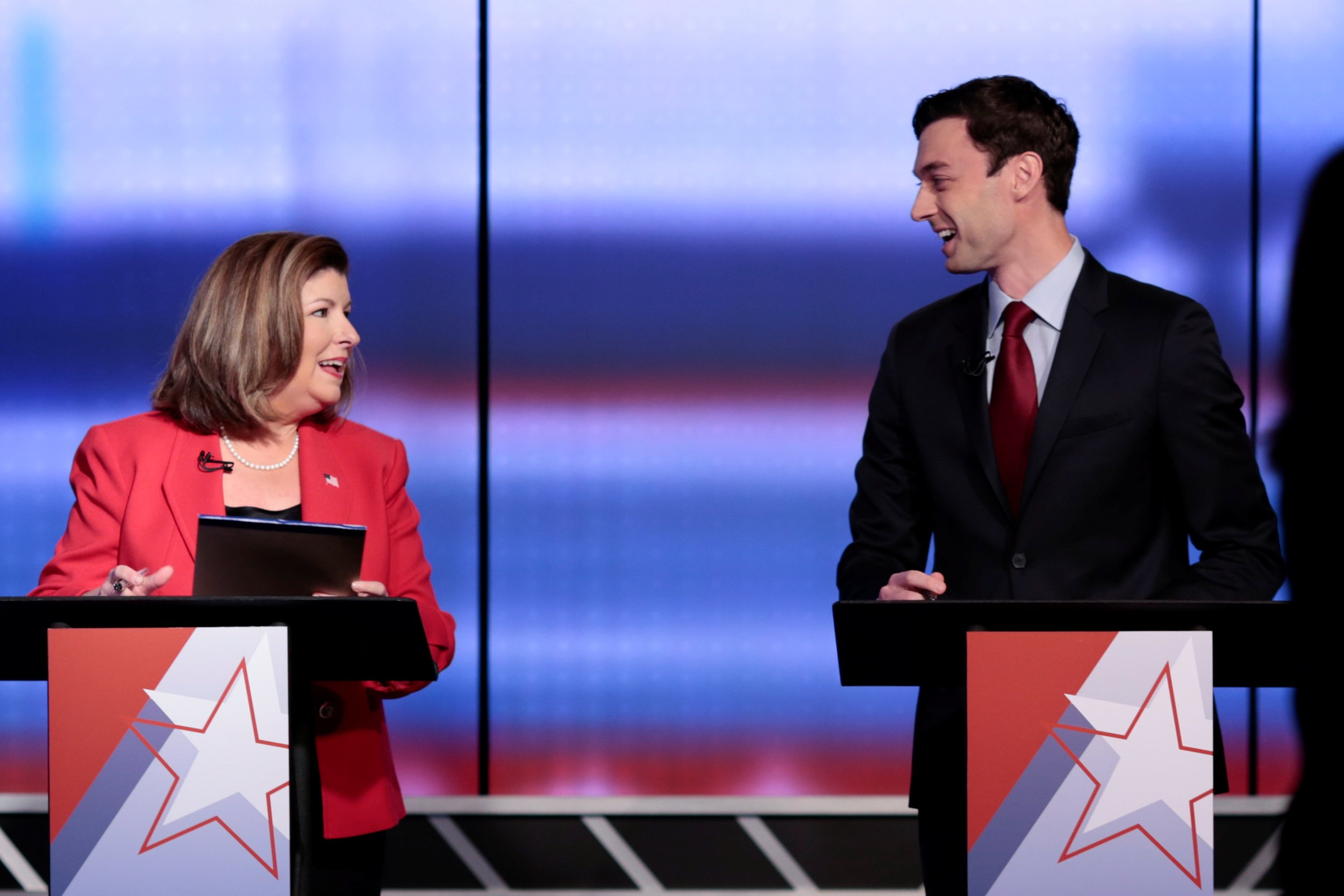 Democrat Jon Ossoff is breaking records with his fundraising ahead of Tuesday's special election for Georgia's 6th District congressional seat, prompting Republican claims that he's trying to buy the race with help from liberal donors. But the Republican Party and Conservative allies are also dumping huge sums into the contest—far more than the Democrats and progressive groups—in an effort to keep the district in their column.
That investment is just one of many reasons it will be difficult for the GOP to spin a loss Tuesday night as insignificant, which is bound to be its take if Georgia's Republican Secretary of State Karen Handel loses to Ossoff in an upset. Yes, Ossoff's $23 million-plus fundraising haul—almost entirely from out of state—is unprecedented for a special election. Yes, it's just one congressional seat, and special elections aren't necessarily good bellwethers of election results more than a year down the road. But this right-of-center district was last represented by a Democrat in 1979, and Republicans clearly put a high value on extending that streak, to the tune of millions of dollars.
According to campaign finance reports filed over the weekend, four political committees and Super PACs tied to the GOP and President Trump have spent more than $16 million on television and digital ads, phone calls, mailings and other efforts to get Republican voters to show up at the polls Tuesday. The Atlanta Journal-Constitution reported Monday that there's already been "unprecedented" turnout for early voting in the race to replace Republican Tom Price, who was appointed by President Trump to head the Health and Human Services Department. The contest has attracted national attention as a test of whether Democrats can turn anti-Trump energy into results at the ballot box, and whether Republicans can avoid being dragged down by the president's sinking popularity. Given how close the polls have been, the comparative strength of the campaigns' so-called ground games are likely to be the difference maker.
The Congressional Leadership Fund, a Super PAC closely aligned with House GOP leaders that is dedicated to electing Republicans to the House of Representatives, is leading the way in spending in support of Handel and against Ossoff—totalling well over $7 million, according to reports filed with the Federal Election Commission. The National Republican Congressional Committee (NRCC) has poured in another nearly $6.7 million, while the Republican National Committee and America First Policies (a Trump-aligned Super PAC) have spent a combined $2 million.
All told, groups supporting Handel are behind the vast majority—by more than $19 million—of the roughly $27 million in outside spending that's been reported in the race. In Ossoff's corner, the Democratic Congressional Campaign Committee, the party's House elections arm, has dished out more than $5 million for political ads. The rest of his external support has come from progressive groups like the Sierra Club, Planned Parenthood and labor unions.
That edge in outside financial support still isn't enough to close Ossoff's yawning fundraising advantage, however. Handel reported raising $5.5 million through the beginning of June, a respectable total for a normal special election, but one that puts her $18 million behind her 30-year-old upstart opponent. According to Politico, NRCC Executive Director John Rogers alluded to that fundraising advantage when discussing the election with GOP Hill staffers. "We're going to find out if a monkey banging cymbals together spending $25 million can get elected," he reportedly said. But it isn't as though Handel doesn't have plenty of money behind her, not to mention the political advantage of running in a Republican-leaning area.
The eye-popping spending has simply raised the stakes in the contest, drawing even more media attention and, inevitably, more prognosticating on what the outcome means for the congressional races in 2018. Whoever loses is going to be left explaining how so many millions of dollars went to waste.