Alyssa Milano, Mark Ruffalo and More Celebs React to Georgia Elections
The Senate majority is within reach for Democrats, as votes in the Georgia runoff elections are still being tallied. Democrat Raphael Warnock was proclaimed the winner over Republican incumbent Kelly Loeffler in one of the Senate races on Wednesday, and Democrat Jon Ossoff is currently ahead of Republican David Perdue, though only by a thin margin.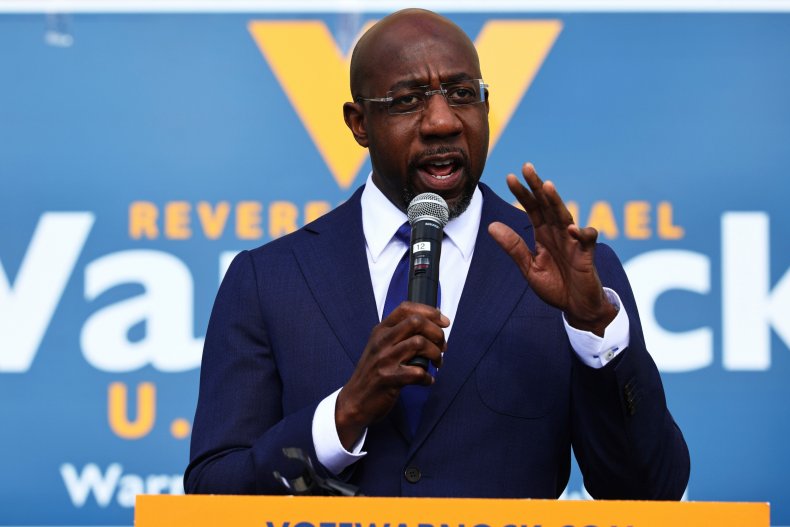 While poll workers are still counting ballots, the results so far have been enough to excite some celebrities, who have been tracking the Georgia runoffs from all across the nation.
Rapper and Georgia native T.I. used his status and social platforms to encourage voters to turn out for Warnock and Ossoff, early into the politicians' campaigns. During the election on Tuesday, he urged voters to stay in line despite poll closings and asked residents to "Bring it home" for the Democratic hopefuls. When Warnock was projected to win on Wednesday morning, T.I. was one of the first celebrities to celebrate.
"@ReverendWarnock declared victory. Georgia, you did it!" he tweeted.
"This is a good day for people who don't dig evil," musician Ben Lee tweeted.
Alyssa Milano was also quick to show support for Warnock's win. "Senator Elect Reverend Raphael Warnock," she tweeted, along with a heart emoji.
As the numbers continued to trickle in throughout the night, some celebrities saw the leads that Warnock and Ossoff maintained as a sign that a blue wave was certainly on the horizon—along with, potentially, the end of Senate Majority Leader Mitch McConnell's reign.
"No matter what happens tonight, I just want Mitch McConnell to know that I hate him," Billy Eichner tweeted, before adding hours later, "Overall, a terrible night for Kirk Cameron.
Sophia Bush also joined in on the McConnell bashing. "I'll pray it with you, too. Senate Minority Leader Mitch McConnell," she tweeted.
Some celebs were hopeful for what a Senate controlled by Democrats could mean for future legislation and reform.
"If these results hold, our government will actually address the devastating gun violence issue in our country. The HR-8 background check bill passed by the House will be put to a vote on the Senate floor. And the NRA will continue to lose power and influence. Let's goooooooo!!!!!" NBA coach Steve Kerr tweeted.
Meanwhile, Chelsea Handler thought the moment was one worth remembering forever.
"It's time for a new statues in the state of Georgia. start with Stacey Abrams, Latosha Brown, a little splash of white male decency, Raffensberger, and all of Georgia's voting heroes. This is a beautiful day in the history of America and just what we needed to come out of 2020," she tweeted.
Other celebrities—including Cher and Mark Ruffalo—also made sure to salute Stacey Abrams for her organizing work in the state.