Georgia Runoffs Kept McConnell From 'Frontally Attacking' Trump's Election Fraud Claims: Report
Mitch McConnell reportedly told former U.S. Attorney General Bill Barr he could not be "frontally attacking" former President Donald Trump's claims of election fraud without risking the Senate majority in the Georgia runoffs—according to a recent piece by Jon Karl for The Atlantic.
The piece has been under criticism on social media for putting Barr in a positive light with regards to allegations of election fraud, although Barr had previously put forth his own allegations of potential voter fraud, citing his "common sense" as a reason to believe foreign actors could submit fraudulent mail-in ballots.
More criticism arose as Lawfare Blog senior editor Quinta Jurecic and others noted a portion in which McConnell refused to speak out against Trump's claims of election fraud in fear of losing the Senate majority in the Georgia runoff elections.
In the piece by Karl (whose book Betrayal, about the final days of the Trump administration, will be published later this year), McConnell told Barr that he was the "only one" who could speak the truth on the election claim frauds.
"Look, we need the president in Georgia," McConnell reportedly told Barr, "and so we cannot be frontally attacking him right now. But you're in a better position to inject some reality into this situation. You are really the only one who can do it."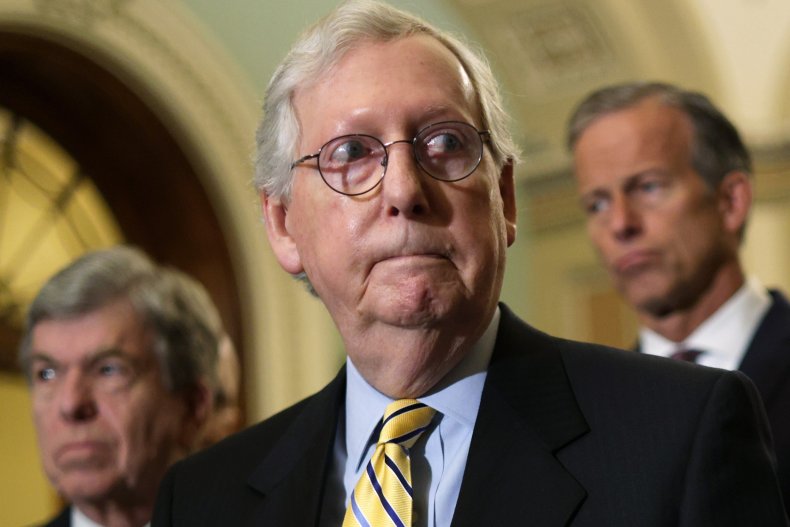 Jurecic and Election Law blogger Rick Hasen voiced concern on Twitter that McConnell was "willing to risk American democracy" in favor of maintaining presidential support and the Senate majority.
"Maybe I'm being too critical here or there's context missing, but this reads like ... the senate majority leader asking the attorney general for political help in an upcoming election. Not great!" Jurecic wrote.
Hansen condemned McConnell's actions, writing on his blog: "McConnell knew Trump's claims were bogus and endangering the country. And he refused to speak up because he put politics before country."
He quoted a longer piece he wrote in November 2020 for Slate, wherein he referenced McConnell's refusal to acknowledge the election results in The New York Times, instead repeating an earlier statement to count all the votes before a winner could be announced.
"The one group that has not spoken up yet, and that is crucially important for acceptance of election results, is the rest of the Republican congressional leadership, beyond McCarthy. For example, on Saturday, Senate Majority Leader Mitch McConnell declined to weigh in on Biden's election, pointing to an earlier statement about letting the vote counting and legal process play out," Hansen wrote.
Hansen additionally noted that several other Republican lawmakers took different approaches. Senators Mitt Romney and Lisa Murkowski congratulated President Joe Biden on his victory, while others including Senators Ted Cruz and Josh Hawley mocked Trump's claims of election fraud instead of remaining silent on the issue.
Newsweek reached out to McConnell's office for comment.