The Cherokee County School District in north Georgia has directed 826 students and 42 teachers to quarantine as a result of exposure to COVID-19 after being back to school for only six days.
The district reopened without a mask mandate for students and it is unclear if the recent potential spread of the virus may lead the district to implement one. Staff have been required to wear one on school grounds.
"As we said before reopening, social distancing is not possible in all situations at our schools – this is why we require our staff to wear masks or face shields when they cannot distance, and this is why we're providing masks to students and strongly recommending they wear them," Superintendent Brian Hightower wrote in a letter to parents on Friday. "This is a critical component to keeping schools open. Parents need to continue to keep their children home when they're sick."
Through contact tracing, school districts inform students and their families when they have come into close contact with another individual who has tested positive for coronavirus. Those students are advised to quarantine at home for two weeks before returning to school. A schoolwide letter is also sent out to alert parents of the infection.
Hightower emphasized that the district wants to provide full transparency to the community, going so far as to updating a weekly current case total list on their site.
The district's chief communications officer, Barbara Jacoby said public reporting of these cases is not required but the district has been proactive in explicitly informing the community as the virus may spread.
"As made clear in our reopening of school plan, we anticipated positive tests among students and staff could occur, which is why we put a system into place to quickly contact trace, mandate quarantines, notify parents and report cases and quarantines to the entire community," Jacoby told Newsweek in an email.
"We are not hesitating to quarantine students and staff who have had possible exposure – even if the positive test was prompted by possible exposure rather than symptoms, as all positive cases can lead to the infection of others," Jacoby added.
The school with the greatest number of students placed under quarantine is Etowah High School, according to the district's updated quarantine count. As of Tuesday, August 11, 296 high school students and five staff members are being quarantined.
A photo of students from Etowah High School went viral last week as schools across the country begin to reopen during the pandemic. The photo showed incoming seniors posing shoulder-to-shoulder with no masks.
Hightower also addressed the photo, calling it a "snapshot of a moment" that might not "tell the whole story." Regardless, the superintendent said it is important to address the issue.
"The senior group photos taken outside before school on several of our campuses raised concerns that those students might not be aware of the importance of masks," Hightower wrote. "Upon investigation, we learned many wear masks routinely, but we must continue to remind all students of the importance of masks when you cannot social distance."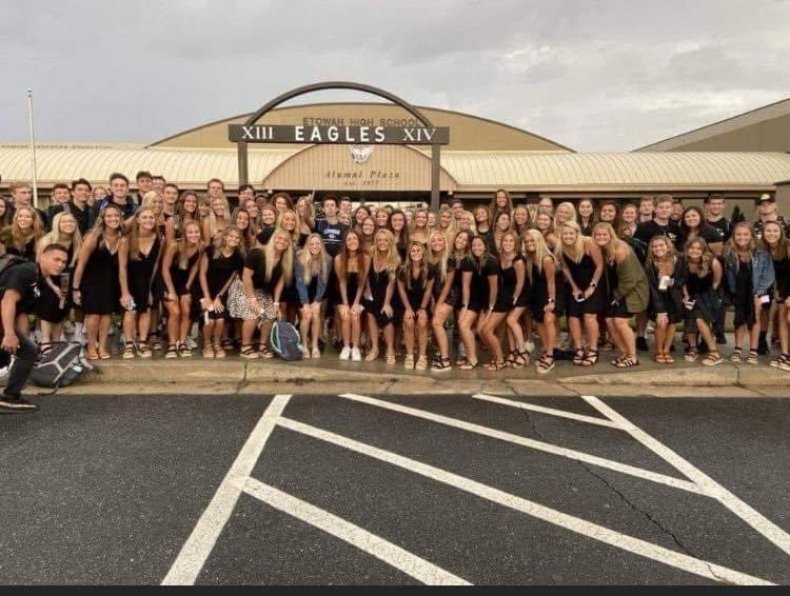 Etowah High School is one of six high schools in the district. Only two high schools, River Ridge High School and Sequoyah High School, do not currently have any students or staff under quarantine.
The Cherokee County School District consists of 40 schools and 4,800 employees. A quarter of the 42,200 students in the district opted for digital learning instead of returning to in-person classes.
Over half of the district's 23 elementary schools have students who are under quarantine.
Update 08/11/20 12:30 p.m. This story was updated with comments from Jacoby.