Georgia Seat Called for Jon Ossoff
Democratic challenger Jon Ossoff has won the Georgia runoff against Republican Senator David Perdue, according to multiple networks including the Associated Press and NBC News.
Tuesday's runoff elections were two hard-fought battles and the race between Perdue and Ossoff is the most expensive Senate race in U.S. history, according to OpenSecrets. With the fate of the Senate on the line, the candidates and outside groups spent more than $470 million and it paid off for Democrats because Ossoff ousting Perdue from office helped take control away from Republicans.
With 98 percent of the votes counted, Ossoff had 50.2 percent and Perdue was at 49.8 percent. Senator Kelly Loeffler also lost her seat to her Democratic challenger, Reverend Raphael Warnock, by a slim margin of 1.2 points.
Kelly Dietrich, the founder/CEO of the National Democratic Training Committee, credited Ossoff's victory in part to him being an "inspiring candidate" and a strong campaigner.
"They stay focused on what they needed to do to win—register and turn out voters. They stayed on message and didn't get distracted by the GOP inflammatory lies and craziness. In fact, they let the GOP dig its own hole," Dietrich said. "Democratic enthusiasm has not waned. We are willing and ready to work to save our country. The GOP has some very difficult challenges ahead of its own doing."
Going into the election, Perdue or Loeffler had to keep their seat in the Senate for Republicans to maintain control, albeit by a slim margin. However, since Ossoff and Warnock were able to oust the Republican incumbents from office, it gives Democrats two more seats in the Senate, creating a 50-50 split. While neither party will have a majority, it effectively takes control away from Republicans because in the event of a tie, Vice President-elect Kamala Harris will cast the deciding vote.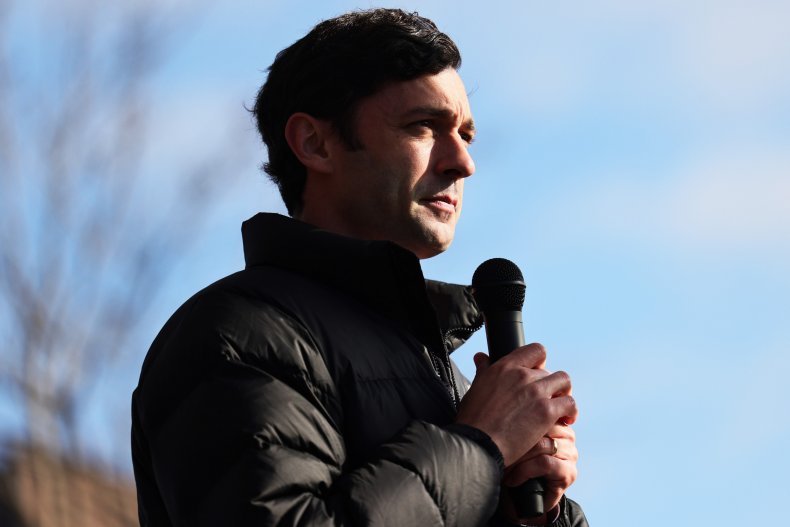 Democrats having control of both chambers of Congress could be advantageous for President-elect Joe Biden having an effective tenure. The former vice president said as much in an ad for the Democratic challengers, tying additional COVID-19 relief to their victories.
"I need Raphael Warnock and Jon Ossoff in the United States Senate to get this done," Biden said in a December ad. "There are folks in Congress threatening to do everything in their power to block our efforts."
Ossoff put COVID-19 relief at the forefront of the race against Perdue, targeting the senator for his delay in supporting another round of stimulus checks. The Democratic challenger frequently pushed for more direct payments worth at least $1,200, the same amount as the CARES Act, and jumped on board with the push for upping the $600 payments that passed Congress to $2,000.
Perdue personally opposed direct payments but voted for the CARES Act in March and the spending package that passed both chambers on December 21. He also said he supported President Donald Trump's desire to increase the $600 payments to $2,000, a move Ossoff criticized as being politically motivated.
Ahead of Tuesday's election, some Republicans floated the idea of boycotting the runoffs because of their belief that the general election was rife with fraud, a protest Vice President Mike Pence dismissed during a rally in Georgia. The vice president committed at the December 17 rally to continue fighting in "courthouses across America" and told voters "if you don't vote, they win."
More than 3.3 million ballots were cast during the early voting period, "smashing" the previous record for voter turnout in a runoff election, according to Gabriel Sterling, voting systems manager for the Georgia Secretary of State's office. While voter turnout could break records set in November as well, Sterling said during a Monday briefing he's had conversations with people who felt discouraged from voting because they felt the election was "stolen" from Trump in November.
The election official wouldn't entertain accusations that the election was stolen or there was massive fraud because "there wasn't" either, but said if a person believes that was the case, the best counter attack is to go out and vote to make it "harder to steal."
"Throwing it away because you have some feeling that it may not matter is self-destructive ultimately and a self-fulfilling prophecy in the end," Sterling said.