A video aimed at promoting early voting released by Georgia Secretary of State Brian Kemp's office two years ago features children showing how to vote early and what documents are required. The video, produced in six different languages and still linked on the secretary of state's website, shows a white boy arriving at his voting location, presenting his photo ID and successfully voting. The black girl who shows up to vote does not have the proper form of ID and is turned away from the poll.
Update: The website link, along with the link to the YouTube video, was taken down after the publication of this story. A portion of the original video can still be viewed above.
The video—showing a white man being able to vote while a black woman is turned away—is gaining attention amid accusations of voter suppression in Georgia, as well as an alleged conflict of interest in the gubernatorial race.
Election officials in Georgia have placed on hold the voter registrations of more than 50,000 people, most of whom are black, largely under a policy requiring personal information on registrations to precisely match Social Security or drivers' license records. The man in charge of that system and the fairness of all Georgia elections is Republican Secretary of State Brain Kemp, who is running for governor against Democrat Stacey Abrams, a woman trying to become the country's first black female governor.
The video has a striking resemblance to Abrams's claims that Kemp is trying to suppress the vote of minorities and women through his official power. Her campaign has called for his resignation, or at least his recusal, as secretary of state, to end the alleged ongoing conflict of interest of overseeing his own election.
"We have known since 2016 that the exact match system has a disproportionate effect on people of color and on women," Abrams said Sunday on CNN's State of the Union.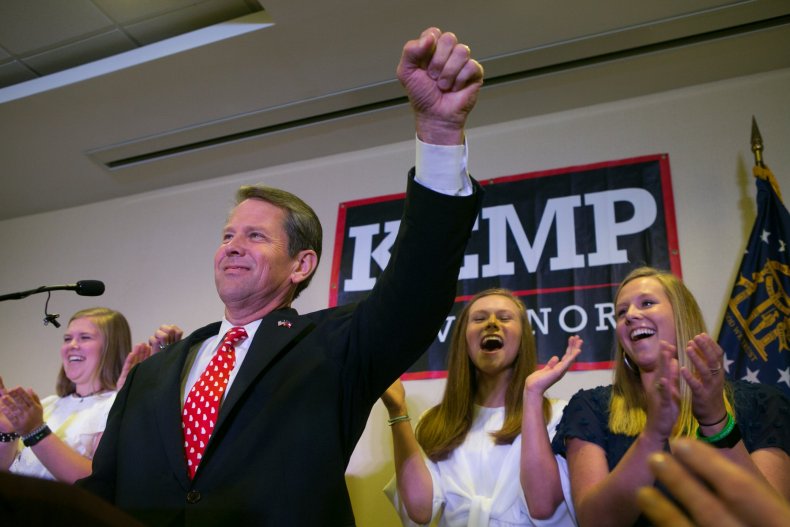 The Georgia secretary of state's office defended the video in an email to Newsweek by saying it was meant to be "lighthearted and fun" with child actors and that it was produced using federal grant money to promote participation "from all backgrounds." The office also highlighted that in one of three other educational videos made by the state, a young African-American boy was shown being able to properly cast his vote.
"These videos are now outdated since they include language specifically for the 2016 election cycle and state that elections in Georgia are only conducted in English," a press secretary for the secretary of state's office said. "Gwinnett County now offers Spanish language election materials. These videos have been removed online."
Under the "exact match" system, minor discrepancies in names or other personal information—such as inconsistent hyphens, misspellings, shortened nicknames or typos—could mean the extra hurdle of bringing additional documentation to prove a person's identity on Election Day or casting a provisional ballot. Although Georgia's population is only about 32 percent black, nearly 70 percent of the 53,000 registrations on hold with Kemp's office are black people, according to an analysis by the Associated Press.
"It's part of a pattern of behavior where [Kemp] tries to tilt the playing field in his favor or in the favor of his party," Abrams said in her CNN interview.
Kemp has refused to both resign or recuse himself, pushing back against Abrams and "left-wing radicals" for alleging that he's trying to suppress the vote of Democrats, minorities and women.
"While outside agitators disparage this office and falsely attack us, we have kept our head down and remained focused on ensuring secure, accessible, and fair elections for all voters," Kemp's campaign said in a statement. "The fact is that it has never been easier to register to vote and get engaged in the electoral process in Georgia."
Kemp has also touted the state's record number of voter registrations and highlighted the fact that the 53,000 people with registrations on hold can still vote with provisional ballots.
Various civil rights groups have since sued Kemp over the "exact match" policy, arguing it's another form of voter suppression and represents a clear conflict of interest.
"It's a strain on our system of democracy when less than a month before an election, which could produce the first African American female governor in our nation's history, we are seeing this type of voter suppression scheme attempted by a state official, whose candidacy for the governorship produces an irremediable conflict of interest," said NAACP President and CEO Derrick Johnson in a statement.
A new Reuters/Ipsos/University of Virginia Center for Politics poll released Wednesday indicated Kemp and Abrams at a virtual tie just weeks away from Election Day. Kemp led Abrams by 1 point, with 47 to 46, within the margin of error.
Update: This story has been updated to include the removal of the website link and YouTube video by the office of the Georgia Secretary of State. It was further updated to include information from the secretary of state's office.