Georgia Secretary of State Calls for Resignation of County Election Director After 2,600 Ballots Discovered
After an audit revealed 2,600 ballots that were not counted in the November presidential election, the Georgia Secretary of State's Office called for the resignation of a county election official on Monday.
The ballots were discovered during a hand recount of the state's votes. President Donald Trump's re-election campaign had filed lawsuits in several battleground states, including Georgia, alleging impropriety during the election process. The race between Trump and projected President-elect Joe Biden remained tight with the Associated Press showing Biden ahead of Trump on Monday night by three-tenths of a percentage point. Although Trump has railed against rigged voting machines being a factor in his projected loss, state election official Gabriel Sterling said Monday the uncounted ballots were a result of human error.
"There was no issues with any of the equipment; they just didn't scan these ballots, it looks like, or the card was not put through properly," Sterling said.
Describing the error as an "amazing blunder," Gabriel said that the Secretary of State's office would like to see Floyd County elections director Robert Brady step down "because this was too important of an issue to have allowed to happen this way."
Newsweek reached out to the Floyd County Board of Elections and Registration for comment.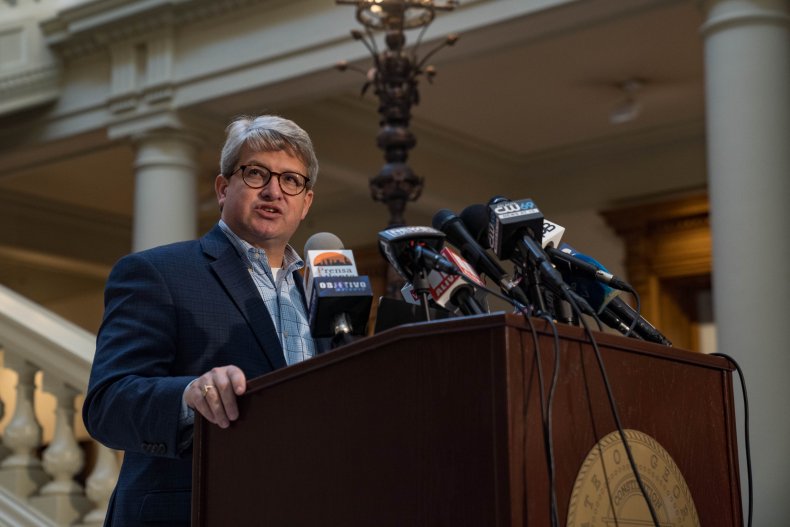 Sterling said that the newly-discovered ballots only changed the margin between Trump and Biden by roughly 800 votes, a number insufficient to alter the projected outcome of the Georgia election. An investigator has already been called in to find out why the ballots were not tabulated. Discrepancies of this nature have not been found in any other Georgia county so far.
Trump blamed Biden's win on widespread election manipulation, although those claims have been mostly unsubstantiated. Many lawsuits filed by Trump's re-election campaign disputing the legality of the voting process have been dismissed by judges. On Wednesday, Georgia Secretary of State Brad Raffensperger ordered a hand recount of all presidential ballots statewide in order to "build confidence" in the results.
Some members of the GOP have asserted that Raffensperger was complicit in alleged election fraud in Georgia. Republican Georgia Senators Kelly Loeffler and David Perdue called for Raffensperger's resignation in November, claiming that Georgia's election process had been mismanaged.
"The mismanagement and lack of transparency from the Secretary of State is unacceptable," Loeffler and Perdue wrote in a joint statement. "Honest elections are paramount to the foundation of our democracy. The Secretary of State has failed to deliver honest and transparent elections. He has failed the people of Georgia, and he should step down immediately."
Raffensberger responded to Loeffler and Perdue's request by saying that his resignation was "not going to happen."
"The voters of Georgia hired me, and the voters will be the one to fire me," Raffensperger said.