Georgia Secretary of State Says Politicians Should 'Grow Up,' Stop Spinning Election Results to Mislead Voters
Georgia's Secretary of State Brad Raffensperger, on Wednesday, said that politicians should "grow up," and urged them to stop spinning the results of the 2020 presidential election to mislead voters.
"There's just people who are really angry and they're being spun up," Raffensperger said during an exclusive interview with the Hill. "It's really the spinners that should be ashamed for playing with people's emotions. Politicians of both sides should never play with people's emotions. It's one thing to motivate people, I get that. But to spin people up and play with their emotions, it's emotional abuse and they ought to grow up and start acting with integrity."
Raffensperger's comments come amid election turmoil following Joe Biden's projected victory in the 2020 presidential race, while President Donald Trump has continued to make claims of widespread voter fraud with almost no evidence to back them up.
Following the results of the 2020 election, which show Biden ahead in Georgia, Raffensperger has become a target for Trump's ongoing criticism. Trump recently referred to Raffensperger as a "Republican in name only."
In response, Raffensperger declined to criticize Trump but told the Hill, "I'm a Republican, I'm a conservative one, and I don't like the idea that President Trump is not going to win, But at the end of the day, I want every voter to know we're going to do our job and make sure every legal vote is counted."
During his interview with the Hill, Raffensperger also spoke about the forensic audit his office has conducted following claims from Republicans that the company that manufactured the voting systems in the state had rigged ballots to flip from Trump to Biden.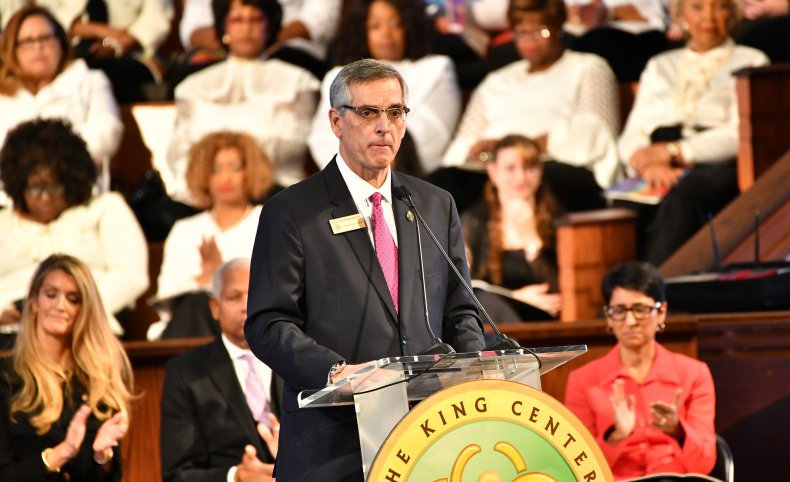 "It turns out the machines were accurate," Raffensperger told the Hill. "Nothing had been flipped."
Raffensperger has continued to make headlines following the results of the election and Trump's repeated criticism.
Earlier this month Senator David Perdue and Senator Kelly Loeffler called on Raffensperger to resign over the state's handling of the election results, which he declined to do and said, "Let me start by saying that is not going to happen. The voters of Georgia hired me, and the voters will be the one to fire me."
On Tuesday, the Republican secretary of state said that Trump would have won Georgia if he did not criticize mail-in ballots.
Raffensperger told WSB-TV in Atlanta that roughly 24,000 Republicans in Georgia voted during the June primaries, but not in the fall.
"They did not vote absentee because they were told by the president don't go to absentee, it's not secure," Raffensperger said. "But then they did not come out and vote in person."
He made similar comments during his interview with the Hill and said, "That's 24,500 people that left the political battlefield, and that's the reason why President Trump actually suppressed, depressed his vote, by telling people not to vote absentee."
Newsweek reached out to Raffensperger's office for comment but did not receive a response in time for publication.