Georgia Secretary of State Voices Support for GOP Push to End No-Excuse Absentee Voting
Georgia Secretary of State Brad Raffensperger said Wednesday that he supports Republican efforts to overturn a 15-year state law allowing no-excuse absentee voting.
During an over three-hour virtual hearing on election security before the Georgia state House Governmental Affairs Committee, Raffensperger claimed that no-excuse absentee voting "makes no sense" while paired with current voting practices in the state.
"This cycle has shown, we need to move to an excuse-based system for absentee voting," Raffensperger said. "The no-excuses system voted into law in 2005 - long before most of you, if not all of you, long before I was in the General Assembly - it makes no sense when we have three weeks of in-person, early voting available. It opens the door to potential illegal voting."
The Georgia Senate Republican Caucus called to end no-excuse absentee voting, along with a push to ban ballot drop boxes, in a statement on December 8 after an influx in mail-in ballots propelled Joe Biden's victory against President Donald Trump.
Raffensperger's support of the GOP push comes after Republican election officials, including the secretary of state, have repeatedly disputed claims of widespread voter fraud or evidence of irregularities in Georgia's election. Raffensperger noted that, while he isn't happy with the results of the election, the misinformation surrounding the election and the false claims of widespread voter fraud peddled by right-wing media are "dangerous" and "unfounded."
"The vast majority of claims we have seen online and in the media, and even discussed in the halls of the Capitol, are simply unfounded," Raffensperger said. "What we are now seeing is that with Newsmax, One America News Network and other organizations, they're being forced to run retractions on the stories they ran."
"This is what I've called a tsunami of disinformation and it is dangerous," he continued. "Worse yet, we have to respond to those rumors, disinformation and misinformation, chase it down, with the limited resources we have. I've called it the rumor whack-a-mole, as soon as we knock one down, then another pops up."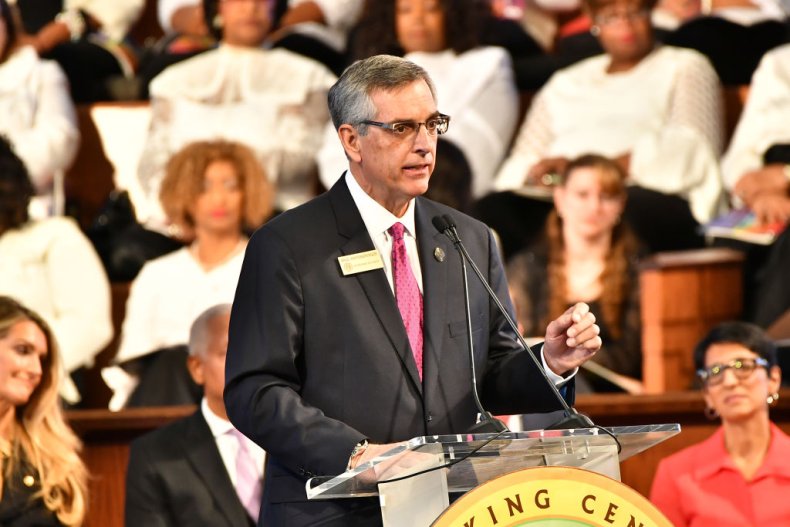 Raffensperger said that his office launched a website that provides raw information on the election process in order to fact-check claims of voter fraud. One claim mentioned involved the elections-processing room at Fulton County's State Farm Arena, which went viral for falsely claiming that suitcases filled with ballots were rolled from underneath a table. Raffensperger said people would be able to watch the full surveillance video without others "misrepresenting certain situations by slicing and dicing the video."
Democratic state representative Bee Nguyen asked Raffensperger why he wanted to get rid of no-excuse absentee voting, to which Ryan Germany, general counsel for the secretary of state's office, responded that "it's harder to provide confidence in that process."
"To sum up the last 3 hours & 39 minutes, the Georgia SOS has no evidence of voter fraud, but they, along with Georgia Republicans, want to make voting harder for all Georgians," Nguyen later tweeted after the virtual hearing.
Along with an end to no-excuse absentee voting, Raffensperger also suggested that the state should move to voter ID, not signature match, as the verification for absentee voting, after weeks of pressure from Trump and his supporters to look into signature verification.
Investigators from the Georgia Bureau of Investigation and the secretary of state's office are expected to complete an unprecedented audit of Cobb County's absentee ballot envelope signatures next week, according to the Atlanta Journal-Constitution. Raffensperger told reporters at the state capitol last week that the signature matching audit would help "restore confidence in our election" after the process had been "attacked again and again with no evidence," according to the Associated Press. He also noted that it won't change the results of the election, which Biden won by more than 12,000 votes.
The results were confirmed by two statewide recounts, including a hand tally of the state's roughly 5 million presidential votes and a second machine recount requested by the Trump campaign.
Election official Gabriel Sterling, who has called out the dangers of election misinformation earlier this month, doubled-down on the role of some media in peddling false claims of voter fraud.
"We've been doing everything we can to get out accurate information," Sterling said. "There has been a flurry of misinformation that has been perpetuated and, as the secretary mentioned, numerous outlets who posted that are now having to issue retractions."
Both Fox News and Newsmax have aired segments retracting their own election fraud claims against voting machines after two election technology companies, Dominion and Smartmatic, threatened legal action over false and defamatory reports.
Sterling also mentioned that election misinformation, including allegations of vote flipping and machine malfunctioning, is nothing new in Georgia. He claimed that "very similar" claims of voter fraud made during the 2020 election were also being made during the 2018 election.
This was a reference to the 2018 gubernatorial election between Republican Brian Kemp, serving as secretary of state at the time, and Democrat Stacey Abrams. Kemp, who beat Abrams by about 55,000 votes, continued to oversee the election during his run and was accused of suppressing Black votes that would have gone to Abrams.
However, Sterling insists that both the 2018 and 2020 election contained no voting irregularities.
"The reality is, just like the claims about systematic voter suppression in 2018 were not true, the claims of widespread voter fraud in 2020 are not supported by the evidence we have seen in our investigations," he said.
Newsweek reached out to the secretary of state's office for comment but did not receive a response in time for publication.