Georgia Secretary of State's Message to Trump After State's Election Recount: 'You Should Leave Quietly'
Georgia Secretary of State Brad Raffensperger said that President Donald Trump should "leave quietly," after Georgia certified its election results for Joe Biden last week.
In an interview published in the Atlanta Journal-Constitution on Saturday, Raffensperger, a Republican, said he's received threats and angry messages from the president and fellow GOP politicians who disagree with his decision to certify the election.
"My job as secretary of state is to make sure we have fair and honest elections, follow the law, follow the process," Raffensperger said in the interview. "When you lose an election, you should leave quietly. It's the will of the people that has been expressed," he added.
Raffensperger's office certified the election results after a laborious hand recount on November 20. According to data released by his team, the recount confirmed that Biden won by more than 12,000 votes out of the 5 million cast in Georgia.
"As secretary of state, I believe that the numbers that we have presented today are correct," Raffensperger said during news conference on November 20. "The numbers reflect the verdict of the people, not a decision by the secretary of state's office or of courts or of either campaign."
But the announcement came at the dismay of the Trump campaign, who sought to maintain the president's early lead in Georgia. On Twitter, the president attacked Raffensperger and accused him of participating in fraud.
"Georgia Secretary of State, a so-called Republican (RINO), won't let the people checking the ballots see the signatures for fraud. Why? Without this the whole process is very unfair and close to meaningless. Everyone knows that we won the state," he tweeted.
Georgia's two GOP senators, Kelly Loeffler and David Perdue, who are facing runoffs for their seats, called on Raffensperger to resign over "mismanagement and lack of transparency" of the elections, but failed to give any examples.
In response, Raffensperger said "let me start by saying that is not going to happen. The voters of Georgia hired me, and the voters will be the one to fire me."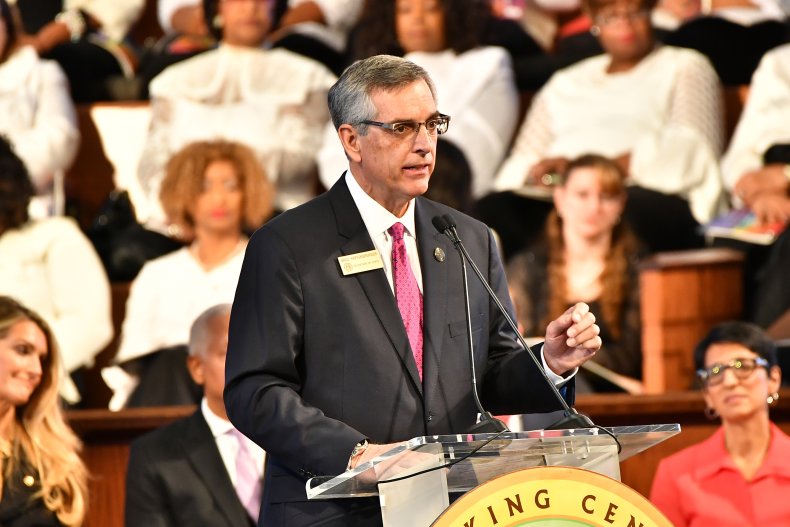 Two days after Raffensperger certified Georgia's election, the Trump campaign called for yet another recount, after falsely claiming that election officials were unable to verify signatures on the envelopes of absentee ballots in the state.
"President Trump and his campaign continue to insist on an honest recount in Georgia, which has to include signature matching and other vital safeguards. Without signature matching, this recount would be a sham and again allow for illegal votes to be counted," a statement from the Trump campaign legal team said.
On Thanksgiving night, Trump referred to Raffensperger as "an enemy of the people," and falsely accused him of working with Stacey Abrams to harvest ballots.
But Raffensperger has remained steadfast in his decision to certify the results, stating that while he wishes the outcome were different, the state of Georgia chose Biden.
"Like other Republicans, I'm disappointed our candidate didn't win Georgia's electoral vote. Close elections sow distrust. People feel their side was cheated," the secretary of state said.
"I don't think it's helpful when you create doubt in the election process," Raffensperger added. "People might throw up their arms and say, 'Why vote?'"
Newsweek reached out to Raffensperger for additional comment, but did not receive a response in time for publication.