Georgia Sees Early Voter Turnout Jump Nearly 150 Percent Compared to 2016 So Far
Despite long lines and an overloaded computer system, Georgia has seen a significant uptick in early voter turnout compared to 2016.
Georgia's secretary of state issued a press release on Saturday evening touting "record breaking" early voting. Compared to the 2016 presidential election, early voter turnout had increased by 149 percent as of 9 p.m. on October 17. The southern state holds what it describes as the "gold standard" of early voting for three weeks prior to the general election, which will be held on November 3 this year.
"Georgia is a leader in election access," Secretary of State Brad Raffensperger said in the press release. "Notwithstanding the pandemic, voters in the Peach State can take advantage of no-excuse absentee ballot voting by mail or through a secure drop box; three weeks of early, in-person voting; or Election Day voting," he said.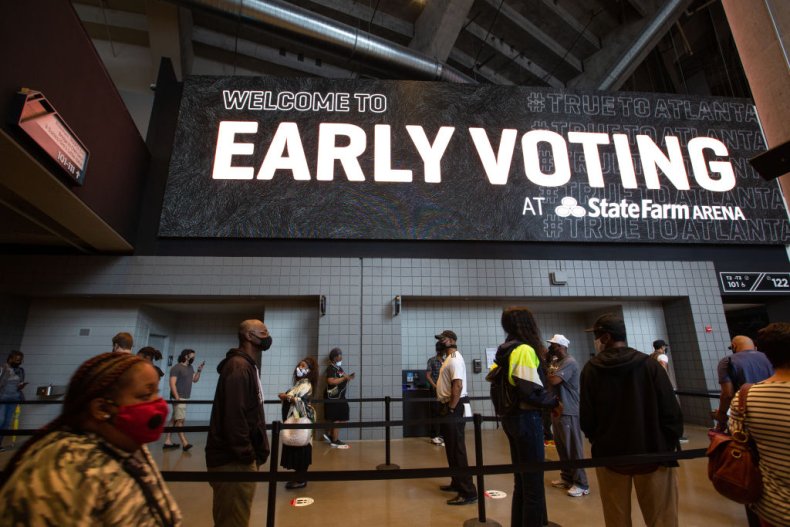 Newsweek reached out to the Georgia secretary of state's office for further comment, but did not receive a response in time for publication. .
The increase comes after a week in which Georgia voters waited up to 10 hours to cast their ballots in some parts of the state, The Washington Post reported. The newspaper reported that the surge in early voting temporarily overloaded the state's computer system, causing delays.
Raffensperger, a Republican, said a lack of "capacity" was the main problem causing long lines during a Wednesday press conference. "If you look at the amount of information that's just flowing — it's like everyone jumping on [Interstate] 285 in the morning, and sometimes you have to stagger out the rush hour," he said.
As of 9 p.m. Saturday, 1,437,403 total ballots had been cast in Georgia, according to the secretary of state's report. That number includes 782,545 early in-person ballots and 654,858 absentee mail-in ballots. In 2016 at this point, there were a total of just 578,147 ballots cast, including 490,147 in-person ballots and 88,000 absentee mail-in votes.
Although Georgia is a conservative state, which hasn't voted for a Democratic presidential candidate since 1992, recent polling actually suggests Democratic presidential nominee Joe Biden is narrowly favored to win there. The current RealClearPolitics polling average for Georgia shows Biden leading by 1.2 percentage points, while the FiveThirtyEight polling average shows the former vice president ahead of President Donald Trump by 1.3 percentage points.
Both of Georgia's U.S. Senate seats are also up for grabs in this election. The two Republican Senators—Kelly Loeffler and David Perdue—are in the final days of races classified as "toss ups" by The Cook Political Report. The RealClearPolitics polling average suggests that Loeffler is at a significant disadvantage, with her Democratic rival ahead by more than 7 percentage points. Perdue is in a close race, but is only ahead by an average of 1 percentage point.