Georgia Senate Candidate Perdue's New Ad Warns of 'No Negotiation' From Democrats
Georgia senate candidate David Perdue warned that Democrats want "no negotiation" and "total Democratic control" in his latest political campaign ad.
The ad, which was released Friday morning, spotlights top Democratic leaders describing the January runoff elections in Georgia as an opportunity to take Senate majority and change the direction of the nation. It focuses on the progressive policies advocated for by the Democrat Party's left wing.
"No negotiation. Total Democratic control. That's their goal," the narrator in the ad states.
"Their plan? Increase taxes. Defund the police. Pass the Green New Deal. Open the borders. Give voting rights to illegal immigrants. Eliminate private health insurance. Cut the military. Make D.C. a state and pack the Supreme Court," the narrator continues. "If they're in charge, America will never be the same."
Perdue is one of the two Republican candidate headed to the runoff elections against his Democratic challenger Jon Ossoff.
The video begins with a clip of Senate Minority Leader Chuck Schumer saying, "Now we take Georgia, then we change America," followed by another of Ossoff saying, "Change is coming to Georgia. Change is coming to America."
Former Representative Stacey Abrams is shown saying, "When we change Georgia, we change the South. We change the South, we change America."
"To make sure that we don't have a Republican Senate majority, that we win these races in Georgia, that we secure a Democratic Senate majority so that we don't have to negotiate," adds Representative Alexandria Ocasio-Cortez.
The ad ends by calling on viewers to "Save America" and donate to Perdue's campaign.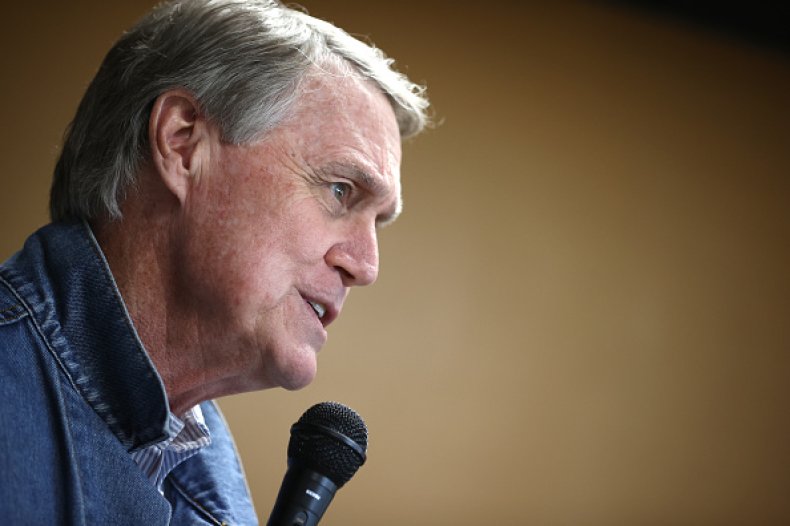 Perdue's name will once again appear on the ballot in January's runoff after neither he nor his opponent secured 50 percent of the vote—a requirement under Georgia law.
Of the votes counted, Perdue held a tight lead over Ossoff but was nonetheless short of a majority vote by less than a percentage point, according to The Associated Press. Perdue won 49.7 percent of the vote, while Ossoff received 48 percent of the votes.
Libertarian Shane Hazel earned 2.3 percent of the vote. His name will not be on the ballot come January 5 as only the top two finishers advance to the follow-up election.
Republican Senator Kelly Loeffler is also running again in the Georgia runoff against Democrat Reverend Raphael Warnock.
If the Democrats win in both of these races, they will be able to take control of the U.S. Senate, which has been a Republican majority since 2015.
Newsweek reached out to the Democratic National Committee for comment but did not hear back before publication.