Georgia Senate Candidates Hit Facebook for Ad Ban as In-Person Voting Begins
Facebook's political ads have been uncharacteristically missing from the platform as the company keeps a ban in place, a prohibition that Democratic Senate candidates in Georgia's runoff races are pushing the platform to lift.
Facebook and Google banned political ads after the November 3 election because getting the results was likely to take longer than normal, given the increase in mail-in voting. Google lifted that ban on Thursday. But Facebook, which said the ban was in place to "protect" the election, has yet to reinstate political and social ads as Georgians start to go to the polls to cast their ballots in the two runoffs.
Miryam Lipper, a campaign spokesperson for Democratic Senate candidate Jon Ossoff, told Newsweek maintaining the ban was Facebook's "own form of voter suppression." Lipper criticized Facebook for ignoring "rampant disinformation" on the platform and said the political ad ban "disproportionately impacts communities of color."
Lipper encouraged Facebook to follow Google's lead and lift the ban so "vital" information could get out to Georgia voters.
Ossoff finished second in the general election behind GOP Senator David Perdue, who fell shy of the 50 percent vote threshold needed to win by just .3 points. Perdue received about 88,000 more votes, and post-election polls put the senator and his Democratic challenger neck and neck.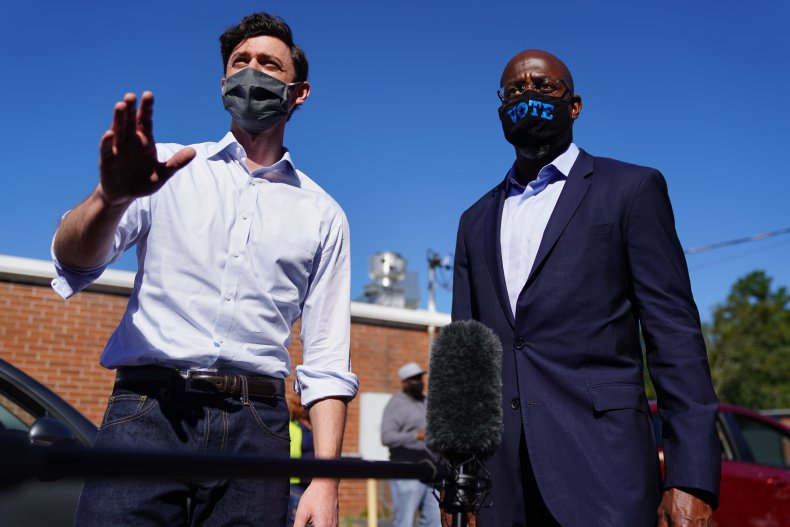 Another close race is shaping up between the Reverend Raphael Warnock and GOP Senator Kelly Loeffler, who is conducting her first campaign because Governor Brian Kemp appointed her to the seat when her predecessor retired during his term. In November, Warnock bested Loeffler by 7 points, but he received 32.9 percent of the vote, well below the 50 percent needed.
Representative Doug Collins, another Republican on the ballot, received 20 percent of the vote, about 6 points less than Loeffler. Without him as an option for voters, Loeffler may be able to garner votes from his supporters, and pollsters expect the election to come down to who turns out to vote.
Terrence Clark, a Warnock campaign spokesperson, told Newsweek that Google lifting its ban was beneficial for communicating with voters about the early-voting period. Clark called the Georgia runoff "one of the most important" races of our lifetimes.
"It is critical Facebook reverses course and does the same," Clark said.
Newsweek reached out to Perdue and Loeffler, as well as Facebook, for comment but did not receive a response in time for publication.
Georgia saw historic voter turnout in the November election. Voters who didn't cast ballots in the general election had an opportunity to register for the runoff elections. The deadline to register to vote was December 7, and although the secretary of state's office hasn't released a list of registered voters, Ryan Anderson, a data analyst in Atlanta, found 71,000 people who didn't vote in the general election requested mail-in ballots, according to The New York Times.
The increase in mail-in ballot requests may be a sign that voter turnout may be even greater in January than it was in November and Perdue and Loeffler are demanding that Secretary of State Brad Raffensperger release a list of registered voters.
Warnock paid Facebook more than $2 million for ads dedicated to social issues, elections or politics from May 2018 until the November election. Loeffler spent considerably less, $541,121, according to the Facebook Ad Library. Ossoff spent $2,195,028 on political, social and election ads on Facebook from May 2018 until the election, nine times more than Perdue spent in the same period.
In announcing an extension of the ad ban on November 11, Rob Leathern, Facebook's director of product management, acknowledged that people were "disappointed" that the social media site couldn't "immediately enable ads" for the Georgia runoffs. He said that it took years to ensure political ads are transparent and that the company doesn't have the "technical ability" to enable ads by state or advertiser.