Donations are flooding into Georgia as the Peach State becomes the center of the political universe ahead of unprecedented double runoff elections that will determine which party controls the U.S. Senate.
The four candidates—Republican incumbents David Perdue and Kelly Loeffler and Democrats Jon Ossoff and Raphael Warnock—received more than $167 million between November 3 and 24 through the grass-roots fundraising platforms ActBlue and WinRed, according to FiveThirtyEight.
But just a small amount of those funds came from Georgians. The analysis found that 96 percent of the money donated to the Democrats and 92 percent of GOP funds came from out-of-state donors. Republicans received slightly more in-state contributions, with $4.4 million coming from Georgia residents, compared with the Democrats' $4.3 million.
For Democrats, the largest amount of money raised via ActBlue came from California ($25.8 million) and New York ($10.6 million). For Republicans, California was the biggest donor, with $6.8 million coming from the Golden State, followed by $6.6 million from Texas and $6.5 million from Florida.
The runoffs between Loeffler and Warnock and Perdue and Ossoff will take place on January 5. More than 1 million Georgians have already requested absentee ballots, and early in-person voting will start on Monday.
Republicans are set to hold at least 50 seats in the next Senate, based on last month's election results. Democrats will have at least 46 seats, but two independent senators caucus with the Democratic Party, which brings their total vote power to 48.
If Ossoff and Warnock win, party control of the chamber would be split 50-50. Democratic Vice President-elect Kamala Harris would cast any tie-breaking votes.
The national stakes in the Georgia runoffs have not been lost on party leaders, who have been stumping for their candidates since the November 3 election.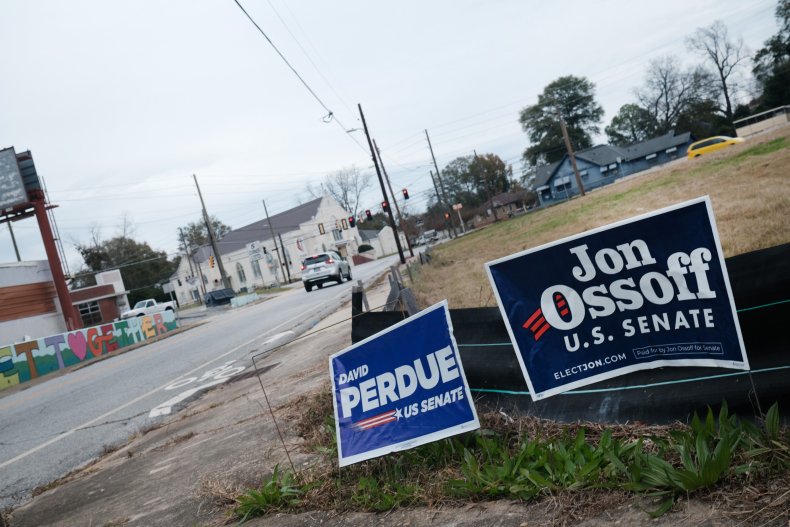 Earlier this month, former President Barack Obama said during a virtual rally with Ossoff and Warnock that the outcome of the January 5 races will essentially determine the fate of the incoming administration.
"You are now once again the center of our civic universe because the special election in Georgia is going to determine, ultimately, the course of the Biden presidency and whether Joe Biden and Kamala Harris can deliver legislatively all of the commitments they've made," Obama said, recounting his experience with a GOP-controlled Senate.
During a rally in Augusta on Thursday, Vice President Mike Pence told Georgians they need to reelect Perdue and Loeffler to uphold election integrity in the United States and to continue the work started by President Donald Trump.
"We're going to keep fighting until every legal vote is counted," Pence said. "We're going to keep fighting until every illegal vote is thrown out. We'll never stop fighting to make America great again. That's why we need Perdue and Loeffler back in a Republican majority in the United States Senate."
South Carolina Senator Lindsey Graham put it more bluntly during a Wednesday appearance on a conservative radio program, The Mike Gallagher Show.
"If Loeffler and Perdue lose in Georgia, we're screwed," Graham said. He added that the two senators have to win in order "to stop the most radical agenda coming through the Senate out of the House in the history of the country."
Newsweek reached out to all four Senate campaigns for comment on the wave of donations but did not receive a response in time for publication.