Most contenders in Georgia's Senate runoff elections have reacted to reports detailing a physical altercation that took place during a rally in Stockbridge on Saturday morning. The incident occurred as civilians participated in a Democratic Get Out the Vote event, according to local news outlets that acquired information from county police. One man was reportedly attacked by a pedestrian while holding a sign that supported Democratic candidates Jon Ossoff and Raphael Warnock.
"A passerby stopped and confronted a supporter with physical aggression," said Henry County Police Captain Randy Lee in a statement later on Saturday, according to The Atlanta Journal-Constitution. The "supporter suffered wounds to his face and head" as a result, the statement reportedly noted, corroborating what photos of the man on Twitter appeared to show. Police reportedly arrested a suspect on battery charges. The names of the suspect and victim were not released.
The police report, which Newsweek obtained Monday morning, cited remarks from the suspect, in which he admitted punching the supporter "multiple times in the face" and kicking him. The suspect said this occurred after he spotted the supporter "holding a sign" and then approached him.
According to the report, officers were not immediately able to place the suspect in custody on Saturday because the county jail "would not accept him." Police said they plan to seek a warrant for the suspect's arrest. Newsweek reached out to Lee for more details but did not receive a reply in time for publication.
Ossoff and Warnock responded to news of the attack several hours later, as did Senator David Perdue, one of two incumbent Republican candidates vying to defend his Senate seat for another term. The other, Senator Kelly Loeffler, had not commented on the attack publicly as of Sunday morning. Newsweek reached out to Loeffler's campaign but did not receive a reply in time for publication.
"There aren't even words to explain how completely unacceptable this kind of violence is toward any human being. I hope the other candidates in this runoff election will join me in condemning this and I'm calling on all of our supporters to treat each other with respect," said Ossoff in a Saturday afternoon statement released by his campaign.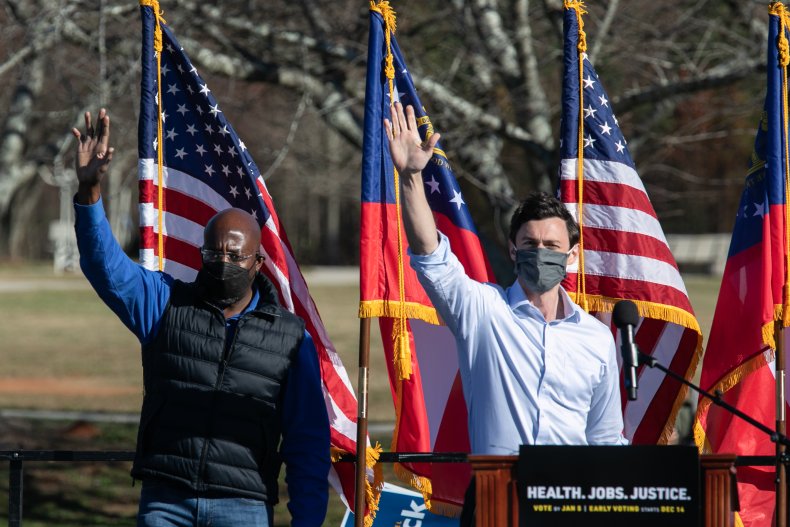 The Democrat is continuing his campaign against Perdue after neither received a plurality of votes during November's general election. His Republican opponent shared a response to the attack on Twitter roughly two hours later.
"Behavior like this is absolutely disgusting and has no place in our civil society," said Perdue, in a message that referenced Channel 2 Action News reporter Matt Johnson's earlier post recounting the altercation. "Bonnie and I are praying for the victim and grateful for the law enforcement who arrested the suspected perpetrator."
Warnock, who is currently campaigning for Loeffler's Senate seat ahead of the January 5 runoffs, shared his own message to Twitter early Saturday evening.
"I am relieved the person harmed in this attack is recovering," he wrote. "There is no place for violence in our democracy and that is...something we should all agree on."
Georgia's Senate races have become the focus of national conversation as politicians and public figures across the country pour contributions into all four candidates' campaigns. The outcomes of each congressional contest will determine whether Democrats can wrest control of the U.S. Senate from Republicans.
This story was updated on December 14 to include details from the police report.