Georgia Senate Democratic Candidates Hold Small Leads a Month Before Runoffs, Poll Finds
The fight to win the Senate is tightening in Georgia, where the state's January runoff elections will decide which party controls the upper chamber of Congress.
With just a little over a month until voters head to the polls, Democratic challengers, Jon Ossoff and Raphael Warnock, hold a small lead over the incumbent Republican senators David Perdue and Kelly Loeffler.
A new SurveyUSA and 11Alive poll shows Ossoff ahead by two percentage points, with 50 percent compared with Perdue's 48 percent, and Warnock leading by seven percentage points, with 52 percent compared to Loeffler's 45 percent.
However, pollsters note that Ossoff's slight lead only shows how crucial every vote will be in the ballot count.
Polls ahead of the November 3 general election, in which no candidate in either Senate race received the majority of votes, showed Ossoff in the lead, but Perdue ended up securing roughly 86,000 more votes, leaving him 0.3 percent short from keeping his seat.
Warnock's more sizable lead reflects his advantage in last month's special election. The Democrat received 32.9 percent of the vote, seven points ahead of Loeffler's 25.9 percent.
White voters give the two Republican senators a slight lead, with a 43-point advantage for Perdue and a 37-point lead for Loeffler, while Black voters give their Democratic challengers a much larger lead, with an 87-point advantage for Ossoff and 83-point lead for Warnock.
All four candidates have a strong hold of their parties base. Warnock has the strongest hold with 97 percent over the Democratic base.
If Republicans can keep one of the two seats, Majority Leader Mitch McConnell and the GOP will maintain control of the Senate. But if Democrats are able to flip both seats, the 50-50 tie will be broken by Vice President–elect Kamala Harris, effectively giving Democrats control of the White House and both houses of Congress.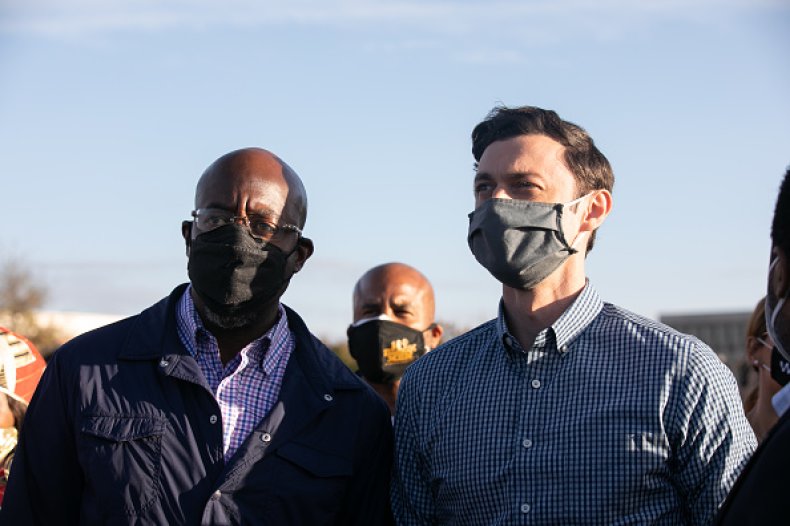 The significance of Georgia's runoffs is not lost on both parties, who are ramping up campaigning, and election officials, who are facing mounting pressures as a result of President Donald Trump's unsubstantiated claims of widespread election fraud.
Despite Trump allies telling Georgians not to vote in the pivotal runoffs until their votes are "secure" and the president's push for the runoffs to be "called off," Trump is scheduled to appear at a campaign event with Perdue and Loeffler on Saturday in Valdosta.
A day before the president's public appearance, former Barack Obama and former gubernatorial candidate Stacey Abrams will also stump for the Democratic Party's candidates at an event in Atlanta.
Vice President Mike Pence is expected to attend a rally for the two Republican senators in Savannah on Friday.
Georgia's Republican Secretary of State Brad Raffensperger and his family have faced death threats for defending the state's election process and certifying President-elect Joe Biden's win in the Peach State. Last month, Perdue and Loeffler called for his resignation, which Raffensperger brushed off.
On Tuesday, one of Raffensperger's staff, voting manager Gabriel Sterling, urged Trump to "stop inspiring people to commit potential acts of violence" after one of his campaign attorneys called for the execution of a former cybersecurity chief over election security.
The voter registration deadline for Georgia's elections is Monday, December 7.