Georgia Senate Runoffs Energize Gwinnett County Voters
As Georgia's audit of the presidential race has ended with Joe Biden's victory confirmed, the Peach State's voters and political parties now turn their focus to two U.S. Senate runoffs that will determine who controls the Senate.
In Gwinnett County, Democrats and Republicans say they face a battle against political fatigue, the pandemic, and the holidays, but nonetheless, the runoffs continue to generate a high level of enthusiasm about the Senate runoffs.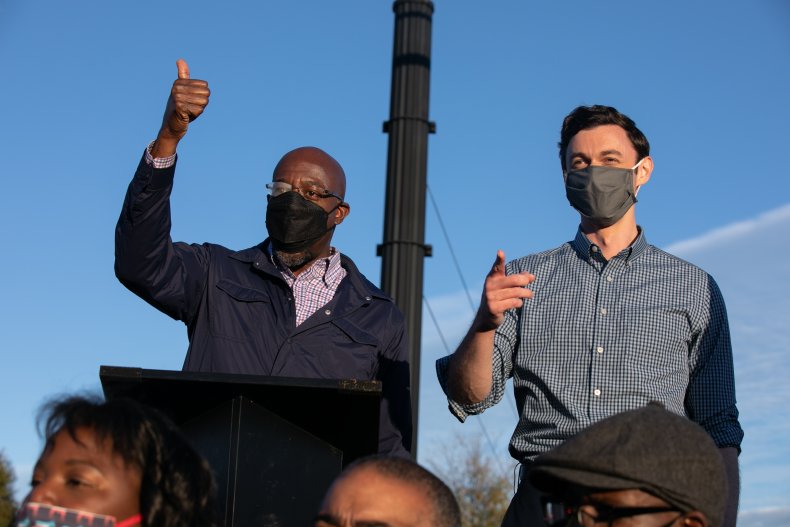 "Folks are jazzed, and they're excited," Gwinnett County Democratic Party Chairwoman Bianca Keaton told Newsweek, "and they're wanting to see these wins continue."
In Georgia, if a U.S. Senate candidate doesn't receive a majority of the statewide general election vote, the race goes to a runoff.
Incumbent Republican Sen. David Perdue is opposed by Democratic challenger Jon Ossoff. Perdue has declined to debate his opponent in the runup to the January 5 runoff Election Day.
For Georgia's other U.S. Senate seat, Republican Sen. Kelly Loeffler, who was appointed to her seat, faces the Rev. Raphael Warnock, a Democrat. In Gwinnett County, Ossoff bested Perdue by 16.25%. Warnock topped Loeffler by 13.5%.
Keaton acknowledged that interest is lower than it was in the general election, so Democrats plan to do safe in-person canvassing, with grassroots volunteers knocking on doors and engaging voters in public places, spreading their message and helping citizens register to vote.
"We will definitely be putting boots to the ground for this one," Keaton said.
Republicans, supporting their Senate candidates, have also joined the battle.
"We're going to definitely partner with the campaigns and with the state party as well in making sure that we put out maximum effort to have success during those runoffs," Edward Muldrow, Gwinnett County Republican chairman, told Newsweek, "so everything and anything to get our candidates elected."
Muldrow said Georgians feel the urgency of these two runoffs.
"We understand what's at stake here," Muldrow said. "Everyone understands there's no opportunities for victories with anyone staying at home."
The county GOP is focusing on door-to-door canvassing and rallies to bring out the vote.
Both party chairs told Newsweek about issues with the election and subsequent statewide audit of votes in the presidential contest.
Keaton said there were problems with the audit—a hand recount—including contentions by Republicans that the write-in votes cast for Vice President Mike Pence should actually be counted for President Trump.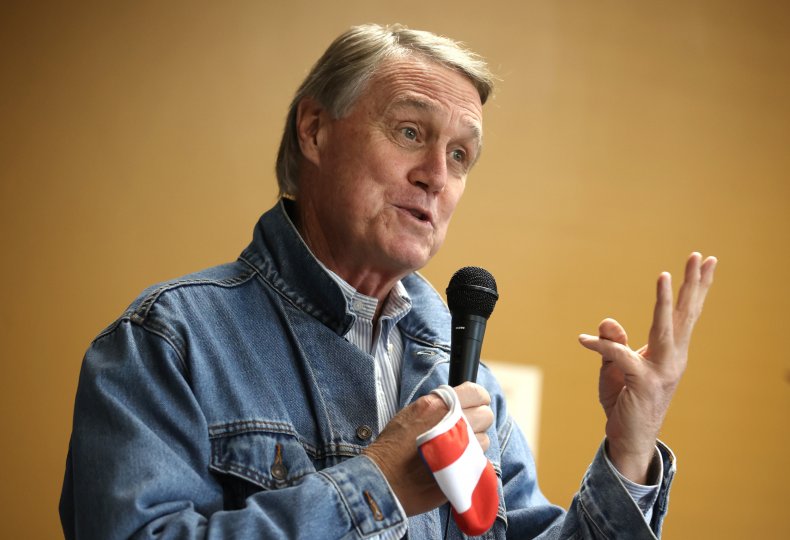 Muldrow said he witnessed irregularities on Election Day, such as ballots cast by voters in the wrong polling places, that, in part, necessitated the audit.
There is widespread speculation that Trump will call for an additional full recount of the certified results.
In the presidential race, Biden defeated the president by 18.22% in Gwinnett County, according to results last updated November 9 on the Gwinnett County Board of Voter Registration and Elections website.
Biden defeated Trump statewide by less than 1% of the votes cast, according to the results of the audit.
In 2016, former Secretary of State Hillary Clinton bested Trump by 5.79% in Gwinnett County. In 2008 Republicans Sen. John McCain won Gwinnett by 10.21% and Mitt Romney took the county by 9.20% in 2012.