Georgia Senate Runoffs Explained
While the two Georgia Senate races may not be as close as the presidential one—in which former Vice President Joe Biden leads President Donald Trump by just over 4,000 votes—it's likely that both will advance to a runoff. As the balance of power in the Senate is now at a near tie for Democrats and Republicans, the two runoffs could define the Senate majority or a possible split come January.
In Georgia, along with nine other states, a candidate must secure a minimum of 50 percent of the votes to win a race. If no candidate reaches that requirement, the top two candidates face off in a separate runoff election.
Republican incumbent Senator David Perdue currently holds 49.8 percent of the vote against Democratic challenger Jon Ossoff following a large number of ballots counted in Metro Atlanta and Chatham County—with a difference of just over 95,500 votes.
The second Senate race was a special election between Republican incumbent Senator Kelly Loeffler—who was appointed by Governor Brian Kemp to replace Johnny Isakson, who resigned from office before the end of his term—and Democratic rival Raphael Warnock. The race was declared a runoff after Warnock received 32.9 percent of the votes, 330,000 more than Loeffler.
It's also the most expensive statewide election in Georgia history, topping $150 million on ad campaigns for both races.
With 99 percent of the votes counted statewide—and just 4,000 more absentee ballots to go—it's likely that Perdue won't get the necessary votes to reach 50 percent, thus officially declaring it a runoff as per Georgia election law.
No matter the outcome of the Perdue-versus-Ossoff race, at least one runoff will be held on January 5 of next year. With Democrats and Republicans each holding 48 seats in the Senate so far into the election (with Alaska and North Carolina still awaiting results as the Republican candidates have an edge in those races), these runoffs put the contentious battle for control of the Senate into high gear.
Democrats, who currently have a net gain of one Senate seat, would need to flip at least two more races to possibly win a majority in the Senate. If the Democrats secure the White House and there's a tie in the chamber, the Democratic vice president would cast the tie-breaking vote.
"We have all the momentum, we have all the energy, we're on the right side of history," said Ossoff in a Friday morning press conference. "Y'all ready to work? We're just getting started."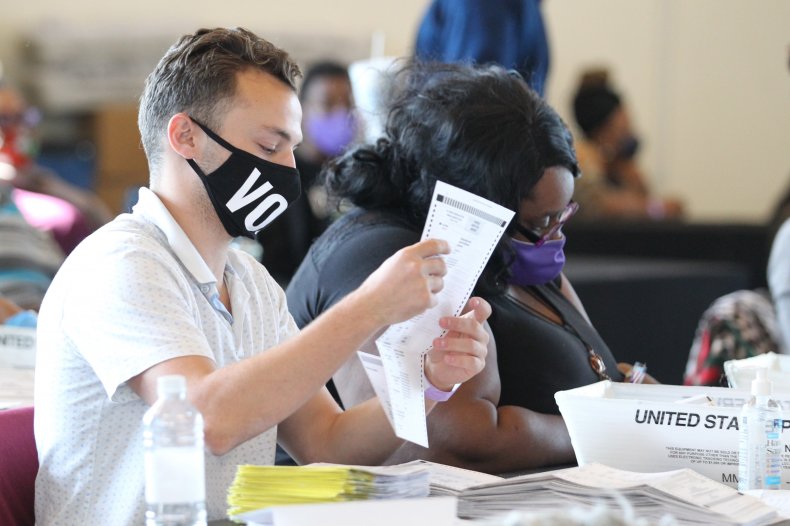 While Georgia as a swing state is a relatively new phenomenon, Ossoff received the most statewide votes of any Democratic candidate in Georgia's history. But according to Georgia's secretary of state election records, Democrats haven't won a single statewide election in Georgia since 2006. In the seven runoff elections in the last 30 years, Democrats won only one of them.
Loeffler went head-to-head with GOP Congressman Doug Collins for the Republican Senate seat in Georgia, each touting their close ties to Trump. However, supporters feared that it could split the Republican vote, giving leverage to Warnock, who was endorsed by former President Barack Obama. Collins conceded on Tuesday evening, stating Loeffler had his "support and endorsement."
The Republican incumbent received a fresh wave of criticism last month after she celebrated an endorsement from Marjorie Taylor Greene, a controversial congressional candidate who embraced QAnon conspiracy theory and has said racist and bigoted remarks. Greene has since won the congressional race in Georgia's 14th district against Democratic opponent Kevin Van Ausdal.
Once the race headed to a runoff, Warnock published a humorous video on Twitter anticipating the upcoming ads from Loeffler and the Georgia GOP.
"Get ready Georgia. The negative ads against us are coming," tweeted Warnock, the pastor of Atlanta's Ebenezer Baptist Church. "But that won't stop us from fighting for a better future for Georgians and focusing on the issues that matter."
The race between Ossoff and Perdue has proven to be a heated one for months. Calling his opponent "corrupt," Ossoff accused Perdue of putting his loyalty to Trump above the people and abusing his power. In turn, the Republican incumbent said Ossoff would lead Georgia to "socialism," while falsely claiming that he was endorsed by communists.
Perdue, who is running for his second term, drew a great deal of criticism last month after appearing to mispronounce and mock vice president candidate Kamala Harris's name at a rally. He was criticized by social media users and human rights organizations for racism, especially after working with Harris—the first Black woman and first woman of Asian descent to appear on a major party ticket—for three years. Ossoff's campaign has accused Perdue of using an offensive, anti-Semitic trope in an ad against their candidate, who is Jewish.
"There is one thing we know for sure: Senator David Perdue will be re-elected to the U.S. Senate and Republicans will defend the majority," said Perdue's campaign manager Ben Fry in a statement on Thursday. "Perdue will finish this election in first place with substantially more votes than his Democrat opponent."
"There's only one candidate in this race who has ever lost a runoff, and it isn't David Perdue," Fry continued.
Ossoff's campaign manager, Ellen Foster, wrote in a statement on Thursday that they are confident that Georgians will elect the Democratic candidate.
"The votes are still being counted, but we are confident that Jon Ossoff's historic performance in Georgia has forced Senator David Perdue to continue defending his indefensible record of unemployment, disease, and corruption," Foster said.
"Georgians are sick and tired of the endless failure, incompetence, and corruption of Senator Perdue and Donald Trump."
Meanwhile, Georgia Secretary of State Brad Raffensperger said Friday morning that the state is likely headed to a recount as the contest between Biden and Trump narrows to just a few thousand votes.
Newsweek has reached out to the campaigns of all four candidates for comment.