Georgia Senate Runoffs Spawn Huge Requests for Absentee Ballots in Cobb County
Georgia voters are expressing keen interest in next month's runoffs for two U.S. Senate seats that will determine which of the two major parties will control the nation's top legislative body.
Absentee ballots for the January 5 runoff election have been sent to nearly 10% of registered voters in Cobb County, Georgia, as of Monday, according to Cobb County Elections & Registration.
Of the county's 538,362 active voters registered as of last week, 51,227 ballots had been sent to voters as of Monday, according to data provided to Newsweek by Janine Eveler, director of Cobb County Elections & Registration. Voters do not register by party in Georgia.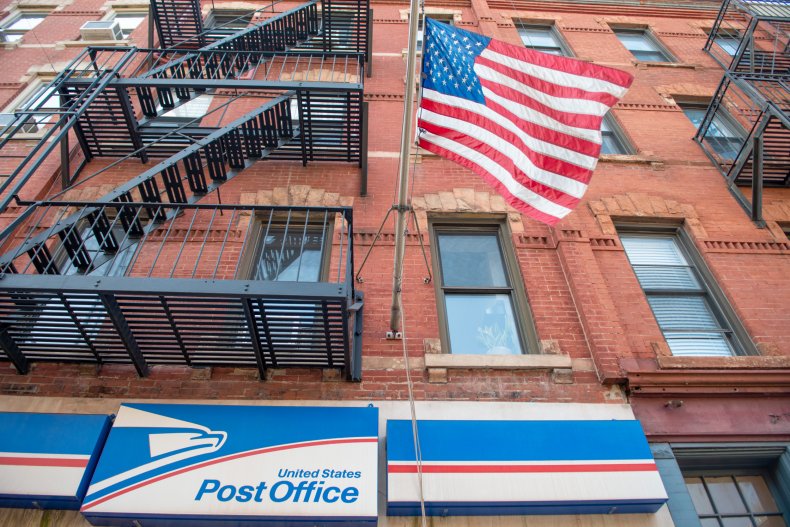 Voters 65 years and older who checked the box on their original absentee-ballot request form will automatically receive a "rollover ballot" without needing to make a separate request.
Cobb County Democratic Committee Chair Jacquelyn Bettadapur told Newsweek that her data show that 54% of absentee ballots issued in the runoff have been for voters 65 and older. Among those absentee ballots, the GOP candidates might hold an edge in Cobb County.
"Of those senior voters, there is a 60-40 split of Likely Republicans to Likely Democrats," Bettadapur said in an email. "In the aggregate, numbers for all age groups show a 60-40 split in favor of Likely Democrats."
GOP Cobb County Chairman Jason M. Shepherd said Republican voters tend to be older and use absentee ballots.
"We need to make sure they (absentee ballots) get back in," Shepherd told Newsweek. "And then we get our voters back to the polls. We'll be working it very hard."
But the Republican Party needs to step up its "absentee ballot chase program" – tracking likely GOP voters by monitoring who voted in the most-recent GOP primary and making calls to encourage voters to apply for and return their absentee ballots, Shepherd said.
"It's something I've been concerned about the past two election cycles," he said, "and have continuously petitioned the state party to do it."
Shepherd acknowledged that the Democrats have been much more aggressive in their absentee ballot chase efforts, with well-oiled machinery and the cash to back up their absentee mobilization operations.
Statewide, more than 940,000 voters have requested absentee ballots for the runoff, including 604,255 votes eligible to get mail-in ballots automatically, CNN reported Monday. In November's General Election, more than 1.3 million absentee ballots were cast, according to a report by the Georgia Secretary of State's office.
In Georgia, if a candidate for a U.S. Senate seat doesn't receive a majority of the statewide General Election vote, the race goes to a runoff. Republican Sen. Kelly Loeffler, who was appointed to her seat, faces the Rev. Raphael Warnock, a Democrat, in the runoff. For Georgia's other U.S. Senate seat, Republican Sen. David Perdue is opposed by Democratic challenger Jon Ossoff.
Bettadapur and Shepherd agreed that turnout – the number of people who vote in an election – will be lower than in the November election. Estimates indicate that statewide turnout will be about 3.5 million, down from 5 million in the General Election, Bettadapur said.
"We are competing with the holidays and election fatigue, especially with staff who have worked an election, the statewide audit (hand count), and now the machine recount," Bettadapur said. "COVID is back, Fauci predicting a surge superimposed over a surge."
Bettadapur said President Donald Trump's defeat may influence turnout in Democrats favor.
"Democrats are coming fresh off a victory for Biden, turning the state blue, remain engaged, and know what the stakes are," she said. "Dem turnout will be strong."
But the GOP county chair took a different view.
Since Joe Biden will likely become the next president, Democrats may enjoy a feeling of satisfaction, causing them to refrain from voting in the runoff, Shepherd said.
"Republicans, being the party that just lost the White House, will be more motivated to make sure the Senate stays in Republican hands versus giving Democrats complete control of the government," he said.
The national, state and county Republican parties, along with Loeffler's and Perdue's Senate campaigns, have placed QR codes – Quick Response barcodes that take smartphones and other electronic devices to websites – on direct mail, business cards and other campaign materials, pointing would-be GOP supporters to the state's voter registration website, he said.
President Trump and Vice President Mike Pence will be visiting Georgia later this week to support the Republican candidates. Democratic President-elect Joe Biden and Vice President-elect Kamala Harris might visit Georgia to support their party's candidates.
December 7 is the deadline for Georgians to register to vote in the runoff. In-person early voting is scheduled to begin on December 14, and absentee ballots will be sent to registered voters who request them.
In the November 3 election in Cobb County, Warnock defeated Loeffler by 12.23% in a race in which more than a dozen candidates appeared on the ballot. Ossoff bested Perdue by 10.54% in the county.